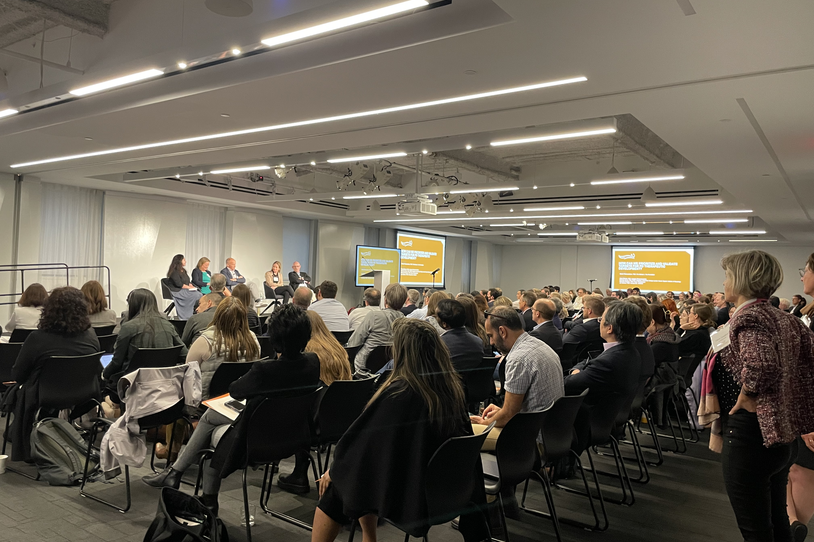 In order to make this article easier to read, we've included the affiliations of the speakers at the bottom of the article.
The Michael J. Fox Foundation (MJFF) hosted the world's only conference focused entirely on Parkinson's disease (PD) therapeutics in New York City on October 13. The Parkinson's Disease Therapeutics Conference welcomed an international group of speakers to cover an array of topics that touched on every aspect of MJFF's Define, Measure, Treat research philosophy, highlighting key projects from the MJFF portfolio. 
MJFF Chief Science Officer Mark Frasier, PhD, noted, "We're constantly working to improve the lives of people with Parkinson's, and we approach it from every angle. The range of speakers at the Parkinson's Disease Therapeutics Conference illustrates the breadth and depth of our research." 
One challenge in understanding Parkinson's, for example, is developing a comprehensive definition of the disease, which is known to be highly heterogenous (different for everyone). Multiple speakers at the conference talked about better defining targets for treatments.  
Nicholas Wood, PhD, pointed to genetic targets, which can be found by comparing people with PD to control volunteers and examining areas where their genetic code differs. A person's genetic makeup primarily provides instructions for producing proteins. With that in mind, Fiona Elwood, PhD, detailed a complementary, looking for proteins that are uniquely present in people with PD, then attempting to target the proteins with treatment. These two approaches represent MJFF's commitment to exploring a broad range of potential therapeutic targets. 
Measuring progress in both clinical and research settings also presents a challenge to the field, especially in early stages of the disease. Without biomarkers directly linked to progression, it is difficult to track the disease and how it responds to treatments, and the task is often left to an assessment by a clinician.  
However, we continue to see leaps forward for new and inventive measurement technologies. For example, Josh Cosman, PhD, noted that publications on data from wearable devices, which can provide real-time metrics for people with PD, have skyrocketed. Technological advancements in wearable devices create entirely new types of data for studying PD.  
John P. Seibyl, MD, addressed the progress being made to image the brain, looking for disruptions caused by PD. He discussed the past, present and future of imaging biomarkers. 
One technology stood out at the conference: alpha-synuclein seed amplification assays. Lana Chahine, MD, detailed recent efforts which have shown the promise of using these specialized assays (tests) to measure alpha-synuclein levels in people with PD. Much of the current research was conducted using spinal fluid, but researchers are currently looking at ways to get the same results with a skin biopsy, which could make the test much more accessible and less invasive. 
In terms of treatments, the audience heard about multiple approaches. For example, mitochondria (the power generator of the cell) often misfire in people with PD, which led one team at Lucy Therapeutics to explore ways to rescue neurons from that mitochondrial dysfunction with a new treatment.  
A defining feature of PD is destruction of dopamine-producing cells in the brain. However, another neurotransmitter system, the cholinergic system, has also been found to contribute to key symptoms of Parkinson's disease, such as cognitive decline, gait problems, REM sleep behavior disorder (RBD) and olfactory dysfunction. Arthur A. Simen, MD, PhD, focused on the therapeutic potential of targeting the cholinergic system, with a primary focus on improving the quality of life for people with Parkinson's. 
More than a dozen speakers addressed the room of several hundred people over the course of the day. By covering how the field of Parkinson's research can better define the disease, measure it more precisely and treat it successfully, speakers and attendees alike laid the groundwork for more progress and new collaborations.  
Affiliations: 
Nicholas Wood, PhD, University College London Queen Square Institute of Neurology
Fiona Elwood, PhD, Janssen Pharmaceuticals
Josh Cosman, PhD, AbbVie
John P. Seibyl, MD, Institute for Neurodegenerative Disorders;
Lana Chahine, MD, University of Pittsburgh
Arthur A. Simen, MD, PhD, Takeda Development Center Americas