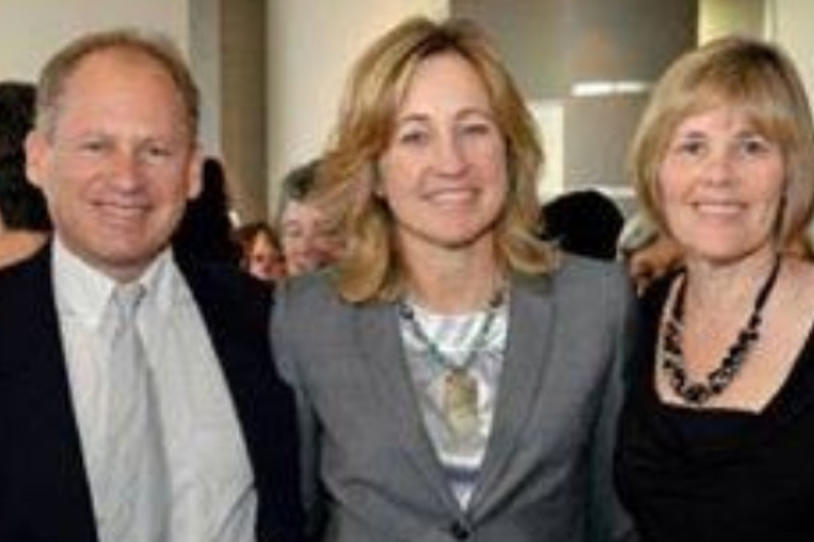 On May 29, Patient Council and Team Fox member Karen Jaffe, MD, was honored for her fundraising and advocacy work for Parkinson's disease research. She received the Irene Zehman Volunteer Award at the annual luncheon for the Jewish Federation of Cleveland's Women's Philanthropy Initiative. Dee Dee Myers, former press secretary under President Bill Clinton, was the keynote speaker at the luncheon.
Karen says, "To receive this award from my own community is to know that they recognize my accomplishments and that they hear my voice; and as a result, more people will now be listening. With this lovely award in one hand and a Team Fox cape upon my back, I will rally the troops to do what we can to bring us closer to the cure that so many of us need."
Karen's husband Marc wrote a letter in support of her nomination for this award (and a fitting tribute to her many accomplishments), excerpted below:
"Karen Jaffe has been committed to caring for Clevelanders' health for the past 27 years. The first 23 of those were strictly as an OB/GYN serving her patients' needs and bringing thousands of babies into the world. She has continued to practice medicine in the last four years, but has added a second job. It is not a paid position. Her title, if she had one, would be Volunteer Parkinson's Fighter, and that title comes with multiple responsibilities. Among those responsibilities are: 
Running Shaking With Laughter, the charitable organization which she co-founded to fund Parkinson's research and through which she has raised over $300,000;
Recruiting people with Parkinson's, as well as healthy, control subjects to participate in a $50-million study by The Michael J. Fox Foundation to find a biomarker for the disease;
Participating herself in PD studies at the Cleveland Clinic; 
Twice riding a bicycle across Iowa with a group of Parkinson's patients to raise money and awareness for Parkinson's; 
Spearheading programs in Tai-Chi, Boxing, Yoga and Dance for PD patients and creating the Parkinson's Wellness Resource Center web site which consolidates all the programs available for those trying to stay well while living with the disease;
Serving as a member of the Michael J. Fox Foundation patient advisory board;
And being an advocate, advisor and confidante for dozens of newly diagnosed PD patients who are referred to her by local neurologists. 
Perhaps most amazing is that she has done all this while struggling with the physical challenges of having Parkinson's herself."
On behalf of everyone at The Michael J. Fox Foundation, congratulations Karen on this well-deserved award!