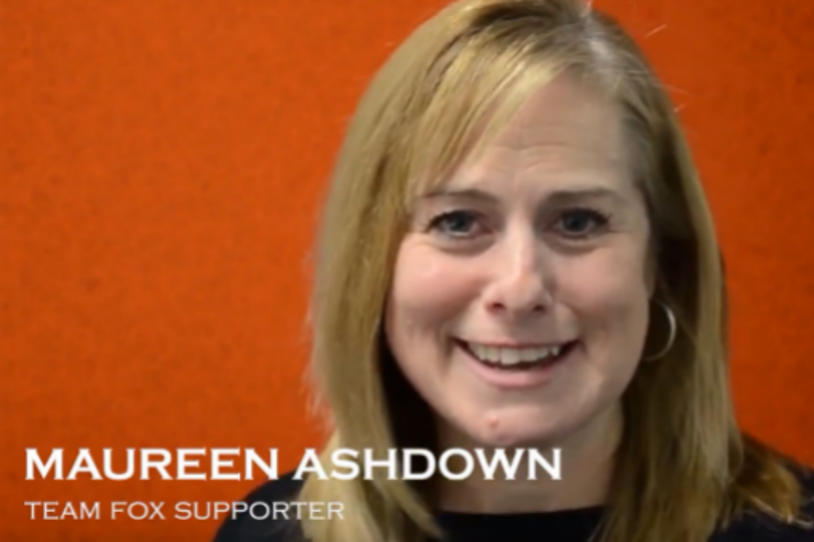 Maureen is a Team Fox fundraiser who is committed to curing Parkinson's in honor of her dad, Larry, and the millions of families impacted by the disease. She works for Admissions at St. Edward High School in Ohio and was given a grant to tell her story about her work with Team Fox.
My dad, Larry Isabella, was diagnosed with Parkinson's disease in January 2006. I began to research the disease only to stumble across The Michael J. Fox Foundation website and to discover Team Fox. I've been an active member of Team Fox since my dad's diagnosis. I've participated in numerous marathons and hosted "Pocket Change for Parkinson's" fundraisers, but I was looking for a new way to reach more people to educate them about this disease and the Foundation.
My employer, St. Edward High School in Lakewood, Ohio, gave me the opportunity to do a personal project, and I'm so grateful for their support. I knew I wanted to cover The Michael J. Fox Foundation and highlight the work that goes into finding a cure. My hope is to get the message out about how the dollars being raised by the Foundation are being used for breakthrough research to support our loved ones with the disease.
Parkinson's has been a family affair. Everyone was greatly affected by my dad's diagnosis. And since then, everyone has gotten involved with Team Fox to raise critical funds for research. In fact, two of my sisters, both who are featured in the video, ran the 2015 Chicago marathon with me. 
My dad lost his battle to Parkinson's in September 2018. The documentary was finished in December. His life and legacy will always be part of this video and I hope that it will show the importance of the work that the people do at The Michael J. Fox Foundation and how important it is to continue to raise money to find a cure.