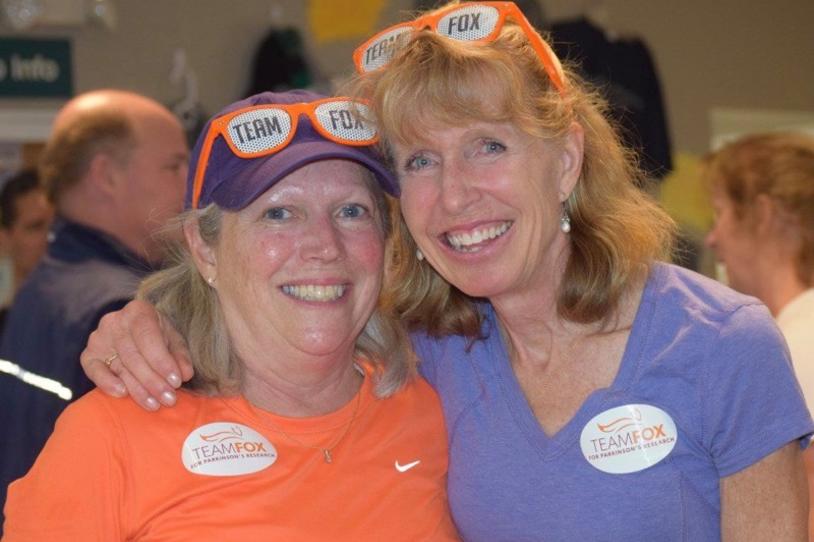 No two Team Fox fundraisers look the same. That's because they stem from the unique ideas and interests of the dedicated individuals and teams behind them. For example, while the only obvious link between pickleball and Parkinson's might be the alliteration, Team Fox member Lesly Wagner has used the sport to raise more than $42,000 for Parkinson's research.  
The inspiration came from Lesly's friend Wendy, a former Division I college tennis player who was diagnosed with young-onset Parkinson's disease in 2012. It was while she was playing tennis that Wendy first realized something was off and decided to see a neurologist. Lesly is a pickleball coach and coordinator at the Guilford Racquet and Swim Club in Connecticut. At the time, she had been tasked with creating an event to enhance membership.  
"Pickleball is very similar to tennis but a little easier on the body," says Lesly. "It's a great way to keep Wendy involved," she says. Since she's picked up the sport, Wendy's symptoms have improved. She says, "With Parkinson's, you have to be active to keep yourself going. But it's harder to do that." While some activities are slower or less fluid, "I don't feel that way when I'm running for a pickleball shot," she says. Lesly notes, "We don't take it easy on her. We may have to help her tie her shoe, but as soon as she has the paddle in her hand it's competitive." 
Equipped with their idea, Lesly came across Team Fox and Pickleball for Parkinson's was born. Today, the pay-to-play fundraiser continues to attract not just pickleball players, but mainly supporters of the cause. With a core group of returners plus new players each year, they've added more courts and upped the suggested donations. "The generosity blows me away," says Lesly.  
Both Wendy and Lesly are committed to growing the event because "it might mean a cure for me, or the next generation," says Wendy. In addition, the cause became even more personal for Lesly after her mother passed away in 2019 with progressive supranuclear palsy (PSP), a related condition that shares similar symptoms to Parkinson's.  
"I think a cure is right around the corner," says Wendy. And Pickleball for Parkinson's won't stop until there is. So, how have they been able to retain interest and continue to scale the event year over year? Below, Lesly offers a few key aspects of planning and executing a successful fundraiser. 
"Having a point person on Team Fox has been tremendous," says Lesly. "I call with any issues or questions, which has made the online aspect much easier." She also enlists the support of sponsors and local providers to keep her costs minimal and maximize donations. In addition to the venue, everything at the event is donated and on-theme: popcorn, pilsner, pizza, etc. "We've really capitalized on existing relationships," says Lesly. "The Guilford Racquet and Swim Club is a micro-community, and everyone reaches out to their people who reach out to their people — it's a spiderweb that keeps going." 
"If we've changed anything, we always make sure it's authentic to the event and its mission," says Lesly. As a result, Pickleball for Parkinson's continues to be one giant party that leaves people energized and hopeful. "The three to four hours on that afternoon — where we're making everyone feel good about what they're doing — that's our opportunity to really connect with folks. And that's when we get most of our donations," she says.  
While her goal is to continue to grow Pickleball for Parkinson's and potentially expand to additional locations, Lesly's primary piece of advice? "If it ain't broke, don't fix it!"