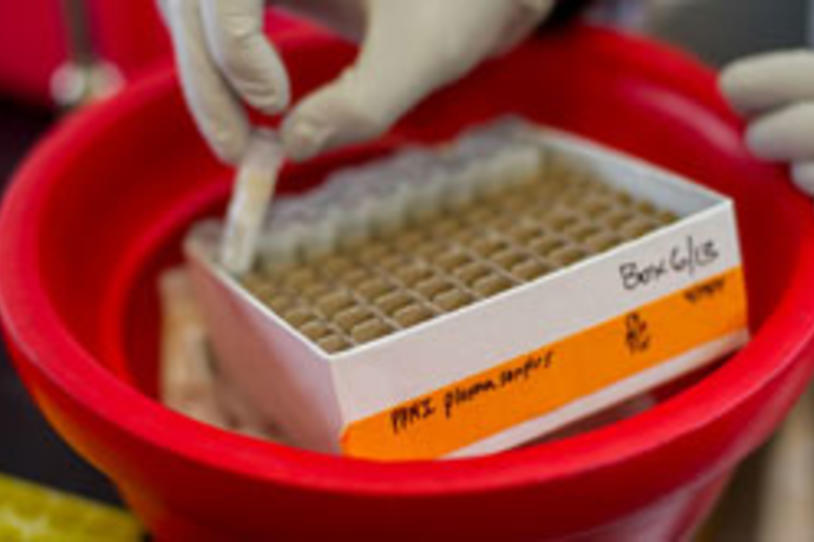 Our landmark Parkinson's Progression Markers Initiative (PPMI) aims to better define and measure Parkinson's disease so scientists can find new ways to treat it. In the past few months, PPMI has grown its data collection and analysis methods to better track the disease day to day and over time.
Now following nearly 1,400 participants at 33 clinical sites around the world, PPMI adjusts and expands its protocol with the evolution of technology and the needs of its participants. The data collected are changing the way scientists conduct clinical trials, and the study is partnering with regulatory agencies toward wider adoption of its methods.
Because PPMI makes data and biosamples available to qualified researchers, more great minds are combing an astonishing amount of information to look for trends and clues that could point to new disease measures and therapies.
Adding Digital Device Data Collection
In 2018, PPMI announced partnerships to collect data on the daily lived experience of Parkinson's disease through digital health devices. In the United States, 150 participants have started wearing a Verily Study Watch. This wrist-worn device captures data on movement and various physiologic and environmental measures nearly all day, every day, to capture a fuller picture of daily life with the disease. Partner research organization Verily Life Sciences LLC has committed to outfitting more than 800 U.S. volunteers with the study watch. All data will be made available to the broader research community for analysis.
In Europe, PPMI sites are readying to hand out smartphones to 200 study participants through a collaboration with pharmaceutical company Roche. The phones will capture data on movement, and volunteers will use an app to complete surveys and tasks to measure mood, voice changes and other aspects of life with Parkinson's. Sites will start enrolling participants in this part of PPMI in the next few months.
Analyzing Samples with Cutting-edge Technology
In another project with Roche, The Michael J. Fox Foundation (MJFF) is funding the pharmaceutical company to screen PPMI samples for markers of brain cell damage and death. Roche will run 1,700 spinal fluid samples through its NeuroToolkit of nine laboratory tests (assays) to look for potential new measures of Parkinson's disease.
These assays are measuring levels of different proteins, some known to play a role in Parkinson's (such as alpha-synuclein) and others with emerging evidence for a connection to the disease. Roche is also testing these assays on samples from people with Alzheimer's disease, enabling comparison across studies.
Following Participants Later in Disease
The original PPMI cohort, which started recruiting in 2010, included people recently diagnosed. Today some of those volunteers have had Parkinson's disease for nearly a decade. PPMI is adding additional data collection to capture later-stage disease effects, which can help better understand the progression of symptoms and their link to underlying biological changes.
The study is measuring memory and thinking issues with more cognitive assessments. Researchers also are tracking falls, a dangerous but common occurrence in later-stage Parkinson's disease. And PPMI is now asking participants to continue contributing spinal fluid throughout their time in the study after initially only collecting this sample in the first five years.
PPMI is looking across the Parkinson's experience, including in its later stages. Defining Parkinson's along its continuum will help scientists better measure and treat its progression.
Setting a Strategy for Biomarker Endorsement
We shared last year how the public-private Critical Path for Parkinson's (CPP) consortium achieved endorsement of dopamine transporter (DAT) imaging scans for use in clinical trials. The European Medicines Agency supported use of this tool to assess dopamine loss and help select participants for Parkinson's studies. The Michael J. Fox Foundation is a member of the CPP, which used PPMI data in its discussions with the regulatory agency. PPMI found some people with Parkinson's symptoms do not show dopamine loss on DAT scans, meaning therapies to offset that loss may not work in those individuals. Using DAT scans when screening volunteers may help get a richer study population, meaning study sponsors can enroll fewer people, which takes less time and money.
CPP and PPMI recently published a paper on their strategy in liaising with the European Medicines Agency for the DAT scan endorsement. This publication could provide a framework for other groups to work with regulatory agencies toward endorsement of disease measures.
CPP currently is working with the U.S. Food and Drug Administration for similar support of DAT imaging in Parkinson's studies. This endorsement would streamline review of new studies using this tool to select participants, meaning studies can start and reach results sooner.
We'll share more on those efforts and other outcomes and updates from PPMI in future communications.