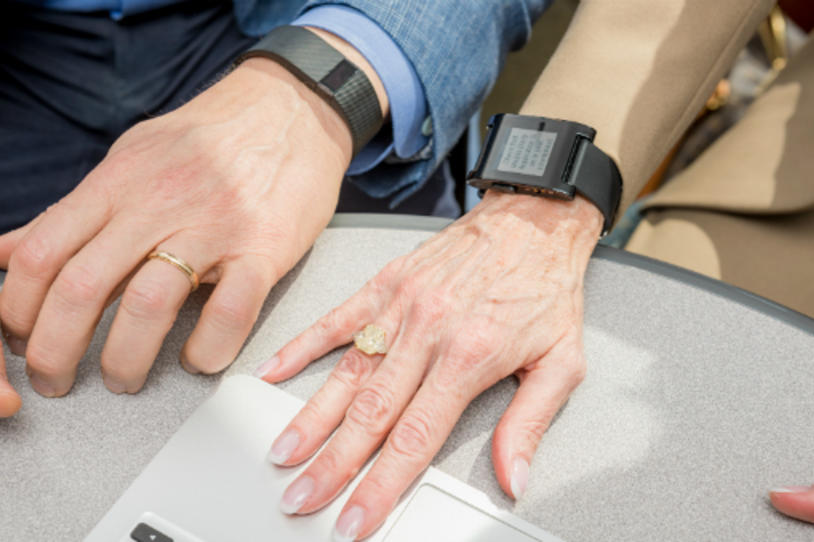 Studies are taking steps toward giving Parkinson's patients, doctors and researchers metrics to measure the disease with smartphones and wearable devices. These objective measures may help monitor disease, direct care decisions and test new treatments.
Smartphone Severity Score
In study funded by The Michael J. Fox Foundation, researchers at Johns Hopkins University in Baltimore, the University of Rochester in New York, and Aston University in the United Kingdom calculated a Parkinson's severity score from data collected through a smartphone app. Nearly 130 participants completed tasks (e.g., making a vocal sound, finger tapping) at various time points through a smartphone app created for the study. 
The app then objectively scored the tasks on a scale from zero to 100. A higher score indicated more severity. In a paper published in JAMA Neurology, the study team noted fluctuations in the score throughout one's day and in response to taking dopamine medication.
"This score complements standard Parkinson's disease measures by providing frequent, objective, real-world assessments that could enhance clinical care and evaluation of novel therapeutics," wrote the study authors.
Interested in joining the smartphone study? Consent to participate in the Android version.
Have an iPhone? Download the mPower app from the App Store.
Treatment Targets from a Wearable Device
Our Foundation has signed on to another digital health study. In partnership with the Shake It Up Australia Foundation, MJFF will fund a large-scale study testing use of treatment targets and a wrist-worn device: the Personal KinetiGraph™ (PKG) from Australian company Global Kinetics Corporation.
A target range of measurement can help doctors evaluate a patient's disease and modify treatment. For example, in people with diabetes, if blood sugar is high or low relative to a target range, a doctor may recommend different drugs or actions. In addition, objective targets are important for accurately assessing potential new treatments as they provide a measureable goal for clinical trials.
A pilot study, recently published in Nature's npj Parkinson's Disease journal, used the PKG to measure motor scores relative to a predefined target range. If out of target range, the doctors adjusted the patient's treatment regimen. The study found the tool and method helped doctors adjust treatments and improved patient outcomes. The MJFF-funded study will expand this project to validate its findings. Read more in a press release.
"The experience of Parkinson's varies day to day, hour to hour," said Mark Frasier, PhD, MJFF Senior Vice President of Research Programs. "Objective tools that passively collect data on the lived experience of Parkinson's disease outside the clinic could give patients and their doctors greater insight to calibrate treatment plans and improve outcomes and give scientists a metric with which to measure therapeutic impact and test potential therapies faster."