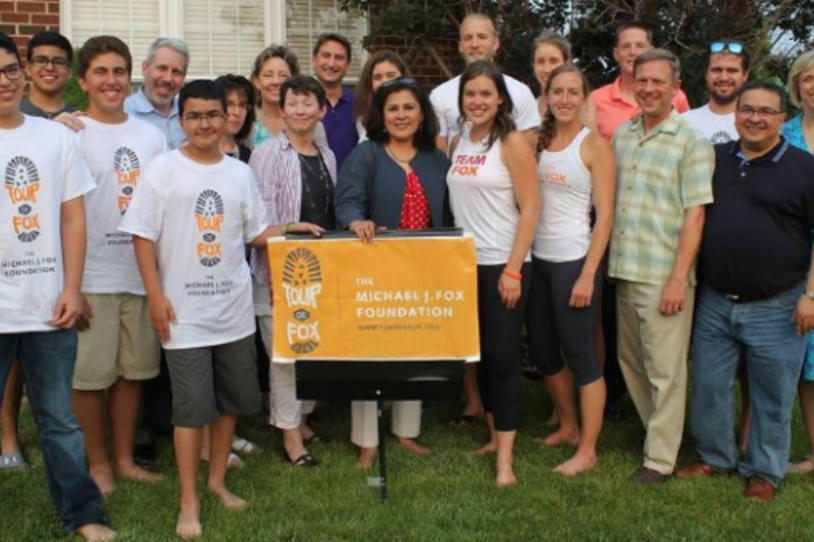 Claudia Revilla has always understood the power of community. So when she was diagnosed with Parkinson's disease (PD) in her mid-40s, she became an advocate who unites patients, families and caregivers.
After her diagnosis, she worried about how her Parkinson's would affect her husband and two young sons. She started searching for information about her symptoms and what to expect with the disease. Soon, she decided that in order to live well with Parkinson's, she needed to break out of the stigma and isolation that many patients experience -- and help others do the same.
"I wanted to know, 'What can I do other than take this pill for the rest of my life?' People with PD are more than that. We have options," she says.
She connected with The Michael J. Fox Foundation (MJFF) and opportunities to engage with driving research toward a cure, including taking part in clinical trials. 
She also joined Team Fox, MJFF's grassroots fundraising arm. She was energized by the idea of creating fundraisers around her own interests and motivated by the chance to bring together people affected by PD. Most importantly, Team Fox also gave her sons a chance to take the lead in educating others about the disease and the need for a cure.
To date, she has raised more than $9,000 to help speed a cure, including fundraisers for Tour de Fox and dedicating her fiftieth birthday party to the cause.
The spirit of Team Fox, Claudia says, is contagious and goes beyond fundraisers: "When people know you have Parkinson's, they want to give back, to help. But Team Fox is much more than raising money. It's community. It's friendship. It's teamwork."
This purpose also drives Claudia to take part in Fox Insight, the Foundation's online clinical study that empowers people with and without PD to partner with researchers and help speed research progress. As someone who has participated in traditional, "brick-and-mortar" clinical trials, she understands the hesitation patients and families can have about research participation. She also has fielded questions from older patients and those less familiar with technology. Her solution? Involve children, grandchildren or friends in this "team effort" that can inspire honest conversations about life with Parkinson's, its challenges and the hope for a cure.
For Claudia, Fox Insight is a critical opportunity to contribute to scientific understanding -- as a community:
"Science can't do everything by itself. If a cure or clues to the disease are inside me, I have to step up. We all do."
Looking for a way to join the PD community in helping accelerate breakthrough treatments? Learn more about fundraising with Team Fox and sharing your lived experience with researchers through Fox Insight.