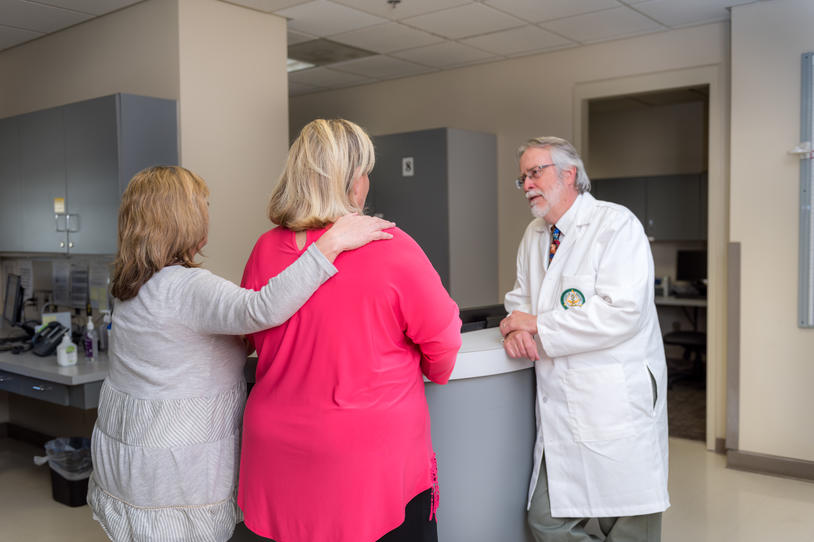 The support a physician provides for a person living with Parkinson's and care partner is critical to their quality of life and wellbeing. Like all relationships, success depends on open, honest communication. To better understand this, The Michael J. Fox Foundation (MJFF) led a research project to explore the patient and care partner language of Parkinson's. One of the studies, led by neurologists Lana Chahine, MD, and Sneha Mantri, MD, was recently featured in KevinMD, a platform where health care professionals share insights and stories.  
The study asked care partners of people with Parkinson's disease psychosis to write a letter to their care recipient's doctor. Participant L. Addison Diehl, LNA, 52, of Phoenix, Arizona, candidly shared his experience caring for his mom who had Parkinson's disease psychosis.
Diehl highlights the value of open communication and the importance of empathy in the face of challenges. He explains:
"I think the most 'visceral' help you've provided Mom, whether she is conscious of it or not, is through your eye and verbal contact. She is, without fail, the person you first look at and address when you enter the exam room, and it is to her you address your routine questions, even though I know you are perfectly aware she likely doesn't understand the questions and that I'll be providing the answers."
In response to his letter, study leads Chahine and Mantri note how expanding beyond verbal communication could provide new insights into how patients and care partners view their interactions in daily life:
"Asking a patient or care partner to write a letter — instead of relying solely on verbal conversation — illuminates new aspects of the physician-patient-family relationship. A letter's content and style reveal the writer's anxieties, fears and hopes. We encourage clinicians to ask their patients and care partners to write letters; you may be surprised at what you learn."
Read the full article on KevinMD.
This study was supported by the Parkinson's Disease Education Consortium, an alliance of biotechnology and pharmaceutical firms that share MJFF's commitment to furnishing high-quality educational resources for the Parkinson's community.