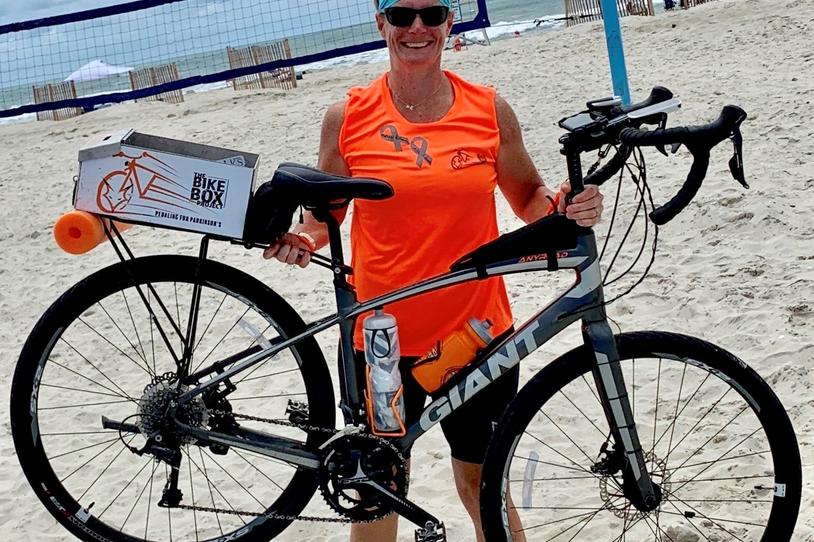 In most small towns, everyone knows everyone. In New Bern, North Carolina, everyone knows Bethany Richards and her bicycle. Whether she's riding to work or running errands in town, wherever Bethany is, her bike isn't far.
Bethany's grandfather lived with Parkinson's and when she found out her father has the disease, she decided to do something. Naturally, that involved her bike. Her husband helped attach a small box to the back of her bicycle that read "Pedaling for Parkinson's" and she began collecting donations for Team Fox, the grassroots fundraising program of The Michael J. Fox Foundation (MJFF). In the first month, she raised nearly $1,000. She quickly realized, "Wow, there's really something here."
She decided to organize a 40-mile bike ride from New Bern to Atlantic Beach and was able to recruit 26 cyclists and enlist the support of a few sponsors. This past October, the fourth annual Bernin' to the Beach ride welcomed 100 participants, dozens of sponsors and an escort from a New Bern Fire and Rescue engine and local law enforcement. "New Bern is just a gem and the people rally behind the causes here," says Bethany, who moved back to her hometown when she retired from firefighting. 
In addition to the Bernin' to the Beach ride, Bethany saw other opportunities to raise money and awareness in her community and beyond. She became a go-to person in town when others had ideas about potential fundraisers, or they just wanted someone to talk to after a recent diagnosis.
She established a 501(c)3 called The Bike Box Project to collect the donations raised by these various fundraisers — which included a wine tasting, 5K run and smaller rides — and expand their reach. In four years, The Bike Box Project has raised over $50,000 to support MJFF and to assist people locally living with PD. "Being part of Team Fox is extremely humbling and makes us feel like we have a place. It makes me want to do more," says Bethany.
That ambition is reflected in the mission of The Bike Box Project. "We're trying to do a couple states a year. We want to pedal to every small town U.S.A. to meet people and raise more money," says Bethany. In June, she completed the first of these rides, biking 670 miles across North Carolina in 15 days. "You can accomplish the ride in seven days, but we wanted to stop to speak with local support groups," says Bethany. "We met so many folks along the way," says Bethany. "I rode with ribbons of people with PD that were sponsored by a loved one. People would come up to us and give us money or pull over to wait for us and thank us. That's what keeps us going," she says.
What's next for The Bike Box Project? Bethany and her husband will bike through Florida in February and meet up with a larger group in Key Largo to take on the Keys. In addition, as an extension of The Bike Box Project's efforts to expand local offerings and resources for people with Parkinson's, Bethany recently became certified in coaching Rock Steady Boxing and is helping to bring classes to New Bern. Classes will begin full time in January 2020, but free workshops are currently available for those in the area. Interested volunteers and participants can call 571-215-9282 or learn more on Facebook.
Click here to learn more about how you can make a difference in your community.