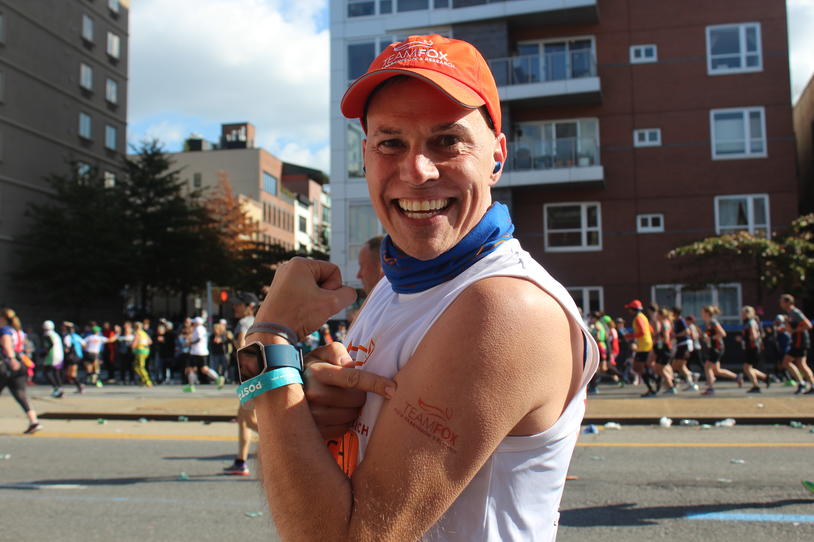 Last year, our fundraising community raised over $11 million to benefit The Michael J. Fox Foundation (MJFF). Through inventive create-your-own events, new and returning Foundation-hosted community fundraisers and high-energy endurances challenges, our incredible peer-to-peer fundraisers raised the bar once again.
Together, 486 Team Fox members, over 1,200 Tour de Fox cyclists and nearly 3,900 Fox Trot 5K participants brought in more funds than ever before — all of which went to MJFF's mission to cure Parkinson's.
So, how did they generate over $11 million in one year? Let's look at some 2019 highlights:
$67,283 collected through portion of proceeds campaigns in 2019. Entrepreneurs from over 30 businesses — such as Sock it to PD

,

Squar'd Away and others

—

donated a portion of their sales to Team Fox. To learn more and get your business involved, email teamfox@michaeljfox.org.
52,245 miles pedaled through MJFF's 2019 Tour de Fox Cycling Series. More than 1,200 cyclists geared up for rides ranging from 10 to 70 miles in Atlanta, GA, Santa Rosa, CA, and Port Coquitlam, BC. The three events collectively raised $1,050,000 for a cure.
9,084 miles logged by over 400 members of our official endurance event teams. They ran marathons in Orlando, Boston, London, Chicago, New York City, and Berlin; climbed Mt. Whitney in California; hiked Mt. Kilimanjaro in Tanzania; and fundraised over $1.5 million! Click here for a list of 2020 endurance events.
1,492 cyclists gathered on opposite coasts for Team Fox's two largest community-led cycling events, Pedaling 4 Parkinson's in Lone Tree, CO and the New England Parkinson's Ride in Old Orchard Beach, ME. Save the date and join them in 2020: Pedaling 4 Parkinson's on June 13 and the New England Parkinson's Ride on September 12.
1,000 musical minutes for a cure. From a multiple Grammy- and Latin Grammy-winning producer to local rock stars, Team Fox members rocked out for a cause. Playing guitar, hosting live concerts and assembling family bands, our community was in sync to end Parkinson's.
450 cowbells rung throughout MJFF's 2019 Fox Trot 5K Run/Walk Series. Nearly 3,900 Fox Trot participants joined us in Los Angeles, Austin, St. Paul, New York City, Boston, Bay Area, and Orlando and together, raised over $830,000 for research. Walk or run with us in 2020.
400 pancakes flipped by Team ESB at their Long Island-based Pancakes for Parkinson's event. This longtime event is hosted by three families and brings together hundreds of community members to spread awareness, raise funds, and most importantly, eat delicious pancakes! 
8 college campuses hosted fundraisers to benefit Team Fox in 2019. From flipping pancakes to marching bands at halftime shows, these college students went above and beyond to rally their classmates, alumni and professors to support our mission.
1 connected community. With virtual exercise and fundraising challenges — such as Peloton 4 Parkinson's, Exercise to Defeat Parkinson's and Race at Parkinson's Pace — and thousands of likes, comments and shares, our global community is more connected than ever. We have lots to share in 2020, so be sure to follow along on Facebook, Twitter and Instagram.