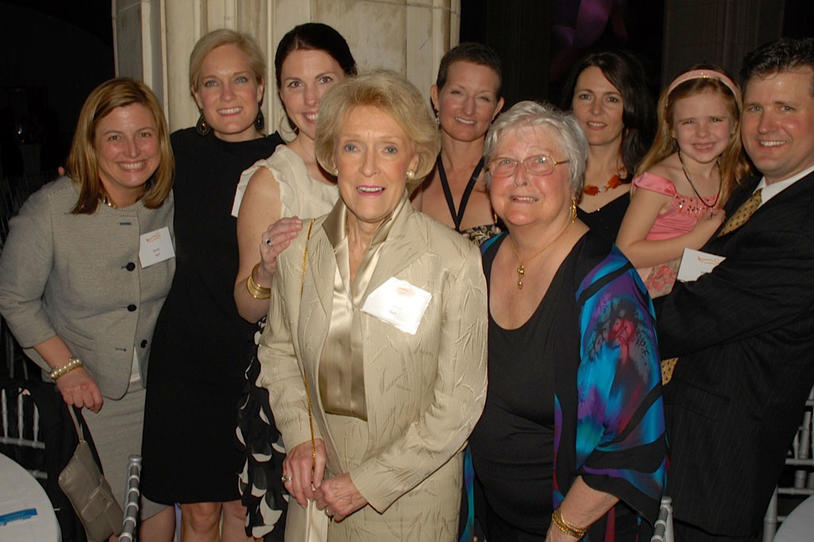 "Team Fox inspires me. It's a part of our family," shared Mike Dubin, a speaker at the Foundation's sixth annual "Most Valuable People" (MVP) Awards dinner on April 20 in New York City. This was a recurring theme at the event celebrating the previous year's top fundraisers for Team Fox, with personal thanks from Michael J. Fox and the Foundation's staff. Members traveled from as far and California and Canada to take part in the evening—contributing to a full house and making it clear the Team Fox family is growing.
One young Team Fox member, Esmé, had the honor of introducing Michael J. Fox; he also happened to be her father. After growing up watching Team Fox runners in the New York City marathon, she decided to join the team—first with a lemonade stand and expanding to her own cookie business. She thanked everyone for the impact they had made on her family, and especially her dad. Taking the stage Michael said, "For so many of us, Team Fox is a family affair." Although he'd never asked his kids to join, they just did because "it's something that you want to be a part of. I'm blown away by the hard work of everyone in this room. You all are telling our story. By working together, this story will have the happiest ending of all—a cure."
It was an evening in which many connections, both old and new, were made. People were eager to network with each other—recruiting new members for their teams, swapping details on fundraising events and sharing advice. For so many, whether they had Parkinson's or not, it was meaningful to be in a room full of people affected by PD. Edna Woods, whose son Chris has PD, called it an "eye-opener" for her grandchildren, who had previously known only a few people with the disease. She said, "It gave them a whole new perspective on how amazing their Dad is, and how badly we need a cure for the disease."
But it also provided patients with a sense of familiarity and ease—that they were among friends who understood. Mike Dubin shared his family's story with the audience. In 2010, when he brought his father the MVP dinner, he'd said to Mike in surprise, "A lot of these people have Parkinson's!" Mike recalled, "For the first time, my dad didn't feel alone in his diagnosis." After that night, his dad let go, worrying less if others noticed his symptoms. Just three weeks before Mike was slated to run the NYC marathon again, with his friend and PD patient Matt Wilbur, his father passed away. Mike credits Matt—and Team Fox—for inspiring him to finish the race, and to "never stop fighting until Parkinson's is cured."
Another Team Fox member, Gail Oliver, captured well the sentiment of the night: "You could feel the love and excitement in the room. It was truly inspirational."
Also inspiring was the new Team Fox video that aired that night. Check it out!