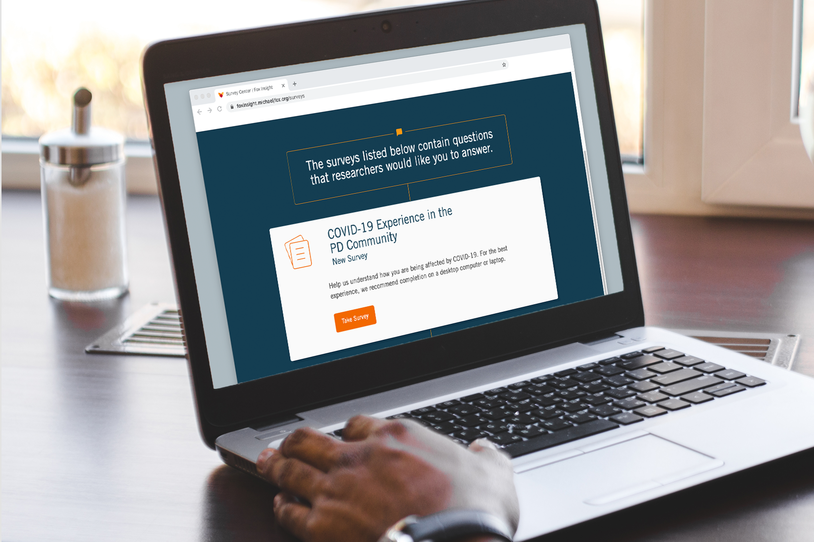 Editor's Note (June 28, 2021): A new COVID-19 survey is now open in Fox Insight. You can take this new COVID-19 survey whether you completed the first one in 2020 or not. Through this survey, researchers hope to better understand how COVID-19, vaccines and social distancing are affecting the Parkinson's community. To share your experience, join Fox Insight at foxinsight.org. If you're already in the study, sign in and find the questionnaire in the Survey Center under Related Research.
The coronavirus pandemic is impacting everyone across the globe. But until recently, we had little to no research on how it was specifically affecting people with Parkinson's disease (PD). And that's why leading Parkinson's scientists stepped up to the plate and worked urgently to deploy a first-of-its-kind survey through The Michael J. Fox Foundation's (MJFF) online clinical study, Fox Insight.
The goal of the COVID-19 survey, which launched on April 23, is to identify the effects of the global pandemic on Parkinson's symptoms and disruptions in care. In the first month, the survey received 7,209 responses from people with or without Parkinson's disease — this equals an incredible 10 survey responses every hour over 30 days and makes this the largest data set on COVID-19 and Parkinson's to date!
"It's remarkable how many people responded so quickly to tell us how they were impacted by the clinical and social aspects of this pandemic," says Fox Insight principal investigator Carlie Tanner, MD, PhD, professor of neurology at the Weill Institute for Neurosciences, University of California, San Francisco. "This is why Fox Insight exists — to meet patients where they are and to use their experiences to transform our understanding of Parkinson's disease."
Every three months, Fox Insight participants complete online "study visits" — questionnaires on health, symptoms and lifestyle factors. They also can offer additional information by filling out one-time surveys on topics relevant to Parkinson's, like COVID-19.
Dr. Tanner and her team analyzed data from the survey's first month. They found 51 people with Parkinson's reported a COVID-19 diagnosis, which is currently the largest group of people with PD and COVID-19 in research to date. The survey revealed that during a COVID-19 infection, 55 percent of people with PD reported worsening of an existing motor symptom (tremor, slowness, imbalance) and more than 50 percent reported worsening of non-motor symptoms (mood issues, digestive problems, fatigue). For example, when asked about mood issues (anxiety, depression, apathy), 51 percent of respondents reported worsening of symptoms while 20 percent reported experiencing these for the first time. This information can help doctors assess patients' needs and provide better care.
"My tremor got worse with COVID and there was nothing to show if other people with PD were also experiencing this," said Dan Morris, a person with PD who had COVID-19 and completed the Fox Insight survey. "I submitted my survey to Fox Insight because I wanted my experience to add up to something bigger."
The survey also confirmed previously reported effects of the pandemic on people living with chronic disease, especially people of color. Of respondents, 62 percent reported issues accessing health care, including canceled appointments or difficulty obtaining medications, and non-white and lower income participants reported more obstacles. Participants with lower income also were less likely to attend appointments through telemedicine, which only 39 percent of people with Parkinson's reported using. This presents an opportunity for more education and advocacy for expanded coverage of telemedicine, a priority issue for our Foundation's public policy team.
Analysis of the initial data set is published in the Journal of Parkinson's Disease. The COVID-19 survey is still open in Fox Insight, however, to capture more experiences of the Parkinson's community as the pandemic continues to evolve.
Read our press release on the Fox Insight COVID-19 study results.
Interested in learning more? Watch our webinar featuring expert panelists.
When you join Fox Insight, you help shape the future of Parkinson's research. To take this important survey on COVID-19, register at foxinsight.org. For new participants as well as those already enrolled in Fox Insight, you can find the survey in the Related Research section after signing in.