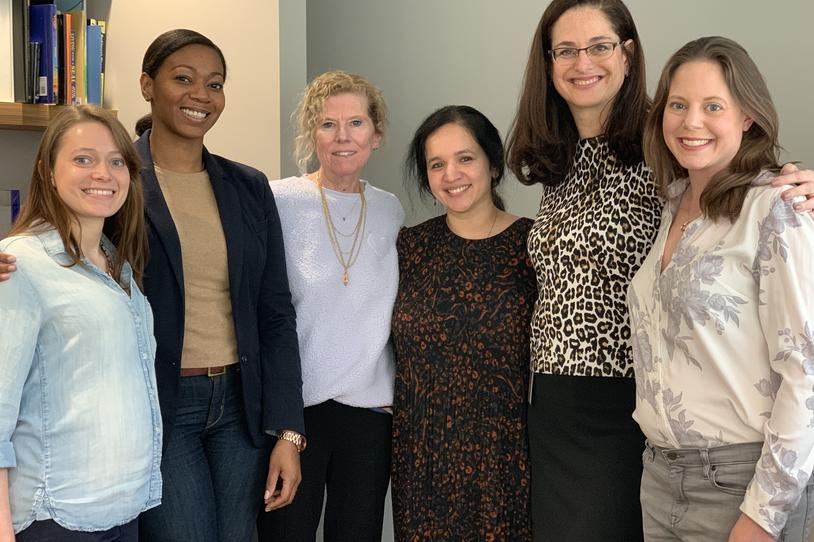 We couldn't let Women's History Month go by without highlighting the talented women scientists on staff who move our mission to cure Parkinson's forward. Although women make up at least half the world's population, they represent only 28 percent of the workforce in science, technology, engineering and math. It is important to consciously work toward increasing this number, and here at The Michael J. Fox Foundation (MJFF), we are striving to do our part — women make up half the staff on our programmatic initiatives, holding key roles across all our research endeavors.
These women bring unique backgrounds, expertise, and interests to MJFF to accelerate research and speed cures. We asked them about the exciting progress they are seeing in Parkinson's research. Collectively, their perspectives and insights will undoubtedly impact the field of Parkinson's research as we usher in the next generation of Parkinson's therapies and diagnostics.
Here are their answers:
Rachel Dolhun, MD, senior vice president, medical communications, focuses primarily on helping people and families with Parkinson's understand the disease, their symptoms and their journey – filling in the gaps between doctor visits and connecting their experiences to ongoing research.
"There's so much moving forward. So much to be optimistic about. The Foundation is expanding our Parkinson's Progression Markers Initiative (PPMI) to learn more about how and why the disease develops, and ultimately prevent it from happening. Family members of people with Parkinson's, people who have PD risk factors (such as acting out dreams or REM sleep behavior disorder), and those who were recently diagnosed with PD can participate," says Rachel.
Leslie Kirsch, PhD candidate, director, data partnerships, helps the research community take full advantage of the amazing data that our patient community has contributed to help cure Parkinson's.
"With all the great data being collected across the Parkinson's field, I'm excited to see how machine learning is applied to PD this year. Drawing true insights from such complex data can be difficult, but there's so much opportunity there!" Leslie explains.
Barbara Marebwa, PhD, associate director, research programs, works with other scientists to identify, review, fund and manage research projects on new brain imaging technologies.
"By the time most people notice motor symptoms 80 percent of their dopaminergic neurons have died. I am very optimistic that we will be able to diagnose Parkinson's earlier, before people experience symptoms such as shaking, imbalance, walking issues and others. Then, we may be able to start treatment earlier to prevent or slow down disease progression," says Barbara.
As an associate director with the therapeutics team, Jessica Tome Garcia, PhD, supports critical stages of the granting process and helps identify novel and promising therapies.
"I am very excited to see the latest discoveries in the biological mechanisms of the disease that will provide potential therapy targets. Specifically, the ongoing work around understanding the role of vesicular transport, mitochondria, and lysosomes (and their synergies), in the development and progression of Parkinson's disease," says Jessica.
As vice president of research partnerships, Katie Kopil, PhD, leads research partnerships, which is a team that focuses on building relationships with pharmaceutical and biotechnology companies on Parkinson's drug development.
"I'm personally excited about increasing attention to and investment in patient-reported outcomes (PROs) for Parkinson's drug development. The field at large is paying more attention to PROs thanks to the FDA's guidance documents on Patient-Focused Drug Development, and MJFF is facilitating development of new tools that not only measure patient experience but also capture what matters to patients. This technology can pave new paths to develop treatments that really make a difference," says Katie.
Nicole Polinski, PhD, senior associate director, research programs, ensures researchers have access to key tools and reagents to perform their experiments. Another part of her role focuses on building our program investigating the relationship between the immune system and Parkinson's.
"I am excited to further uncover the molecular signature of PD to build better diagnostic tests for the disease. With the dedication and contributions from patients and their loved ones to our various studies, we can use patient biosamples to delve further into this disease and pursue research questions that were unanswerable even a few years ago," says Nicole.
Jamie Eberling, PhD, vice president, research programs, oversees the imaging portfolio and is committed to developing a PET tracer that can be used in clinical trials to visualize the toxic clumps of alpha-synuclein protein that form in Parkinson's brains.
"I am excited that we have made progress in this area and hopeful that we will be successful in the next couple of years. Despite some delays due to the pandemic, the work continued, and we have not lost the momentum. This is a very big challenge, but the payoff will be immense," says Jamie.
Shalini Padmanabhan, PhD; director, research programs, manages a biology portfolio that aims to understand the role of high priority targets and pathways (e.g., LRRK2, Parkin, PINK1, GBA, inflammation) in how Parkinson's develops and progresses. Once we understand the processes that breakdown in Parkinson's, we can design interventions to slow or stop the disease.
"I am excited to see diverse PD populations included in many of our funding initiatives and very excited to implement the knowledge that will be gained through the analyses of the PPMI data to identify better PD biomarkers for ongoing and future clinical trials," says Shalini.
Samantha Hutten, PhD, director, research programs, is responsible for overseeing biosample resources and manages the Foundation's Parkinson's Progression Markers Initiative and BioFIND scientific biomarker portfolios.
"I'm excited about the next phase of the PPMI, which focuses on recruitment of 'at-risk' volunteers who don't have Parkinson's. This work will pave the way for preventing Parkinson's disease by better understanding the clinical and biological factors leading up to diagnosis. The global expansion of PPMI is an unprecedented step forward towards one day diagnosing PD even earlier and ultimately halting the disease in its tracks!" says Samantha.
We also want to extend recognition and gratitude to all the women — internally and externally — who move our scientific mission forward. It is thanks to all the female advisors, research grantees, programmatic staff, fundraisers, accountants, marketers and everyone involved in our work that Parkinson's disease research breakthroughs are possible.
Rachel Dolhun, MD, senior vice president, medical communications, MJFF

Leslie Kirsch, PhD candidate, director, data partnerships, MJFF

Barbara Marebwa, PhD, associate director, research programs, MJFF

Jessica Tome Garcia, PhD, associate director, research programs, MJFF

Katie Kopil, PhD, vice president of research partnerships, MJFF

Shalini Padmanabhan, PhD; director, research programs, MJFF

Samantha Hutten, PhD, director, research programs, MJFF

Nicole Polinski, PhD, senior associate director, research programs, MJFF