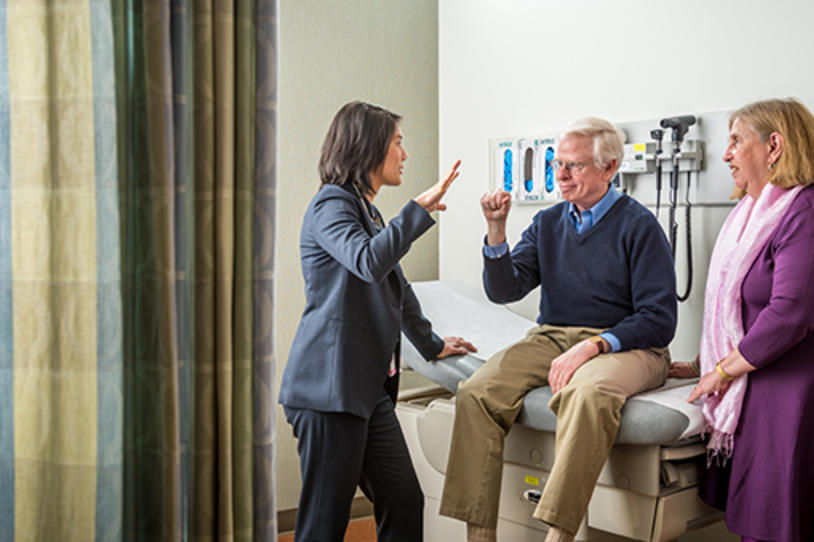 In 2010, The Michael J. Fox Foundation launched the Parkinson's Progression Markers Initiative, a landmark clinical study to dramatically increase understanding of Parkinson's disease biology. PPMI represented the largest and deepest study of the human experience of PD ever undertaken. Ten years later, PPMI is widely acknowledged as the most ambitious and critical initiative in Parkinson's history, benefiting from the commitment of thousands of scientists, patients and medical personnel, more than a score of biopharmaceutical companies, dozens of academic Centers of Excellence and multiple governmental entities across nearly three dozen clinical sites in 11 countries.
Now PPMI is entering its next phase: an ambitious expansion of its study population to include individuals without a Parkinson's diagnosis, but living with certain factors now known to be linked to increased risk of Parkinson's in individuals aged 60 and up:
 
Studying people in whom no Parkinson's movement symptom has yet emerged, but who may be at increased risk, is a critical first step on the journey to ultimately prevent the disease. Parkinson's science has only recently matured to the point where it is possible to bring a large-format study of PPMI's capabilities to the rigorous and consistent gathering of data on the biology and experience of disease prior to the diagnosis or even suspicion of Parkinson's.
While it has long been understood that as-yet-unidentified disease processes are taking place in brain and body cells well before the clinical diagnosis of Parkinson's disease, understanding of these processes has been limited at best and gained mostly from small, specialized trials. Now the field is ready for a study of PPMI's global scale as scientists look forward to the near-future testing of therapies that could treat Parkinson's earlier or even prevent the disease. (A major prevention study also could shed light on poorly understood protective factors that keep some people from ever developing Parkinson's disease in spite of PD-associated genetic mutations or environmental exposures.)
PPMI is now enrolling the largest cohort ever assembled of these "at-risk," pre-diagnosis individuals. Following these volunteers, in-depth, over the course of several years, from before onset of Parkinson's-related changes through diagnosis and progression, is a scientific necessity: This science will open up new therapeutic avenues put into immediate service for the benefit of today's patients. It also could shed light on biological and clinical markers, as yet undiscovered, that may be the earliest objective predictors of disease. (Imagine a future where Parkinson's could be diagnosed through a blood test in a doctor's office without the patients ever enduring a single symptom.)
Yet PPMI is by no means limited to studying the at-risk population. The study also is recruiting an additional 900 individuals recently diagnosed with Parkinson's and 100 age- and gender-matched control volunteers. It also is transitioning its more than 1,000 prior participants (who have now been living with PD for as long as 10 years) into the new protocol. As such, the study now represents the first and most rigorous study ever undertaken to offer the field real-time data, biosamples and understanding of the broadest possible spectrum of disease progression in a large and well-characterized cohort spanning pre-diagnosis to advancing disease.
If you are in your late 50s or older and have a close relative with Parkinson's or fit any of the other risk profiles listed above, PPMI needs you. Men are especially needed. Please take a short survey today to get started in the study.