A note on the evolving coronavirus situation: As you know, The Michael J. Fox Foundation has been monitoring the evolving situation surrounding coronavirus COVID-19. While the risk of exposure/infection likely remains low for the general public, we have made the decision to err on the side of caution and postpone the Parkinson's IQ + You Chicago event.

While we hate to disappoint our community, your health and comfort are our top priorities. Our team is working to reschedule this event for a date to be determined later this year or early in 2021; please look out for future communications as we know more.

We apologize for any inconvenience. If you have questions, please contact us at (800) 708-7644.

Join us in Oakland on May 16, 2020, for this free educational event designed for Parkinson's patients, their families and care partners. The event features a program with sessions on understanding Parkinson's, managing care and learning about research participation. The accompanying Partner Expo includes information on treatment options and local resources for the Parkinson's community.
Date and Time: May 16, 2020, 8 am - 2:45 pm
Registration and Partner Expo open at 8 am; program begins at 9 am.
Venue: Oakland Marriott City Center
1001 Broadway, Oakland, CA 94607
Parking: Parking will be validated for all attendees. Parking will be available at the self parking garage located on the corner of 11th and Clay Street. This parking garage includes 2 stories of available parking, including handicapped spaces. A Staff member located at registration will provide a voucher with a QR code that can be exchanged as payment.
Accessibility: The event will take place on the first floor of the Oakland Convention Center in the East and West Halls. Elevators and Ramps are available from the parking garage and the Lobby for accessibility.
Meals: Registered participants will enjoy complimentary breakfast and lunch. We will make every effort to accommodate dietary restrictions.
Cost: Free. There is no cost to attend Parkinson's IQ + You events, thanks to support from our generous sponsors.
More information is available in the FAQs. 
Registration and Breakfast
The Partner Expo begins and guests can enjoy a welcome breakfast.
A member of the Foundation's staff provides an overview of the day's program.
If I Knew Then What I Know Now
Parkinson's patients and family members offer advice and experience about living well with the disease.
Seeing a Movement Disorder Specialist
A patient and care partner go through typical appointments with a movement disorder specialist and provide tips on getting the most out of your visit.
Exploring the Latest Parkinson's Research
Researchers discuss progress, challenges and reasons for optimism in the effort to develop therapies for Parkinson's.
Medical professionals who treat all aspects of Parkinson's — mind and body — join the moderator to discuss how to create your care team and update it as needs change.
Closing Session: Turning Education into Action
Panelists share ways to get more involved in the Parkinson's community, research and care.
Interested in attending the event?
Parkinson's IQ + You is free, but advance registration is highly recommended. 
Event Sponsors
These events are brought to you by ACADIA Pharmaceuticals, with support provided by Voyager Therapeutics and additional members of the Parkinson's Disease Education Consortium, an alliance of biotechnology and pharmaceutical firms who support The Michael J. Fox Foundation's commitment to furnishing high-quality educational resources for the Parkinson's community.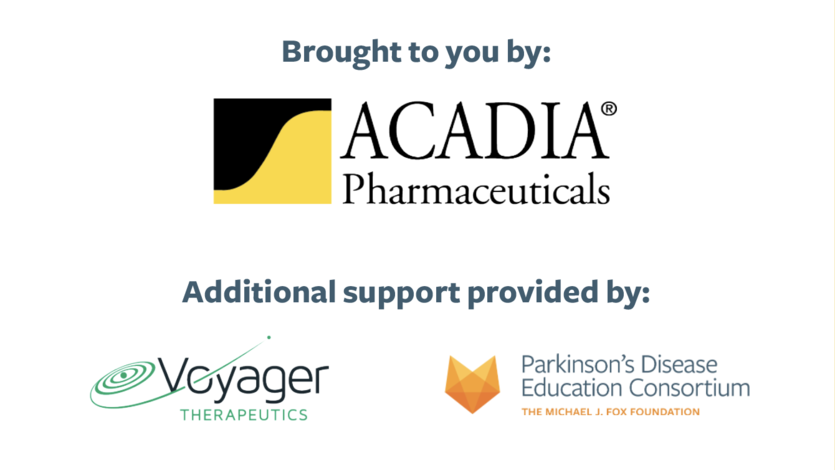 National Partners