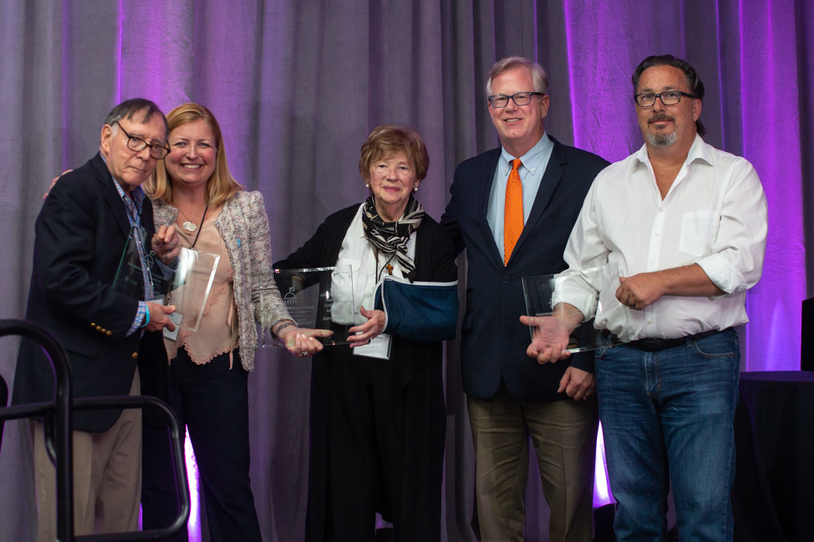 Last week, the Parkinson's Foundation and The Michael J. Fox Foundation presented the 2019 Parkinson's Advocacy Awards to five people.
These awards shine a spotlight on efforts to further policies that benefit people with Parkinson's, their families and care partners. During the ceremony, which took place at the 2019 Parkinson's Policy Forum in Washington, D.C., advocates and lawmakers were recognized for their service to the Parkinson's community. 
The 2019 honorees are highlighted below.
Social Media Advocacy Award
Recognizes an advocate who furthers Parkinson's policy goals by harnessing the power of social media.
Michael Sweet, California
Michael started and manages three Parkinson's social media groups on Facebook. With 5,000 people in the patients' group, 7,500 in the caregivers' group, and 1,000 people in the DBS group, Michael has given 13,000 people a place to go for support, policy information and community. Michael administers each of the groups with integrity, dignity and compassion. He understands the connectedness that social media can bring and offers a platform for communication and outreach.
Year-round Advocacy Award
Presented to an individual who exhibits exemplary advocacy efforts throughout the year.
Dan Lewis, Maryland
Dan Lewis has been an active year-round advocate for more than 15 years. He is on a first-name basis with his senators and representative in Maryland, and lives in the same congressional district as NIH. Dan served as a board member of the Parkinson's Action Network and also served as board chair of the Parkinson Foundation of the National Capital Area. Advocacy is in his DNA. Dan has helped educate members of Congress about the Parkinson's surveillance system eventually passed as part of 21st Century Cures Act. He also has been a strong advocate for NIH research funding.  Dan is persistent, yet professional and has helped teach newer advocates in Maryland the ins and outs of how Congress works.
Milly Kondracke Award for Outstanding Advocacy
Also known as "advocate of the year," this award is given to a person who embodies the strength of spirit and commitment to advocacy that Milly Kondracke demonstrated every day. Throughout her life, Milly tirelessly and effectively advocated for increased federal investments in PD research. On behalf of millions of advocates across the country, she was the public face of Parkinson's on Capitol Hill. She humanized Parkinson's and educated lawmakers on the disease. Milly was diagnosed with Parkinson's in 1987 and passed away from complications of the disease in 2004.
Gerry Haines, Pennsylvania
Gerry Haines is a force of nature! An advocate since her husband, Brig, was diagnosed with Parkinson's at age 46, Gerry has long been involved in raising awareness about the disease and advocating for research funding and policy support. She began her Parkinson's advocacy journey in the early 1990s with Joan Samuelson, the founder of the Parkinson's Action Network, and joined forces with Carol Walton from the Parkinson Alliance and the late Muhammad Ali to hold educational symposiums across the country. She met regularly with Representative Charlie Dent when he was in office, as well as the late Senator Arlen Specter. She is in regular contact with Senators Pat Toomey and Bob Casey's staffs. She worked to have the bill passed that created the Udall Research Centers of Excellence at NIH. She once drove her husband to NIH twice a week for a nine-week clinical trial, so she understands how valuable research is and has continued to advocate in support of research funding and other policy support for people living with Parkinson's. She believes we all need to get out of our comfort zones and try new things to create change. Gerry's husband passed away in 2008, and his spirit and light lives on in Gerry, who is a role model for us all.
Morris K. Udall Award for Public Service
Given to individuals who have made important contributions to public policy with humor, grace and dignity, in the spirit of Morris "Mo" K. Udall. Mo served in the House of Representatives for 30 years and was a candidate for the Democratic presidential nomination in 1976. During his career, he infused American politics with his singular style of humor, grace and dignity. Many of today's leaders — on both sides of the aisle — have cited Mo as a role model. He was diagnosed with Parkinson's in 1980 and died of complications from the disease in 1998.
Senator Roy Blunt (R-MO) and Senator Patty Murray (D-WA)
Great things happen when Republicans and Democrats work together, and biomedical research is one of the only policy areas where both parties come together to work toward the common good.
Together, Senator Blunt and Senator Murray lead the Labor-HHS Subcommittee of the Senate Appropriations Committee. Senator Blunt is the chairman of the subcommittee and Senator Murray is the ranking member. They work with their other subcommittee members and the leads of the committee to determine funding levels for a variety of federal programs, the most important of which to us is the National Institutes of Health (NIH). 
NIH funding was doubled over the period of 1998 – 2003, but after that remained stagnant. Without regular annual increases to keep pace with inflation from 2004 – 2016, in effect, NIH lost nearly 25 percent of its budget. For Fiscal Year 2016, Senators Blunt and Murray began to right that wrong and secured a $2 billion increase for NIH. They did the same thing again and, since then, NIH has received $9 billion in new funding since 2016 and is on track to receive another $2 billion for FY 2020. Both Senators have stated on the record, and their actions match their words, that NIH is important to the health, well-being, safety and security of our nation.
Their bipartisan collaboration should serve as an example to the rest of the Senate and House and reminds us all that Parkinson's disease doesn't care what your political party is — what matters is how we come together to find a cure.