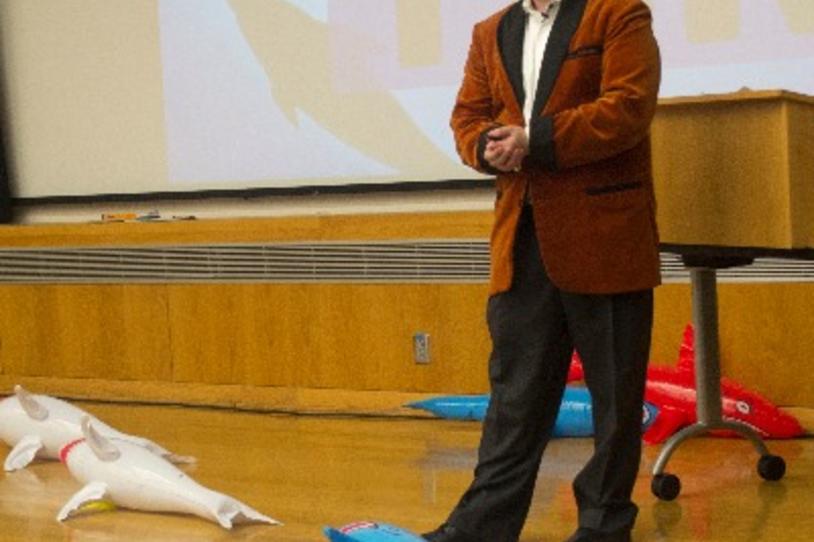 When you check the stats, I should not be friends with Barbara Howard:
I am the associate dean of communications at Ithaca College, she is the associate dean of business at Ithaca College. Comm and Business schools are like the Jets and the Sharks of West Side Story except there is typically less violence and more emotional dancing.
I am a UConn fan and her loyalties are with storied Division III program, Syracuse.
We both, prior to coming to Ithaca College, worked at competing institutions in SUNY.
I grew up on the east end of Long Island and Barb was born in an ice castle near Rochester which may have inspired the movie, Frozen
Barb has season tickets to the Bills and I live and die with the Mets. (Ok, this is a push. No two deans should know this much suffering).
​​​​​​​
Yet despite these glaring differences, I consider Barb a close friend for numerous reasons - one of those being that we both share the challenge of living and working with Parkinson's disease. Barb was diagnosed at age 55 in 2011 and I was diagnosed at age 30 in 2010.
Similar to baseball, having PD is an individual sport in a team game.  While we both are part of the exclusive Club PD, we have very different symptoms. Mine are much more noticeable (right arm tremor) whereas Barb's symptoms you can barely pick-up on. 
While our symptoms may differ, it has always been great having someone who I can discuss the disease with. We both have the attitude that Parkinson's Disease will not define us.  Barb has recently become more public about her diagnosis and, considering the Ice Queen of the North is the toughest individual I know, Parkinson's disease is in big trouble.

Where the two of us agree 100 percent is in the effort to support research through clinical trial participation.  Barb has already participated in numerous research studies through the Fox Trial Finder and she inspires (pushes?) me to continue to stay engaged in research as that is how we will beat this challenge.

My time at Ithaca College has been enriched by working with Barb. She is sharp, funny, hard working, and tough as nails. We both are incredibly optimistic that a cure for PD is soon and if we work together, we can help in our own small way to push the ball forward. Associate Dean Howard may root for lost causes (Buffalo Bills, SU Orangemen), but I wouldn't bet against her to assist research in finding a breakthrough.