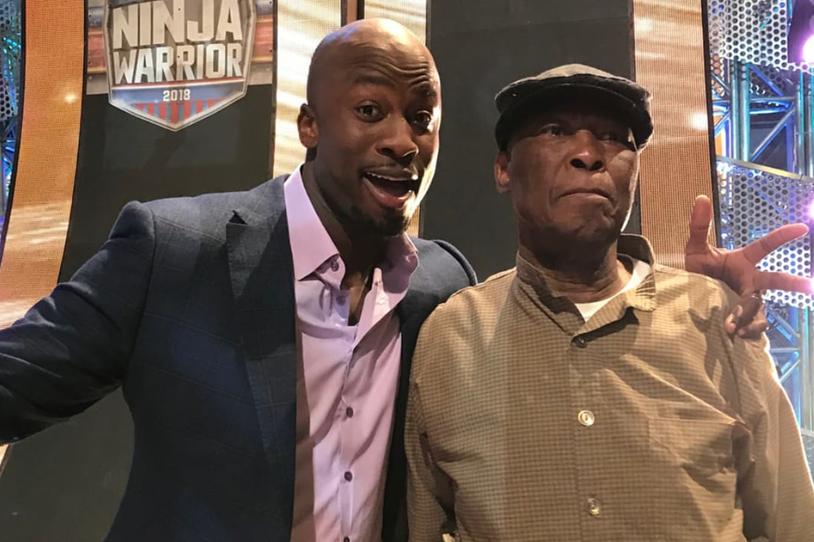 You may recognize Michael J. Fox Foundation (MJFF) Board member Akbar Gbajabiamila from NBC's American Ninja Warrior, CBS' The Talk or from his NFL days as an Oakland Raider. Today, Akbar is using his platforms to educate more people and families on Parkinson's disease (PD) and the latest research. As a son whose father has PD, Akbar opens up to sports online outlet The Athletic about the questions he has about his own risk for the disease and shares his latest efforts to mobilize people of all backgrounds to participate in the Foundation's landmark study, the Parkinson's Progression Markers Initiative (PPMI).
To date, most Parkinson's research has not been fully representative of all people who live with the disease. As a result, our understanding of how PD affects people living with the disease and their families across diverse backgrounds is incomplete. Clinical research must include underrepresented populations such as the Black and African American community so that the treatments and cures we seek benefit all people living with PD.
When asked about why he decided to share his story on getting involved in Parkinson's research and using his platform to raise Parkinson's awareness in the Black and African American community, Akbar emphasized:
"I wouldn't even lie when I say there's always a concern, a question about having trust in the process. And with the relations with The Michael J. Fox Foundation, I was quickly able to get over the hesitancy of joining the [PPMI] research, what are they going to do and all the other stuff that pops up in your mind. Some of it is deeply rooted in the stuff that we've been exposed to, especially in the Black community. After I got through the survey part, I went, 'Oh, that was easy.'"
In the exclusive story, MJFF deputy CEO and head of research Sohini Chowdhury explains the critical value people of all backgrounds bring to finding better treatments and the answers we seek:
"Parkinson's disease, like so many other diseases, our biological understanding of the disease is founded on individuals who are mostly Caucasian and mostly of Western European descent, and it's extremely limited. It's helpful, but it's limited. We talk a lot about personalized medicine. It's hard to be personalized if all your biological knowledge comes from a population that's not similar to your own."
Akbar's hope is that the findings from the PPMI study help scientists better understand how the disease starts and changes. And, that the information can help doctors and scientists better diagnose, treat and even prevent Parkinson's disease not only for his family but for others.
"My hope is we can get more African Americans, more people of color to get involved in the research, to trust the process when it comes to this. There's information in our bodies that we hold that we just don't know," he says.
Today PPMI is located around the world at 50 participating medical centers in 12 countries — including in Lagos, Nigeria (where Akbar traces his family heritage).
"I'm not interested in holding the credibility for myself. I want to be able to use it to hopefully amplify other people's lives and change people's lives. And I'm hard on myself. I feel like I can still do more," says Akbar.
Read the full story here and then, learn more about the Foundation's landmark study and how you can participate at michaeljfox.org/ppmi.