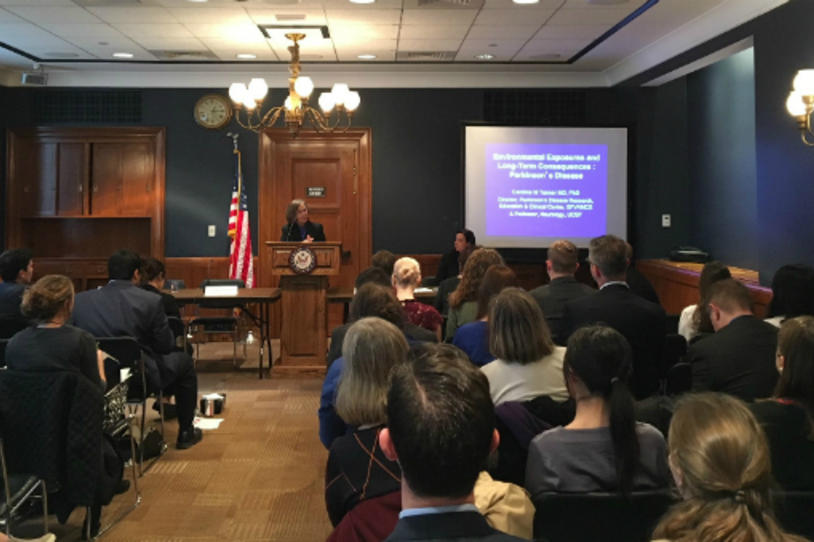 Neurological disorders are the leading cause of disability in the world, and Parkinson's is the fastest growing. Scientists know that a combination of genes and environmental factors cause neurological diseases, but there's still much to learn. Research into this subject continues each day.
Earlier this month, Director of the National Institute of Environmental Health Sciences Linda Birnbaum, PhD, DABT, ATS, and two other scientists participated in a briefing on Capitol Hill titled "Neurological Disease Across the Lifespan: Does Our Environment Play a Role?" Panelists highlighted current research on environmental risk factors associated with autism, schizophrenia and Parkinson's disease (PD).
Caroline M. Tanner, MD, PhD, professor of neurology at the University of California, San Francisco, and director of the Parkinson's Disease Research, Education and Clinical Center for the San Francisco Veterans Affairs Health Care System, spoke to the congressional staffers in the room about the field of PD research. Dr. Tanner explained that our knowledge of Parkinson's environmental risk factors is now more refined. "We have quite good data implicating several chemicals, especially chemicals marketed as Agent Orange and paraquat, with increased risk between two and eight times, depending on the individual." Dr. Tanner found that for individuals with certain gene variants, exposure to the identified chemicals raises Parkinson's risk dramatically. Without the gene, risk is only slightly elevated. "Genetics loads the gun, but your environment pulls the trigger," she said.
The good news: the effects of these chemicals can be mitigated, and possibly prevented. Dr. Tanner's work shows that when people applying pesticides used gloves and washed their hands, PD risk was reduced to near normal, even in individuals with the gene variants described above.
Removing these chemicals from the environment altogether will also help. Using the research of Dr. Tanner and others, The Michael J. Fox Foundation's Unified Parkinson's Advocacy Council called for the herbicide paraquat to be banned in the United States in a letter to the Environmental Protection Agency (EPA) last year. While the Foundation awaits the EPA's decision, it continues to investigate other chemicals associated with PD.
Dr. Tanner noted that researchers are focused on a cure and ways to prevent Parkinson's disease. "The more we know about the risk factors, the more we can help people live their best lives," she concluded. "Our goal is to get the prevalence of Parkinson's to zero in whatever way possible. Prevention will definitely be part of it."
Avraham Reichenberg, PhD, professor of psychiatry, environmental medicine and public health at Icahn School of Medicine at Mount Sinai, also joined the briefing. He spoke about studies indicating that at least 20 percent of autism and schizophrenia diagnoses are caused by a variety of early-life environmental factors, ranging from exposures in the mother during pregnancy to early nutrition and more. "What we know is the tip of the iceberg, there's much more to discover," he said.
This congressional briefing took place on March 8 and was sponsored by The Michael J. Fox Foundation; Friends of NIEHS, a group of nonprofit organizations that inform Congress about advances in environmental health research; the Congressional Caucus on Parkinson's Disease; and the Congressional Neuroscience Caucus.