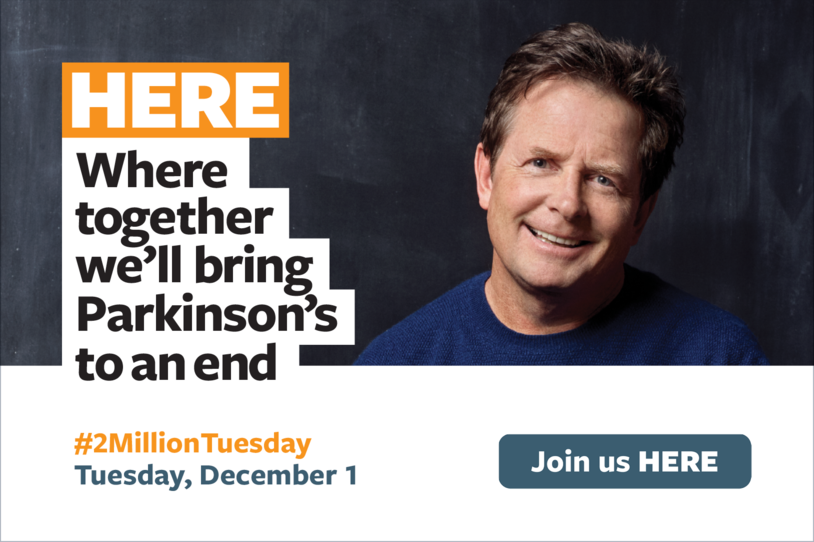 In 2018, two families teamed up to match every donation to The Michael J. Fox Foundation (MJFF) on Giving Tuesday, up to $2 million. Their gifts sparked a record-breaking day of engagement and giving and set a high bar for future campaigns. Inspired by the response, a total of five families joined forces in 2019 for MJFF's second #2MillionTuesday match, which led to even greater impact.
Despite the challenges of 2020, the ripple effect of leadership support for Giving Tuesday has not slowed. Responding to an urgent call to arms to help maintain momentum in the Parkinson's research pipeline, 11 families stepped forward to extend the $2 million Giving Tuesday match for a third year.
Falling on the Tuesday after Thanksgiving — and on the heels of Black Friday and Cyber Monday — Giving Tuesday is an annual day of giving to support thousands of charitable organizations and causes. On December 1, nonprofits worldwide will look to maximize Giving Tuesday fundraising potential more than ever. Thanks to the generosity of the following families affected by Parkinson's (and two additional families who wish to remain anonymous), that will happen HERE:
The Cherubini Family, Boston, Massachusetts
William and Margaret Fern Holmes Family Foundation, Orange, California
Hoven Family Foundation, Mountain View, California
Barbara and Rick Howell, Seattle, Washington
Names Family Foundation, Fircrest, Washington
RaceTrac, Atlanta, Georgia
Donna and Mike Rajkovic, Novi, Michigan
The Eddie and Jo Allison Smith Family Foundation, Greenville, North Carolina

The Tyler Family,

Greenwich, Connecticut
Barbara and Rick Howell, who also contributed to the 2019 match, recognize the significance of Giving Tuesday in 2020. "Barbara and I have always known the value of MJFF's matching program. Now in the COVID-era, it becomes even more critical," says Rick. "All of us have been touched by COVID-19 in some way. The Giving Tuesday match is a way for everyone, no matter their contribution level, to continue having meaningful impact in helping us find a cure," he says.
For the Names family, years of support for MJFF's mission spans multiple generations and honors the late Clint Names, who lived with Parkinson's. Incentivized by a Giving Tuesday match in 2016, the family's foundation — which was started by Clint's parents to support health and wellness organizations — increased their annual donation. Now, their gift will serve as motivation for others.
On Giving Tuesday, December 1, all donations to The Michael J. Fox Foundation — online, by mail, or by phone — will be matched dollar-for-dollar (up to $2 million) and quickly redirected to research projects in need of funding.
The match also includes all IRA commitments made now through Giving Tuesday. To learn more, email plannedgiving@michaeljfox.org or call 212-509-1524. And before the year ends, learn about key tax benefits of the CARES (Coronavirus Aid, Relief and Economic Security) Act that may impact you and your charitable goals in 2020.