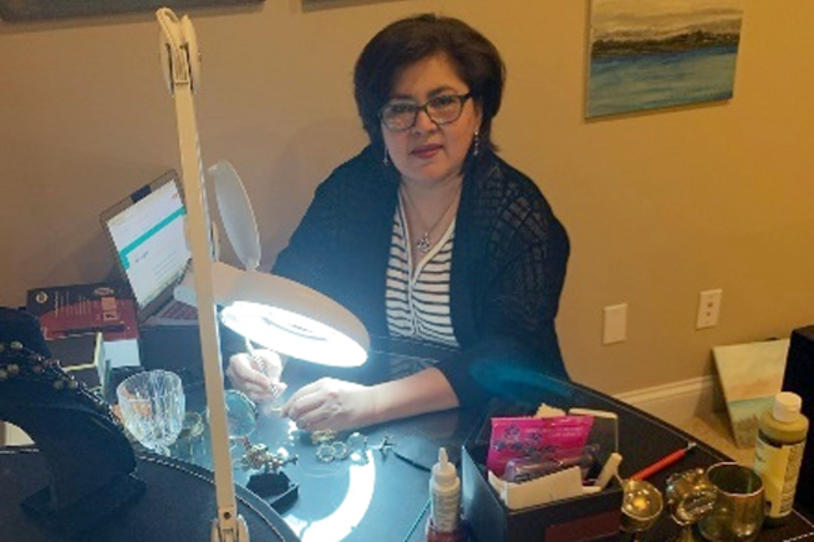 During this unprecedented situation with the global COVID-19 pandemic, The Michael J. Fox Foundation (MJFF) is presenting stories from the worldwide Parkinson's disease (PD) community to share commentary, best practices, tips and tricks from people living with PD and their loves ones. Stay tuned to our social channels to share your own thoughts, photos and videos, and to engage with the community who is navigating this challenging time together.
During today's stressful time, we all have to find ways and seek out happiness and distraction any way we can. This is not easy for anyone, much less people living with Parkinson's, but I have a few ideas on how we can spend time productively, or perhaps sometimes, happily UNproductively: 
Embrace new and old hobbies — Try gardening and walk around the yard to watch nature. If it's a sunny day, it'll be a win-win! I also enjoy painting and jewelry-making to keep me creative.  

Pick up the phone

— Call a friend or maybe even a foe. Get distracted, share ideas, agree to disagree and spend a few minutes (or hours) mastering the art of conversation (i.e., gossip!).

Walk around the house

— But be sure to think about safety first by removing rugs, chairs, knickknacks, etc. out of the way and keep the indoor roads clear. And most importantly, beware of kitty and doggy.

Just keep moving

— Going to the gym and regular exercise classes might be put on hold for a few days. But you can "Rock Steady Box" at home, with your shadow! The CDC has confirmed that there is no evidence that COVID-19 can be transmitted from shadow to person. :)

Participate in Fox Insight

— 

This online Parkinson's clinical study

can be safely done at home. You can still participate in research and answer questions sent to your email inbox every 90 days.

Keep the mind active through puzzles

— Break out that dusty puzzle in your cabinet. Or, search brain teasers online and find sites with trivia questions. Make it harder and time yourself. Exercise is just as important for body AND the brain.

Dance party for one

— Because nobody is watching! Just be safe, because nobody is watching! (See note above about kitty and doggy.)

Sleep training to stay on schedule

— Your brain will thank you. Sleep routines are still so important for your health, both physical and mental.

Declutter EVERYTHING

— Pick a new drawer or closet each day to clean. Perhaps if you organize your garage, you may even find your car!

Binge watch TV shows and movies

— Rent movies you've been meaning to watch, explore new TV on Netflix. My suggestions include The Back to the Future trilogy, The Godfather movies, Breaking Bad, The Sopranos, etc.
Claudia Garrido-Revilla is a member of MJFF's Patient Council, an advocate for the Parkinson's community and an active contributor to Parkinson's funding and research initiatives. She lives in Peoria, Illinois with her husband and two teenage sons.