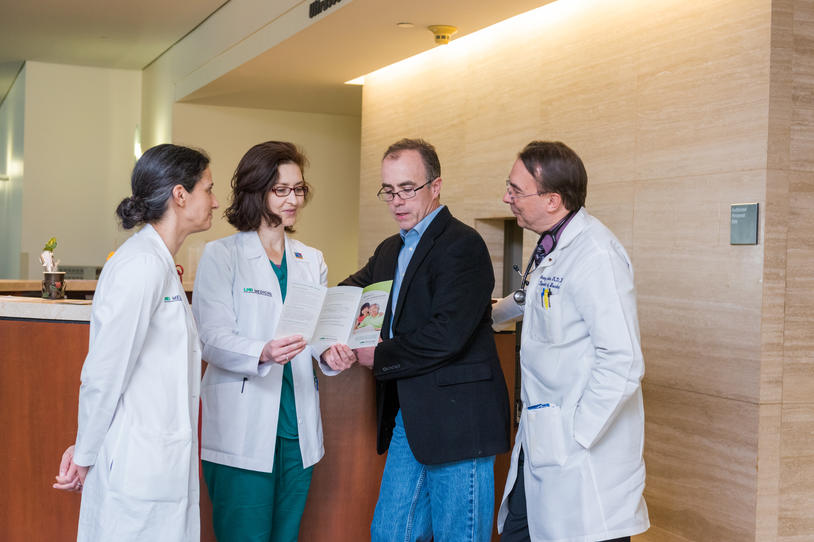 Yesterday The Michael J. Fox Foundation announced that we're funding eight studies on innovative ways to treat gait and balance problems with Parkinson's disease. Ranging from rehabilitation programs to vibrating socks, these projects are testing new ways to prevent or ease these troubling symptoms, which don't respond well to available Parkinson's medications. Read more on our latest grants in this area.
Watch a webinar on Parkinson's gait and balance issues and the new projects we're funding.
The review committee for this funding program included two members of our Michael J. Fox Foundation (MJFF) Patient Council: Ken Cater and Israel Robledo. We strive to elevate the patient voice in research priorities and design, and, in this review, Ken and Israel shared their unique perspectives on the needs and practical considerations of people with Parkinson's disease. Here, we talk to them about their experience.
MJFF: First of all, thank you for being involved in this review process. Tell us a little about what it entailed.
Ken: I was the first reviewer on eight grant applications, which meant scoring them and walking through my thoughts on the overall study. It took a lot more time than I anticipated, but that was fine.
Israel: I got the better end of the deal because I didn't have to score any directly. I think there were 24 applications, and I reviewed each and brought notes to the meeting. There were about 25 people at the review meeting, for example, some technical and medical experts from Harvard and the Massachusetts Institute of Technology. We prioritized the projects score-wise then had an open discussion: are we too heavy on devices? On programs?
Ken: I felt really comfortable in that room. I was a little apprehensive. I didn't know how we'd be received with the group there, but it was fantastic. They valued our opinions as much as we valued theirs.
Israel: It allowed me to ask questions. "This is what I think about this, but can you help me understand more?" It was a very collegial atmosphere.
MJFF: What unique perspectives did you bring to the review as patient representatives?
Ken: One grant had a requirement for a rapid 360-degree turn-around, and I was questioning whether that was realistic for the population. They were asking people to be off their medications. I said, "You may not be able to get people recruited in this, and if they do, it might be detrimental. You need to think that protocol through again." So, there are little things like that, that Israel and I might see, but someone in the research world every day might not think about.
Israel: The funding program was to have something to the Parkinson's community within two years. What I noticed as I was reading was that some projects scored highly but said, for example, "We want to gather information so after three years we can start working on something." As a person living with Parkinson's, I was applying the urgency that I, and the community, have around this issue. It was always at the back of my mind while I was reading the applications.
MJFF: What do you think of the resulting selections?
Ken: Overall, I thought it was interesting in the context of applications that could be brought to market potentially within two years. It's one of those things, I think, "Alright, am I going to wear vibrating socks?" but once you dive into it and get over the initial chuckle, it kind of makes sense and it might work.
Israel: This experience showed how many ideas are out there. It's such a wide array of unfunded ideas, and I think the patient voice could really make an impact. If we have a thousand ideas, how many do the patients think are worth funding and why?
MJFF: How can other people with PD get involved in research?
Israel: Grant reviewing is a lot of work, but it's great, too, because you have a say in what's being funded. It's not taken lightly on my part. There are other options, though, such as enrolling in studies in person or online.
Ken: I'm very interested in personal wearables for Parkinson's disease. There are lots of studies using smartwatches and smartphones that can acquire a tremendous amount of data for Parkinson's research.
Thanks again to Ken and Israel for their time and effort and to our funders who make these studies possible.
Register with Fox Trial Finder to match with studies online or in your area -- including, potentially, these new gait and balance studies.
MJFF's online clinical study Fox Insight is accelerating breakthroughs by capturing the experiences of people with and without Parkinson's. Through a collaboration with consumer genetics company 23andMe, people with Parkinson's who join Fox Insight can access the 23andMe Health + Ancestry Service at no cost and add their genetic information to the study. Register at foxinsight.org.