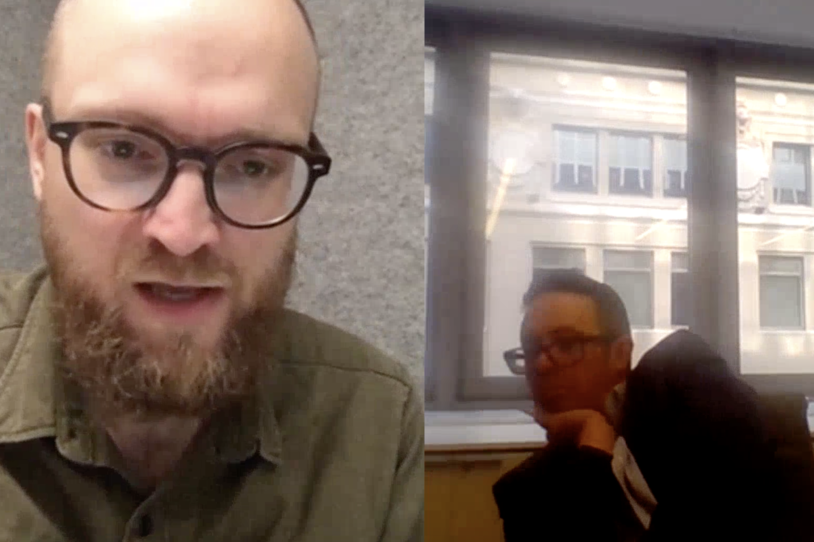 Bryan M. Roberts is the associate dean at the Roy H. Park School of Communications at Ithaca College and a member of the Foundation's Patient Council. He often writes about his experiences and reflections on being a dad with young-onset Parkinson's disease.
The Parkinson's community is filled with stories of children showing their love and support of a parent with the disease in myriad of different ways — running marathons, walking cross country, organizing massive fundraisers, etc.— but creating a font? I recently read this article in AdAge, which details how Morten Halvorsen, associate creative director and art director at Lyft, created a typeface to allow his mother to continue to communicate in her own handwriting. I then had the opportunity to interview Mr. Halvorsen and dig deeper concerning how the typeface originated, the far-reaching impact of Parkinson's disease, and his hopes for the future.
Mr. Halvorsen on living a far distance from his mother and witnessing the progression of the disease:
"There have been times where I haven't been able to get back [home] for like two years. I do see a difference…I do feel like she's doing better and is living a little more healthy now than she was before."
On the genesis of the typeface idea:
­"She has a little book where she writes down addresses and passwords, which is a terrible way to store your passwords — so she hands me this book and it just really struck me. I know my mom's handwriting. I grew up with it. I just felt like, 'oh my god,' she's going to lose her handwriting.
I'm a very visual person and when I saw that, I knew I needed to preserve the writing she has now. Because maybe there is a way where I can install it [the font] on her computer or tablet, so she can still write in her own letters."
On why this project is so meaningful:
"Well, that's kind of the cool thing about it. I feel like I'm preserving her font and it is something that I can have one day when she's not here. Knowing I have her handwriting…it means a lot to me for some reason. Maybe it's because I'm a designer."
On the overwhelming feedback he has received:
"I posted it on LinkedIn of all places and it just blew up. As a creative person, it's always really nice to hear from other creative professionals that they think it's inspiring or beautiful. But most of all, I think it's just been all the people I know — both professionally and personally. They come out and said, 'Oh my grandfather passed away from Parkinson's, or my brother has it and my dad has it.' All of these people who were in my shoes with someone they love who has Parkinson's. They think it's really beautiful and they really thank me for doing it.
And that for me it's been — well, it's the second best kind of praise I got because the best was that my mom is really proud."
On his plans for the future of the typeface:
"As a designer whose mom has Parkinson's, I'll try to do it once a year, to trace the font and upload a new version of it so you can see the progression over time.
I've been reaching out to some people who could potentially help me with this. I'd love to see if I could help the people who are living with Parkinson's to keep their handwriting."