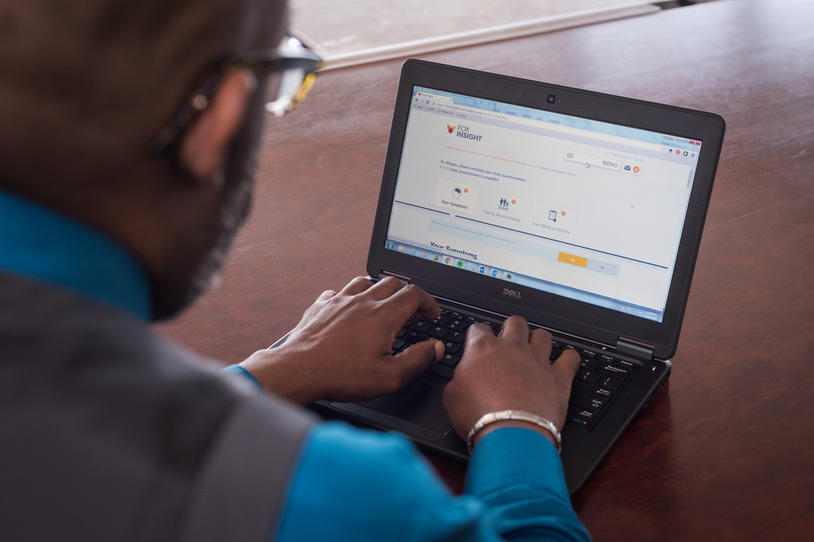 The following story appeared in our Spring/Summer 2020 edition of The Fox Focus on Parkinson's newsletter. For this story and more, download the full edition.
When it comes to understanding Parkinson's disease (PD) and prioritizing patient needs, it's vital to integrate the perspectives of people living with the disease. When Michael J. Fox launched the Foundation in 2000, he had a vision to bring people living with PD and researchers together into a two-way dialogue. 
Today, nearly 50,000 people — with and without Parkinson's disease — are realizing that vision by contributing their experiences in Fox Insight, The Michael J. Fox Foundation's (MJFF) online clinical study. Study participants share information on health, disease and lifestyle from the comfort of their own homes through regular online surveys.
"Each person's story creates a moving picture of Parkinson's," says Gloria Garcia, Fox Insight volunteer, of California. "Scientists need to know how our health changes over time, and the moments in between those changes. That's why I participate in Fox Insight. We all really are contributing and making a difference."
What We're Learning 
Data collected through Fox Insight is de-identified to protect individual privacy and made available to qualified researchers through the Fox Insight Data Exploration Network, known as Fox DEN. The data set available in Fox DEN, which is now the largest of its kind, is providing researchers with vital information to help develop new and better treatments for Parkinson's disease.
In addition to sharing general information about Parkinson's over time, Fox Insight volunteers also receive invitations from researchers to answer surveys focused on specific aspects of the disease. Researchers recently deployed a survey on COVID-19 to better understand how the coronavirus is affecting people with Parkinson's. And two recent surveys in Fox Insight — on the use of medical cannabis and mindfulness strategies, respectively — are helping us identify gaps in care and crystallizing a research agenda into these therapeutic options.
Patients report medical cannabis alleviates some symptoms, including sleep problems, agitation and anxiety, but side effects are common. Though more analysis is needed, early findings warrant further research into medical cannabis as a therapeutic option for these symptoms and its potential risks so doctors can accurately advise patients. (The survey also found that a significant number of patients don't discuss their use of medical cannabis with their doctors.)
Mindfulness-based stress reduction has been the focus of increasing interest to clinicians for many years. A Fox Insight survey on mindfulness strategies in Parkinson's indicates that Parkinson's patients report more stress than respondents without Parkinson's and that stress worsens symptoms, including tremors. The survey also found that fewer than half of respondents with Parkinson's use mindfulness or meditation techniques to reduce stress, though the people who do, find it helps. These initial findings suggest there is an opportunity to educate patients and their doctors about the benefits of mindfulness and meditation.
In April, researchers led by Lana Chahine, MD, of the University of Pittsburgh published a paper using data from Fox Insight to identify the most bothersome symptoms Parkinson's patients experience during "off" time — when medications stop working and symptoms increase. Published in the journal Movement Disorders, the study found that nearly half of the most bothersome "off" time symptoms would be missed by standard assessments used by doctors. A key takeaway is that doctors and patients need to go beyond the list of symptoms on standard questionnaires to ensure that "off" time is recognized and treated.