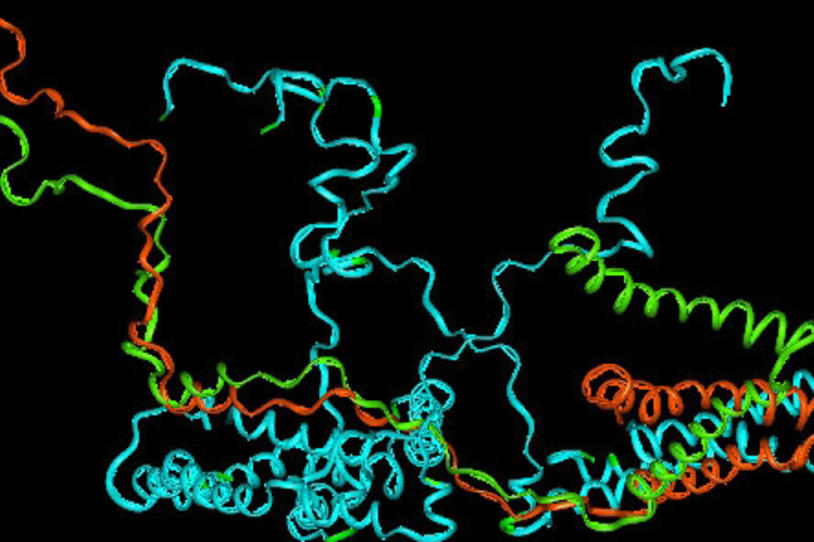 Last week we told you about measuring levels of alpha-synuclein — the protein that clumps in the cells of Parkinson's patients — as a potential biomarker of disease. Alpha-synuclein is also a therapeutic target, and recently there has been greater interest in this protein from industry and academia. We launched the Synuclein Therapeutics Acceleration Program in 2013 and awarded grants in the last few months to the following four projects aiming to develop therapies that could prevent, slow or halt progression of the disease.
To learn more about these studies and the more than 500 active research projects that MJFF is supporting, visit our Funded Grants page.
Development of the Alpha-synuclein Stabilizer NPT200-11
Douglas William Bonhaus, PhD
Neuropore Therapies Inc.
A compound could bind to alpha-synuclein and prevent it from clumping.
Compounds that bind to specific regions of the protein alpha-synuclein may prevent it from aggregating into toxic clumps. In this project, a team from Neuropore Therapies Inc. in San Diego, California will test whether a compound (NPT200-11) that binds to alpha-synuclein and prevents toxicity in laboratory studies can do the same in pre-clinical models. If the results are positive, scientists will continue testing on this disease-modifying drug candidate.
Immunotherapy with Alpha-synuclein-specific Antibody
Pekka Kallunki, PhD
H. Lundbeck A/S
Researchers are developing an antibody to clear out toxic alpha-synuclein.
Antibodies are the body's defenders; they detect and kill off harmful pathology (viruses, for example). This project is working on an antibody to identify and dispose of the toxic forms of alpha-synuclein, blocking their spread throughout cells. Researchers at H. Lundbeck A/S in Copenhagen, Denmark have identified an antibody of interest, and now they're increasing its ability to bind and remove alpha-synuclein. Their next step is to test the antibody for safety in pre-clinical models.
Vaccine Against Alpha-synuclein Based on Virus-like Particles
Martin Fabian Bachmann, PhD
Jenner Institute, University of Oxford
Using virus-like particles to induce antibodies may increase likelihood of success in clinical testing.
Like the H. Lundbeck A/S project, this one from the University of Oxford calls on antibodies to rid the body of toxic alpha-synuclein. Rather than introducing an antibody directly, these researchers are using a vaccine to prompt the body to produce antibodies that would bind to and clear toxic forms of alpha-synuclein. They will use virus-like particles (VLPs) to activate the immune system in pre-clinical models. VLPs have been shown to induce an effect in both lab models and humans, raising the chances success in this study would translate to clinical testing.
Quinpramine for Parkinson's Disease
Thomas Stöhr, PhD
A2M Pharma
Researchers are studying a drug that may prevent alpha-synuclein from grouping together.
Drug repositioning applies a drug or compound developed to treat one condition to another. Quinpramine is a unique combination of two repositioned drugs: malaria drug quinacrine and anti-depressant imipramine. This composite prevents toxic alpha-synuclein from grouping together on the outside of cells in laboratory studies. Researchers from A2M Pharma in Monheim, Germany are assessing the drug's effect in PD models on alpha-synuclein, neurodegeneration and inflammation. If their project has a positive outcome, quinpramine could move into safety testing in pre-clinical models and closer to testing in Parkinson's patients.
Read more about what other grants Foundation is supporting around alpha-synuclein.
Read about the AFFiRiS study testing a vaccine to elicit antibodies against alpha-synuclein, already in clinical trials, with safety results expected in 2014.