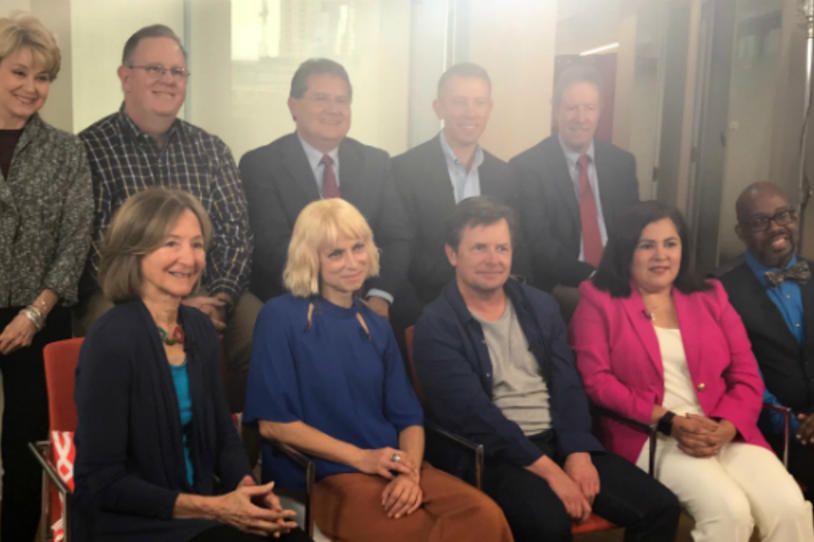 On October 29, Michael J. Fox sat down with Jane Pauley for a special "CBS Sunday Morning" segment reflecting on his 20-year journey with Parkinson's disease (PD). Michael and Jane were also joined by eight other people with Parkinson's to demonstrate the complexity and variability of the disease. (In case you missed it, you can watch the full segment here.)
As the segment went to air, the Foundation saw a flood of comments and questions from our community wanting to hear more from the panel. You asked, and we listened! Below, the CBS panel participants respond to your questions about reacting to a Parkinson's diagnosis, navigating PD's changes and living well with the disease.
What is one thing you would like people to know about Parkinson's disease?
Anne Cohn Donnelly: "Parkinson's is not a death sentence. Rather, it's a progressive disease that you can learn to live with. PD patients all experience the disease differently -- in terms of symptoms and which medications help -- so you can't know with certainty by looking at others what your tomorrow or the day after might bring. Living with the disease means monitoring it, managing it and adapting to changes as they come."
Jennilyn Merten: "Parkinson's disease can be deceiving, especially for those of us with young-onset PD. Some days, some hours, we are afforded the luxury of looking "normal" -- of being able to pass in the world of the healthy and the coordinated. But, we can be ripped out of normalcy in a split second when drugs wear off abruptly, or dyskinesia [involuntary movements] kicks in. Sometimes we need friends and strangers to see the invisible things that chase us."
Sonny Whelen: "Parkinson's can be a very difficult disease to deal with, but there is no shame in having it. Living life, and accepting your challenges with a positive attitude help allow the people around you to understand what you're facing and to add their support. That support can be very helpful as you continue get the most out of life with PD."
Michael Fitts: "There is always more than meets the eye with PD. What you think you see is not nearly what you really get -- it's only a small portion. Just because you don't see someone with PD physically shaking, or having balancing issues or moving slowly, you have no idea of the chaos going on internally that you can't see."
Israel Robledo: "Parkinson's doesn't define a person. Anyone diagnosed with the disease should take time to come to terms with their diagnosis and realize that life continues and gives us an opportunity to create change that can help us lead productive lives, despite living with PD."
What do you find helps balance life responsibilities while managing your Parkinson's?
Will McIntyre: "Depending on your personality, you may need to dial back or reprioritize your daily 'to do' list. You may find that your 'on' and 'off' times are now the key factor in building your new life schedule. Listen to what your body is telling you and realize that you've started down a path that will take some adjustment! Be candid and open (if it works for your personal situation). Many of us find our employers, friends and family are eager and able to help us battle the disease."
Do you have activities or hobbies that you feel help with your Parkinson's?
Claudia Revilla: "Be socially active, volunteering to help others in need gives you a different perspective on life. Walking with my BFF keeps me alert and physically active. Any activity that involves exercise and social interaction helps me rule my PD and not the other way around."
Jim McNasby: "The activities that I do outside of work that assist with Parkinson's are dominated by exercise. I work out with a physical therapist and trainer, get massages, play tennis and do yoga. Although I'm not good at doing it, I believe that meditation can strengthen your brain and bring focus to your body's use of its own healing powers through meditation. My symptoms always seem to dissipate after I do yoga."
Anne Cohn Donnelly: "When I work out for at least 30 minutes -- biking, yoga, taking a PD boxing class, walking on the treadmill -- I usually feel better physically and mentally. The harder I work out, the better I feel. For me, it's not hard to stay motivated to work out. What's hard is setting aside the time and protecting that time. Sometimes life just intervenes."
How have your loved ones reacted to your diagnosis?
Claudia Revilla: "My husband takes care of me with such love and patience, and my [two] boys mimic such behavior. I tell them the truth about PD because I don't want them to feel fear and insecurity. They know mom is sick and are very considerate and mature. Maybe this has been a life lesson for them. They love to be included in my PD advocacy and to participate in Team Fox, and they know that PD is a family issue, so I keep everyone informed."
How do you manage the dyskinesia associated with your Parkinson's?
Jennilyn Merten: "Dyskinesia requires a fierce sense of humor. A good swing dance partner. A jump rope. Soft corners and/or baby proofing, and sometimes, just a stiff drink. I go running. Take Amantadine 3x/day. Laugh when it gets bad. Look people head on when they look at me. Run around the block. Sniff organic, high quality peppermint oil, and sometimes just get pissed off. Push-ups!"
How do you navigate the workplace with your diagnosis? 
Jim McNasby: "My own experience being open in the workplace has been a strong positive, but I would caution anyone who's considering that path to be thoughtful about the decision they're making. The biggest challenges for me at work are 1) typing and 2) making sure that my Parkinson's is not sending messages that I do not intend to convey. There are easy ways to deal with both of those, so it has not posed a problem for me in practicing law. If my job required some precise movements of my hands, however, I simply could not do those jobs. There is a spectrum of what a particular job requires that you need to consider in this calculus."
Michael Fitts: "I try to take it one day at a time. For me, it's honestly a constant balancing act in that you want to move and be as active as possible, without at the same time, overdoing it. Two other primary contributing factors I would say that help me manage my PD are my faith and a strong support system that believes in me."
What would you tell someone who is newly diagnosed with Parkinson's?
Will McIntyre: "First, understand that PD affects everyone differently. Prepare yourself for a journey where some days will be easy and some days more challenging. Second, build a great team. Your family, friends and a great movement disorder team can take the journey with you. Third, talk about your experiences. Social media and support groups are great avenues to learn and understand what you may experience. Lastly, join clinical trials, like Fox Insight, to empower yourself by being an active participant in the quest for a cure."
Claudia Revilla: "Stay calm, do research on reliable sites and help doctors help you. You are your own best advocate and education is a valuable tool."
If you could tell yourself one thing in the days following your diagnosis, what would it be?
Jennilyn Merten: "I would tell myself to never apologize for being sick, but to ask for forgiveness if I forget or lack the courage to ask for help. Our outward symptoms can be confusing and misleading and even those closest to us cannot always understand our feelings, symptoms, the exhaustion of drug side effects and the shifting ground beneath our feet."
What would you tell someone who wants to get involved with the greater Parkinson's community, but doesn't know where to start?
Israel Robledo: "I would suggest thinking through what interests you have and decide where your passion lies (i.e., fundraising, public policy issues, clinical trials, awareness, education, etc.). From this, you can develop a message that defines who you are and what you want to accomplish as an advocate. Having a focused message helps you connect to the greater PD community. It is not an easy task because it takes time and effort, but the outcomes can make a difference in the long term."
Stay in touch with us on Facebook, Twitter and Instagram to connect with the Parkinson's community and to learn more tips on living well with Parkinson's.