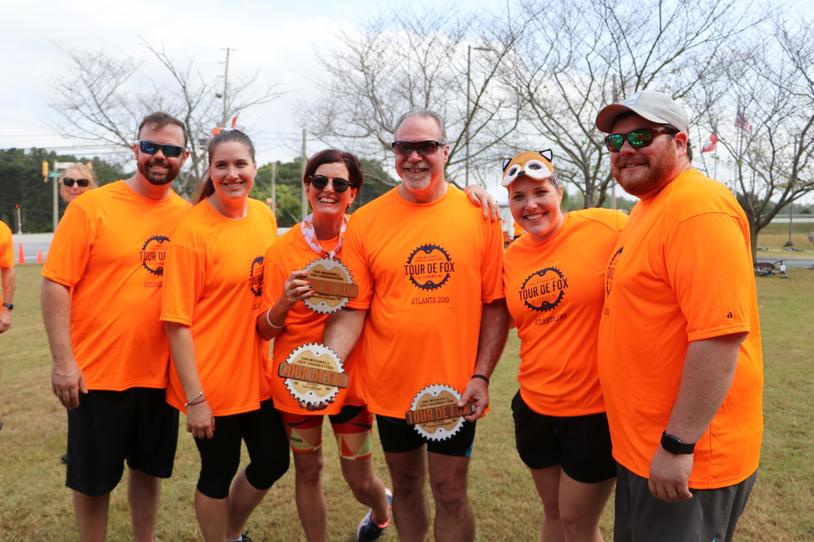 Due to the coronavirus pandemic, The Michael J. Fox Foundation's (MJFF) Tour de Fox Cycling Series has shifted gears but is still pedaling forward. On Saturday, August 29, cyclists located near the in-person events scheduled to take place in the Pacific Northwest, Wine Country and Atlanta are uniting with participants located all over the globe to take part in a unified virtual ride.
Since 2016, the Tour de Fox Series has gathered thousands of cyclists and supporters in California, British Columbia, South Carolina, Ohio, New Jersey, Texas and Georgia. Now, those that were unable to participate in a local event— due to availability or proximity — have an opportunity to join this incredible Tour de Fox community. In this four-part blog series, MJFF asked participants from local Tour communities and beyond about why they committed to the virtual Tour de Fox ride on August 29.
Last up in our blog series, meet Maggie Rowland Wortendyke of Nashville, Tennessee. In 2017, Maggie and her family joined the Tour de Fox Blue Ridge ride in Greenville, South Carolina as Team Rowland in honor of her father who lives with Parkinson's disease (PD). This year, they planned to participate in the Tour de Fox Atlanta ride but will instead be pedaling together virtually.
MJFF: How long have you been participating in The Michael J. Fox Foundation's Tour de Fox Series?
MRW: The inaugural Team Rowland Tour de Fox ride was in 2017 in Greenville, South Carolina. I started with a 40-mile ride and have since chickened out, preferring the more fun, casual 10-mile ride. Since our first year, we've raised over $250,000 as a team and we don't plan on stopping until PD is gone.
MJFF: Why did you get involved in the Tour de Fox Series?
MRW: The short answer is that my 80-year-old grandparents called and told us they were strapping their bikes on the back of their Prius and driving from upstate New York to Greenville, South Carolina to ride a combined 55 miles in the name of Parkinson's research; and it seemed lazy not to join them. The more accurate answer is that my dad was diagnosed with Parkinson's disease in 2014 and I would walk (or ride) to the end of the earth to get rid of it for him.
MJFF: What do you enjoy most about the Tour de Fox Series?
MRW: The Tour de Fox Series has given us a tangible way to help eradicate Parkinson's disease and change the lives of the millions of people who live with it every day. As an Auburn graduate, I'm a sucker for an orange and blue t-shirt and any excuse to cheer on the people I love doing amazing things. Plus, foxes are adorable.
MJFF: What are your plans for the virtual ride?
MRW: Although we are sad that we won't be with our Team Fox friends in Atlanta this year, we are going to host our own small event on the same day as the original Atlanta ride (October 3rd) in Birmingham, AL at Oak Mountain State Park. We are going to have as much fun as we can, in a socially distant way. Parkinson's hasn't gone away so neither are we.
MJFF: How have you adapted your fundraising in this new virtual environment?
MRW: We are kicking off our fundraising this week! Having the option to ride virtually allows our friends who live far away and have never had the ability to join us as riders. In the past, I've also held an event called Pounds for Parkinson's in CrossFit gyms all over the world to raise money for Team Rowland. Because of COVID-19, we are going to focus our efforts on the ride this year and take a year off from Pounds for PD. Next year it will be back and better than ever!
MJFF: How has Team Rowland stayed connected in these extraordinary times?
MRW: Thank goodness for technology! We are keeping in touch via email, group texts (sorry, Dad), Instagram, and Facebook. It is so important to keep connected with the people you love.
MJFF: Any advice for newcomers to the Tour de Fox community and/or first-time fundraisers?
MRW: It's never easy to ask for money, especially in the face of a global economic crisis. I encourage everyone to remember the reason we are doing this. There is a tangible goal in mind: get rid of Parkinson's disease. It won't happen until we get out there and do the work. And don't forget, if you don't ask, they won't give.
Read the first three blogs in our four-part series featuring Kathe Friel, representing our Tour de Fox Wine Country community, Len Grant, a six-year Tour de Fox veteran from the Pacific Northwest, and Team Bell, Tour de Fox newcomers from Ohio.
There's still time to join Maggie and the entire Tour community and help pedal closer to a cure. Click here to learn more and sign up for the virtual Tour de Fox ride today! If you have any questions, email us at tourdefox@michaeljfox.org.