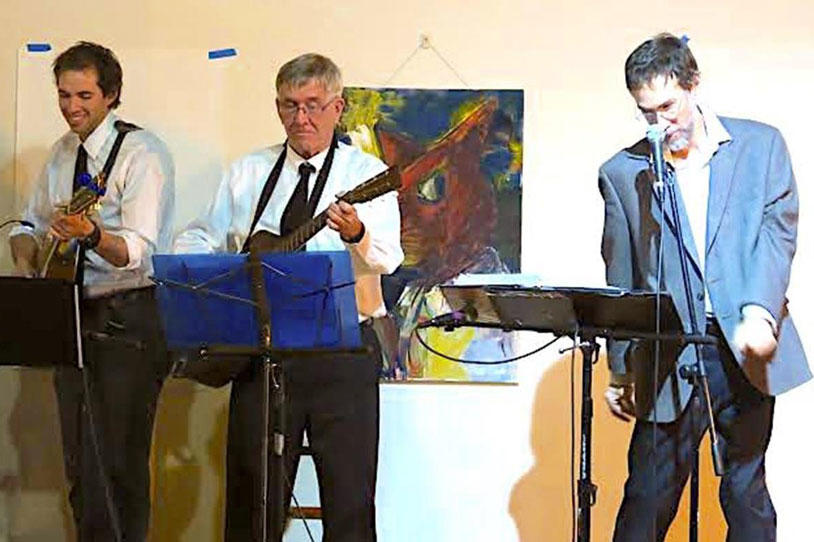 Athletic feats and endurance challenges play a big role in Team Fox, the grassroots fundraising arm of The Michael J. Fox Foundation. But we have a multifaceted roster of Team Fox members around the world. And their passions, talents and interests take form in a range of creative fundraisers every year.
Enter Josh Gallup. He's the writer, director, producer and lead ­of a musical about his experience with Parkinson's disease (PD). Before he retired, Josh was a teacher who was known for writing musicals around the social studies units. "Through the repetition and the music, the students were able to learn and process the information better," says Josh. "I've sort of applied that to everything else."
Since 2012, Josh has used the story of a wolf and rabbit to communicate his journey with PD to his family, friends and the broader community through annual performances. "Rabbit and Wolf represent different parts of myself. Wolf (who has Parkinson's) is more practical, cognitive and at times, abrasive. Rabbit is more emotional, interested in feelings, and less steady. You need both to exist," explains Josh. "The two constantly argue and make up, which is what's going on with me," he says.
Each year, the story focuses on a different element of the disease. "No one seems to know that much about Parkinson's because it can be invisible," says Josh. "My goal is to help people learn about the disease, and to hopefully realize something about themselves," he says. On January 18, he'll perform "The Wolf Does DBS," which is based off his own experience with deep brain stimulation (DBS) surgery this past August. The night opens with two short musical acts, one by a musician with Parkinson's. The show is then comprised of a dramatic story, punctuated by eight original songs.
Josh, whose grandfather also had Parkinson's, has been living with the disease since 1997. With the diagnosis, he's realized, "It's important for me to do things that are worthwhile." This theme is central to his performances. "Parkinson's started out as a total disaster and wreck of my life. But it turned into a good friend," he reflects. "What I'm trying to get across in the songs is that we can keep doing stuff we love even if we're having a problem with our body. Don't give up."
While he enjoys interacting with the Parkinson's community at his shows, Josh also cherishes the time spent with his family throughout the process. On the stage, Rabbit is played by his 20-year-old granddaughter and his son is a member of the band (which has had the same seven members perform with Josh since 2012). Behind the scenes, his wife Josie has been involved since day one. In addition, 25 helpers volunteer to assist with the production, and most of the equipment is donated.
"When I was in a lonely place after being diagnosed, what really helped me was to put myself out there," says Josh. With performances that have grown to be standing room only, Josh has raised nearly $24,000 (and counting!) for Team Fox since 2012. This year, his fundraising goal is $7,000.
If you're in the area, be sure to check out "The Wolf Does DBS" on Saturday, January 18 at 6 p.m., at 1924 Bonita Street in Berkeley, California. For more information about the event and how you can get involved, email Josh at gallup.josh@gmail.com.
To learn more about becoming a Team Fox fundraiser, click here.