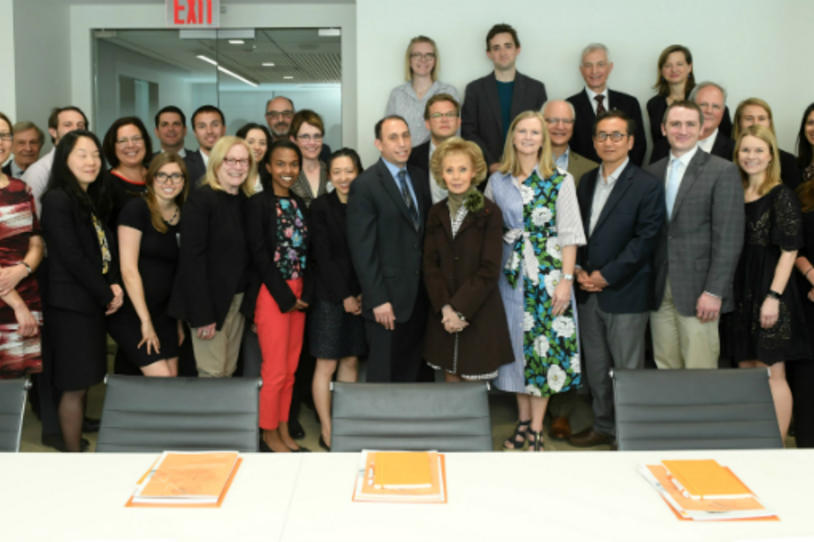 People with Parkinson's disease (PD) need movement disorder specialists -- neurologists with extra training in diagnosing and treating Parkinson's -- to provide holistic care and connect them to the latest research. But there aren't enough of these specialists. To increase the number of movement disorder specialists around the world, The Michael J. Fox Foundation (MJFF) developed The Edmond J. Safra Fellowship in Movement Disorders. Today, Edmond J. Safra Fellows and their mentors gathered at a New York City "Fellowship Symposium Day" with benefactor Lily Safra to share research progress, announce the five academic centers chosen to train the Class of 2021 and highlight the work of the first graduating class.
Fellowship Addresses Growing Need for Movement Disorder Specialists
Launched in 2014, The Edmond J. Safra Fellowship in Movement Disorders annually awards funding to five international academic medical centers to train a new movement disorder specialist as both a clinician and a researcher over a two-year period. The fourth round of centers announced today are: Emory University, Atlanta, Georgia; Northwestern University, Chicago, Illinois; Radboud University, Nijmegen, The Netherlands; University of Lübeck, Lübeck, Germany; and University of Pennsylvania, Philadelphia, Pennsylvania.
By 2021, this program will graduate 20 new movement disorder specialists to care for people with Parkinson's and their families and lead research directly informed by firsthand experiences with patients.
Fellowship Symposium Day Advances Parkinson's Research and Care Agenda
The Fellowship Symposium Day is a forum for current Edmond J. Safra Fellows and their mentors to learn from each other and leading Parkinson's researchers, as well as to explore potential career paths in movement disorders. Fellows shared their patient care experiences and research progress made possible by participation in the program, and the five graduating fellows in the Class of 2018 talked about their next career steps -- everything from opening a new clinic to reach more patients to doing research to better understand the Parkinson's experience and develop new therapies.
Read more about the Edmond J. Safra Fellows.
"The Edmond J. Safra Fellowship in Movement Disorders signals our commitment to Parkinson's research and care, and we're honored to collaborate with our longtime partner and supporter the Edmond J. Safra Foundation," said Todd Sherer, PhD, CEO of The Michael J. Fox Foundation. "Building an international network of movement disorder specialists is critical to driving research momentum and better addressing the considerable care needs of those living with Parkinson's."
Read a press release about The Edmond J. Safra Fellowship in Movement Disorders.
Learn about the Movement Disorders School for Neurology Residents, an MJFF-supported program that teaches neurology residents about PD and encourages movement disorder careers.