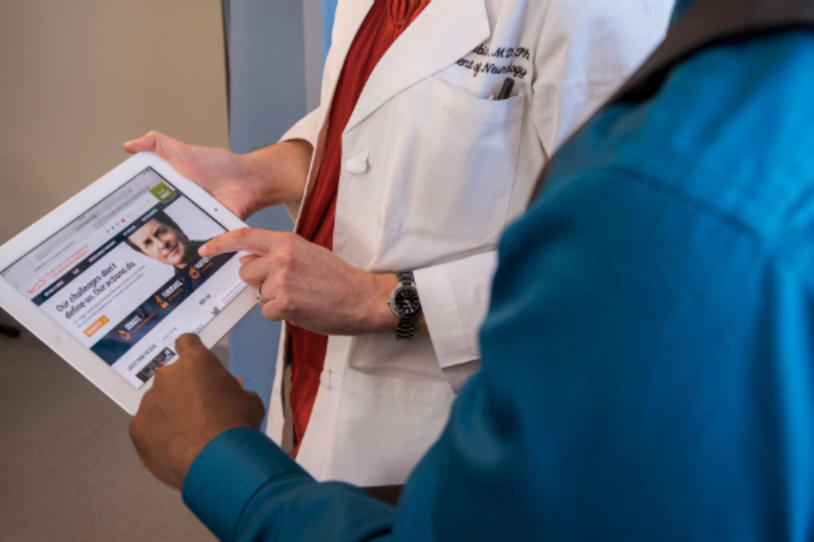 Last week, neurologists from across the world met at the annual American Academy of Neurology (AAN) meeting in Los Angeles, California to hear about the latest research and clinical developments in the field. The Michael J. Fox Foundation (MJFF) was there too, sharing resources and research funding opportunities with attendees and learning the most recent Parkinson's disease (PD) updates. Here we highlight a few of the MJFF-supported studies presented at the conference.
Partnering with Patients to Inform Research
Through MJFF's online clinical study Fox Insight, researchers captured, in patients' own words, their most bothersome Parkinson's symptoms and the impact of those symptoms on daily life. More than 1,600 people within 10 years of diagnosis said that tremor was their most bothersome symptom. As time went on, though, balance, pain, stiffness, fatigue, slowness and sleep problems became increasingly bothersome. This data gives insight into the natural progression of PD over time, which scientists may use to design studies and devote resources. Join Fox Insight.
Other researchers asked patients, care partners and movement disorder specialists how they talk about "off" periods (when Parkinson's symptoms return) to identify ways to improve patient-doctor communication around this PD experience. Investigators noted multiple communication barriers (e.g., not having a common vocabulary) and facilitators (e.g., getting care partner input about the experience) that may lead to interventions and tools for improved patient care.
Tracking Disease to Advance Research and Care
Other scientists reported on efforts to measure and monitor Parkinson's, which could help diagnose people earlier and test the impact of new treatments. MJFF-funded researchers found that people with and without PD have different levels of alpha-synuclein (the protein that clumps in Parkinson's brain and body cells) in their tears. Based on this, they suggest teardrop analysis could potentially be a non-invasive, inexpensive way to test for and track PD.
MJFF reported on our Clinician Input Study (CIS-PD), in which 51 patients used mobile and wearable devices to continuously track and report symptoms. The study showed this type of technology can be used to aid doctors' understanding of the patient experience outside clinic visits and inform clinical care.
Improving Symptomatic Treatments
Companies are making strides in studies to help manage Parkinson's symptoms. MJFF-funded biotech NeuroDerm, which has been acquired by Mitsubishi Tanabe Pharma Corporation, reported on the efficacy and safety of two different liquid levodopa/carbidopa infusions (ND0612H) in 38 Parkinson's patients. A 24-hour infusion reduced "off" time (when Parkinson's symptoms return) by an average of 2.8 hours per day and increased "on" time (when symptoms are controlled) by an average of 3.7 hours per day. A Phase III trial of this drug is now recruiting.
Acorda, which recently submitted a new drug application to the FDA for its inhaled levodopa to treat "off" periods, reported no lung-related safety concerns with up to 12 months of drug use in 204 volunteers. (MJFF supported early work on this drug.)
MJFF-funded researchers also shared plans to create a deep brain stimulation (DBS) registry -- gathering data from clinicians and patients on where in the brain DBS is implanted, how the device is programmed and how symptoms respond. The goal is to collect information from 1,000 participants at over 40 clinical sites across five years of therapy to improve DBS treatment and patient outcomes.
Making Progress toward Disease-modifying Therapies
Several repurposed therapies -- drugs that are U.S. Food and Drug Administration (FDA) approved for another condition -- are being tested for benefit in Parkinson's. Researchers reported that STEADY-PD III, a Phase III trial investigating whether the blood pressure drug isradipine could slow Parkinson's progression, is well under way, following 327 people with Parkinson's for three years. Results are expected in winter 2019. (MJFF funded Phase II studies on isradipine, and our online matching tool Fox Trial Finder helped drive volunteers to the study.)
Other researchers discussed trial design and ongoing recruitment of the MJFF-funded Phase II trial of nilotinib, which is evaluating the cancer drug in Parkinson's. (Read more about the trial.)
Although not directly funded by MJFF, Biogen's antibody therapy that aims to clear out clumps of alpha-synuclein protein reported positive safety and tolerability data in 18 Parkinson's patients. Biogen, a partner in the MJFF-led Parkinson's Progression Markers Initiative, used methods and learnings to design its Phase II trial, which is recruiting participants. (Read about alpha-synuclein therapies in clinical trials, a priority area for the Foundation.)
The momentum and enthusiasm in the Parkinson's field is palpable, and research is evolving rapidly. Stay tuned to our blog as these and other studies report results. And sign up for Fox Trial Finder to be matched with recruiting studies in your area.