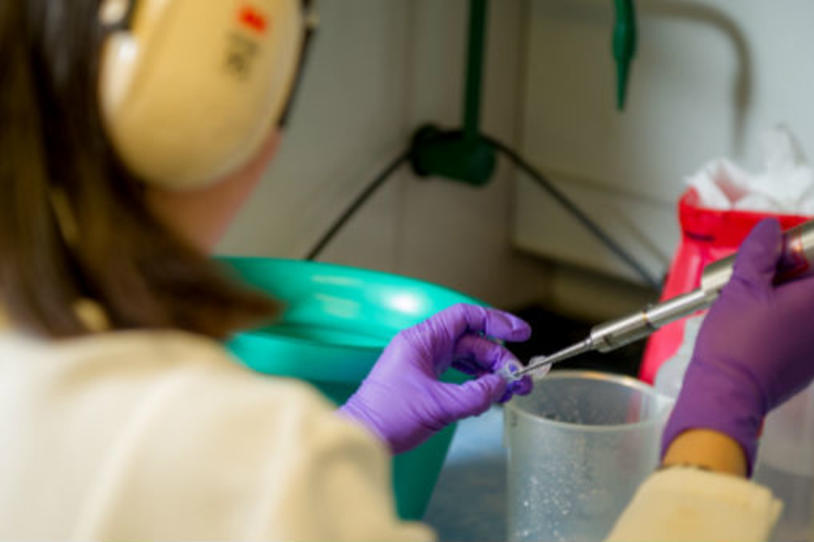 Updates on the COVID-19 pandemic and the development of a vaccine are changing rapidly as news emerges nearly daily from the United States federal government. Here in this blog, Parkinson's medical, research and policy experts put the news in context for people and families with Parkinson's disease (PD). For the most up-to-date information, be sure to check in with your local health department, physician and the Centers for Disease Control and Prevention (CDC).
Learn more about what The Michael J. Fox Foundation is doing to advocate for COVID-19 vaccine access for people with Parkinson's and how you can help by contacting your governor.
[January 7, 2021]
Movement Disorder Society Encourages COVID-19 Vaccination for People with Parkinson's
A recent statement prepared by the International Parkinson and Movement Disorder Society (a professional organization of movement disorder clinicians, scientists and other health care professionals) offers information regarding COVID-19 vaccines for people with Parkinson's. The report concludes, "we have encouraged our community of health specialists to recommend COVID-19 vaccination to their patients with PD unless there is a specific reason that precludes administration. We also recommend that patients come forward to seek the vaccine as quickly as it is available." Supporting data includes:
 
The authorized mRNA-based vaccines and the vector vaccines under development induce immunization through mechanisms that do not interact with the neurodegenerative process in PD.

The reported Phase III data of the authorized vaccines showed that the types or incidence of side effects in patients with PD have not been different than in the general population.

Similar to other immunizations, COVID-19 vaccination does not interfere with PD therapies.

As some people with PD may be part of the first groups in the current vaccination programs because of their age, residency in nursing homes, or other reasons related to PD disabilities, more data will be available in the near future for further analysis of the impact of these vaccines on PD.
---
[January 6, 2021]
Vaccine Distribution Begins; Third Vaccine Authorized in United Kingdom
According to the CDC, more than 4.5 million people in the U.S. have received a COVID-19 vaccine. While the vaccination rate is slower than expected, officials are working to accelerate the pace. The CDC has issued recommendations for phased vaccinations, but the rollout plan varies by state. Contact your local health department for the latest in your area and continue to follow CDC guidelines to protect yourself and slow the spread.
On December 30, the United Kingdom authorized the Oxford-AstraZeneca vaccine for emergency use. This vaccine is easier to store, which means it may be easier to distribute this product more widely. The authorized Pfizer and Moderna vaccines must be kept in very cold temperatures (minus 70 and minus 20 degrees Celsius, respectively). The AstraZeneca vaccine can be kept at normal refrigerated temperatures of 2 to 8 degrees Celsius.
---
[December 18, 2020]
FDA Authorizes Moderna's COVID-19 Vaccine             
Today, the FDA authorized Moderna's COVID-19 vaccine, marking the second available vaccine for the virus in the United States. Distribution is expected to start within the next few days. Read more here.
---
[December 14, 2020]
FDA Authorizes Pfizer's COVID-19 Vaccine; First Patient in the US Dosed
On Friday evening, December 11, the FDA authorized the emergency use of the first COVID-19 vaccine in the United States. The authorization of the Pfizer-BioNTech vaccine catalyzed the shipping of 3 million doses to health care workers and nursing home residents across the country. By Monday morning, December 14, a nurse in New York was inoculated with the first vaccine.
Read more on the authorization from the FDA here.
---
[December 10, 2020]

FDA Panel Recommends COVID-19 Vaccine Authorization

Today, an FDA committee of medical and scientific advisors recommended the emergency use authorization of Pfizer/BioNTech's COVID-19 vaccine. (Read more about this vaccine.) The FDA now will make a formal decision on authorization, likely within the next few days.
---
[December 9, 2020]
Take Action: Ask Your Governor to Prioritize COVID-19 Vaccinations for People with Parkinson's
On December 1, The Michael J. Fox Foundation submitted comments to the Advisory Committee on Immunization Practices (ACIP) urging them to give higher priority to people with PD for the COVID-19 vaccine due to underlying health conditions, comorbidities, and progress of the disease. ACIP recommendations to date are to prioritize health care workers and long-term care residents. The ACIP recommendations are now mandatory, and each state will be deciding its own prioritization of how the vaccine is rolled out. (Click here to read a report from the Kaiser Family Foundation on how states are prioritizing who will get the vaccine first.) We urge you to take action and contact your state governor to advocate for people living with Parkinson's to be prioritized.
Send an email to your governor here.
---
[November 30, 2020]
What Does the Positive Vaccine News Mean for People with Parkinson's?
The Foundation's movement disorder specialist, Rachel Dolhun, MD, puts news of two effective COVID-19 vaccines in context for people with Parkinson's and their families.
The bottom line? Dr. Dolhun says, "This is encouraging news, especially as pandemic fatigue grows and cases continue to climb. If you have questions about a vaccine's potential benefits or risks specific to you and your situation, speak with your doctor. And until a vaccine is widely available, remember to maintain precautions such as frequent handwashing, social distancing and mask wearing to protect yourself and others."
Read the entire blog here.