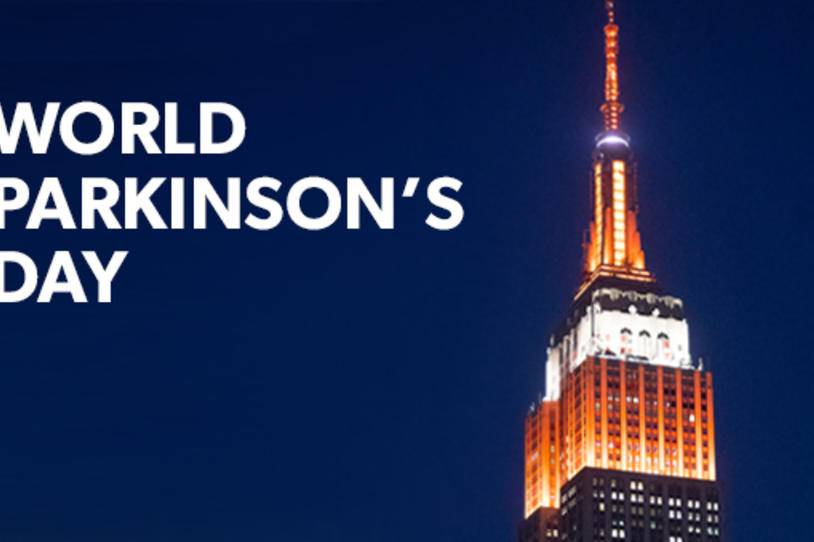 On Wednesday, April 11, a faint orange glow could be seen in the New York City skyline. On this evening, in honor of World Parkinson's Day, the iconic Empire State Building illuminated orange and white to shine a spotlight on Parkinson's disease (PD) and the urgent need of a cure for the 6 million people around the world who currently live with PD.
"Promise lies on the horizon for people with Parkinson's and their loved ones as scientific breakthroughs accelerate forward. Although research has made incredible progress, the millions who live with PD urgently need a cure and better treatments to manage their symptoms," said Veronique Enos Kaefer, vice president of community engagement at The Michael J. Fox Foundation (MJFF). "The orange glow from the Empire State Building is representative of the Foundation's commitment to supporting the Parkinson's community and we hope it is a reminder that a cure is closer than ever before."
In the days following the lighting, tens of thousands of community members around the world reacted to the recognition and shared on MJFF social channels what it means to them and their families. Here are a few of those messages:
Carol S. -- "Calling attention to PD helps people to understand that they are not alone in this disease and that there are people who care and are doing their best to find a cure."
Aleta I. -- "This will be a wonderful tribute to my two brothers who have this horrible disease -- and to all the others and their families and caregivers trying to give those we love a more comfortable life. I pray more research will get results and help those who suffer from this illness..."
Paulette S. -- "Thank you MJF foundation for all you do for Parkinson's. A cure is on the horizon...you give hope to sooooo many!"
Throughout Parkinson's Awareness Month, The Michael J. Fox Foundation is calling on people with Parkinson's, their loved ones, caregivers, and you to join us in ending Parkinson's.  With your support, we can turn today's progress into tomorrow's treatments -- and ultimately a cure.