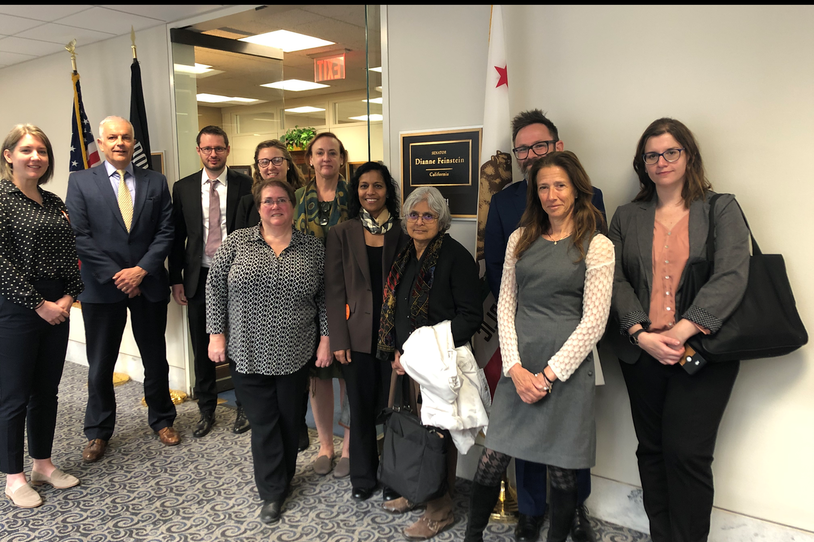 The following story appeared in our Spring/Summer 2020 edition of The Fox Focus on Parkinson's newsletter. For this story and more, download the full edition.
Washington, D.C. looks very different these days. Like many cities with a "stay-at-home" mandate, the streets and sidewalks are empty. But throughout April, the lights burned long into the night on Capitol Hill as Congress delivered federal relief packages to help our nation manage the economic and health effects of the coronavirus (COVID-19) pandemic. 
The pandemic has reinforced the importance of federally funded biomedical research. This moment in time has shown policymakers a return on their investment in research and that more research is critical to the health of our nation. This message was strengthened in early March, as 51 researchers from 28 states traveled to Capitol Hill for Researcher Hill Day to urge Congress to increase federal funding for Parkinson's research. "Our world has changed dramatically since I was on Capitol Hill. But advocating for research remains just as important," said Girija Muralidhar, a person with Parkinson's and researcher. "Moving Parkinson's science forward will require support from the federal government, much like what is happening right now around the world with COVID-19."
While navigating this global crisis, members of Congress are keeping the government running and looking ahead to the new fiscal year that starts October 1. This is the time of year that the U.S. House and Senate Appropriations Committees decide how federal dollars will be spent. The Michael J. Fox Foundation (MJFF) continues to work with congressional aides on obtaining critical funding increases for the National Institutes of Health (NIH), the U.S. Centers for Disease Control and Prevention (CDC) and a Parkinson's-specific research program at the Department of Defense.
And even during this extraordinary time, issues critical to Parkinson's advocacy need your voice. In November 2019, MJFF CEO Todd Sherer, PhD, testified before a congressional subcommittee against a policy from the Environmental Protection Agency (EPA) that could upend privacy of clinical trial participants and limit the types of science used in determining federal regulations. The EPA has recently proposed an expanded rule, that further limits the agency from using the best available research in their evaluation. 
In light of COVID-19, this new EPA rule is even more relevant. Experts believe the rule could hamper the agency's ability to respond rapidly and thoroughly to crises. Many research studies on coronavirus could be ignored in future EPA decision making. The Foundation has worked in coalition with public health and scientific groups to oppose this rule and, as this newsletter went to print, MJFF submitted public comments and rallied the community to take action against this rule.
MJFF's commitment is to keep you informed of what's happening in Washington, D.C. so that critical advances in our mission move forward. And you, too, can play a role. November elections are right around the corner. Now is a good time to research the U.S. House and Senate candidates in your state and congressional district. Visit their websites or contact their campaign offices to find out if they support funding increases for the NIH, CDC and the Department of Defense's research programs. See where they stand on issues like research freedom, strengthening Medicare and banning dangerous pesticides. This November, you can help influence policy to benefit everyone touched by Parkinson's.
Your voice is critical to prioritizing Parkinson's research in D.C. Contact your lawmakers today at advocate.michaeljfox.org.