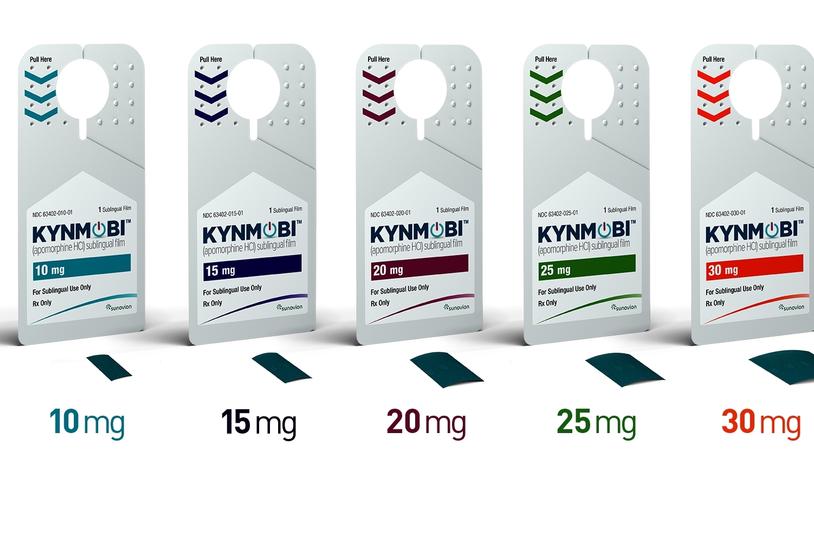 Update (10/14/20): Kynmobi (sublingual apomorphine) is now available by prescription to use as needed for "off" time, when Parkinson's symptoms return. Talk with your doctor to learn more.
Update (6/15/20): Kynmobi was subsequently approved by Health Canada on June 15, 2020.

On May 21, 2020, the U.S. Food and Drug Administration (FDA) approved an under-the-tongue dissolvable medication to quickly reverse "off" time, when Parkinson's disease (PD) symptoms return between medication doses. Sunovion Pharmaceuticals Inc.'s Kynmobi (apomorphine) mimics dopamine, the brain chemical responsible for normal movement, which decreases in Parkinson's. This approval provides a new treatment option for people with Parkinson's and marks a significant milestone for The Michael J. Fox Foundation (MJFF). With the support of early investments from MJFF, Kynmobi is the second Foundation-funded PD drug to earn FDA approval.
"The remarkable momentum in Parkinson's research continues, and MJFF is proud to contribute to this success," said MJFF CEO Todd Sherer, PhD. "This approval brings an important new treatment option for people with Parkinson's who experience 'off.' We know from our research and discussions with the Parkinson's community that 'off' time can significantly disrupt daily life, which is why we funded early clinical development of Kynmobi."
Kynmobi — a thin-film formulation of apomorphine placed under the tongue — is meant to be used as needed for "off" time, up to five times per day, in addition to other daily Parkinson's medications. (This is similar to asthma therapy, in which a person might take a daily treatment to keep breathing under control and, at the same time, use a rescue inhaler if breathing temporarily worsens.) For those who experience "off" time, it can come on in different ways and with different symptoms. "Off" time can happen suddenly or unexpectedly; gradually, as a wearing off before the next dose is scheduled; or in the morning, before the first dose is taken. For many people, "off" involves movement symptoms, such as tremor, slowness or stiffness. For others, it includes non-movement symptoms, such as anxiety or mental fogginess.
MJFF funded more than $1.4 million to support Phase I and II trials on Kynmobi, thereby "de-risking" the therapy and enabling Phase III randomized, controlled clinical trials that demonstrated safety and efficacy. In the final step of clinical testing, more than 100 people with Parkinson's evaluated the drug, finding that it significantly decreased movement symptoms within 30 minutes.
Potential benefits may include quick treatment of "off" time (which might offer a bridge until the next dose of scheduled medication kicks in); the security of knowing a "rescue" is there if needed, which might expand social or exercise opportunities; and others. Possible side effects could include tongue soreness or swelling, nausea, sleepiness or dizziness.
Kynmobi is expected to be available in the U.S. by prescription in September. (Learn more about Kynmobi.) With the approval of this drug, people with "off" time have another option to use as needed. Others include Ongentys, a COMT inhibitor approved in April 2020, Apokyn, an apomorphine injection, and Inbrija, a levodopa inhaler, which was the first therapy funded by MJFF to gain FDA approval. Like all medications, each has pros and cons and reasons it may or may not be suitable for each individual.
Read our press release on Kynmobi.
Interested in learning more about "off" time in PD? Watch a webinar or read an Ask the MD blog on this topic.