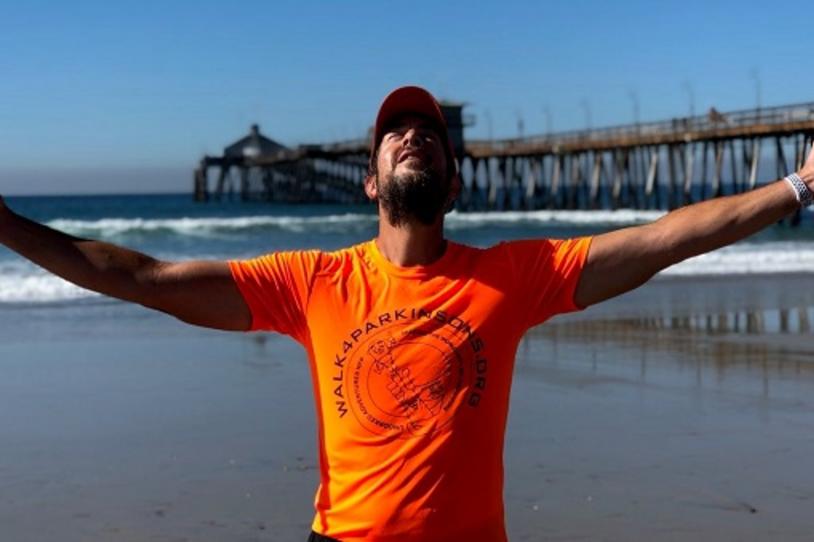 Editor's Note: On Wednesday, January 31, Bill Bucklew, joined by family, friends, Team Fox members and MJFF supporters, completed the last mile of his cross-country walk in Imperial Beach, California. Over the course of his two-month journey, Bill exceeded his fundraising goal of $100,000 and rallied hundreds of people affected by Parkinson's disease to join him at stops along the way. Congratulations, Bill!
While most of us were digging into leftover turkey or nursing a lingering stomachache, on the day after Thanksgiving, Bill Bucklew of Wilmette, Illinois set out on a 2,500-mile walk across the contiguous United States to help speed a cure for Parkinson's disease. His journey, Walk4Parkinson's, launched from Tybee Island, Georgia, and over the next several weeks, Bill will traverse the country, ending in San Diego, California in the new year.
His goal? To raise funds for Team Fox and connect with as many individuals as possible who have Parkinson's or have been affected by the disease in some way. 100 percent of Team Fox proceeds go directly to The Michael J. Fox Foundation's programs to accelerate Parkinson's research.
Following several years of misdiagnoses, Bill was diagnosed with young-onset Parkinson's disease in 2012 at age 43. He decided to immediately join the pursuit of a cure, as a research participant in the Parkinson's Progression Markers Initiative and as a fundraiser with Team Fox. Since 2012, Bill has taken on a variety of fundraising efforts including hiking Mount Kilimanjaro in 2014, tackling a leg of the Rock The Ridge 50-Mile endurance challenge in 2015, and running the TCS New York City Marathon this fall.
"I really wanted to get involved with an organization to find a purpose for my dealing with the disease and Team Fox has really worked out great. Everybody is like-minded, action oriented. It's got a good energy and a good vibe," says Bill.
Beyond his dedication to advancing a cure through Team Fox and research participation, in November, Bill attended the second annual Public Health Fair on Capitol Hill in Washington D.C. to advocate for increased federal funding for Parkinson's research and to discuss the wide range of benefits public health provides.
"I always figured lawmakers and their staff members were too busy or important to meet with constituents like me," he said. After meeting with the health experts for his members of Congress' offices, he "learned that it's important to keep in touch with them so that [his] story and message are top of mind when policy decisions are made." Afterwards, Bill says he "boarded the plane back to Chicago full of a sense of accomplishment and a newfound love of advocacy."
Throughout Bill's 2,500-mile journey, he hopes to raise awareness of Parkinson's by walking and talking with people along his route. "My father has Parkinson's as well so I'm really driven, not just for myself, but also for my family," he says.
Averaging nearly 50 miles per day, Bill is already making progress in distance, fundraising and networking as he makes his way across the country. To track Bill's progress, read interviews with the people he meets and contribute to his efforts, visit Walk4Parkinsons.org.