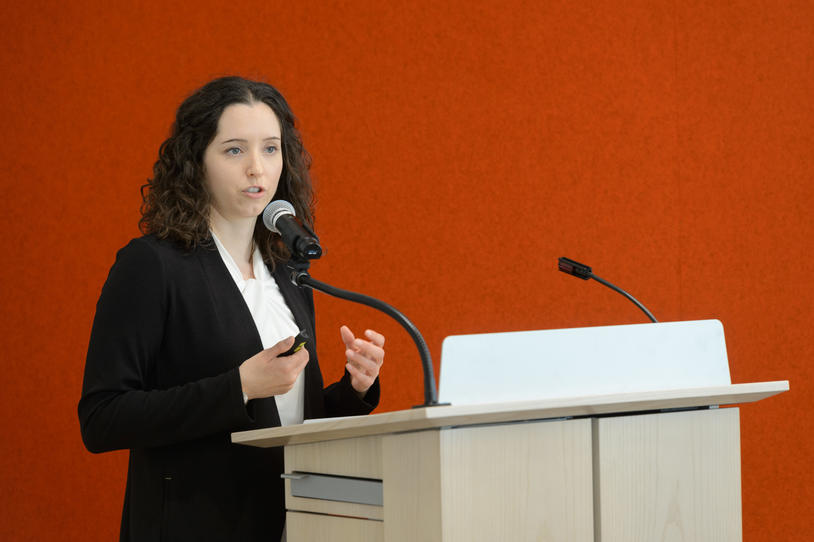 Patients have played a large role in shaping Dr. Marissa Dean's career choices and research interests. During her neurology residency, Marissa spent one month in the movement disorders clinic and made the decision to pursue the specialty. She encourages neurology residents who might be considering a future in movement disorders, "Get experience with movement disorder patients and see them not just in the hospital but in the outpatient setting, too. Without that exposure it's hard to make that decision."
In 2018, Marissa completed an Edmond J. Safra Fellowship in Movement Disorders -- a collaboration between The Michael J. Fox Foundation (MJFF) and the Edmond J. Safra Foundation -- at UAB (the University of Alabama at Birmingham). The Fellowship provides funding to train neurologists to care for people with Parkinson's and other movement disorders as well as to lead studies into these conditions. After graduating, Marissa accepted a position as Assistant Professor of Neurology at UAB, where she teaches movement disorders to medical students, neurology residents and movement disorder fellows, and treats people with many types of movement disorders including Parkinson's, Huntington's, ataxia and others.
She also participates in several clinical trials on the genetics of movement disorders as well as underrepresented populations in Parkinson's disease (PD), including African Americans. "During my fellowship, an African American woman came in with classic symptoms of PD that she had been experiencing for eight to 10 years. I asked her, 'Did anyone ever tell you that you have Parkinson's?' and she said, 'I can't have Parkinson's, I'm not an older white man,'" recalls Marissa. "This type of misconception impacts the ability to get care that can improve quality of life," says Marissa. And this makes her research critically important.
Marissa enjoys equipping her patients with information, which is a large part of being a specialist in PD, she says. "At least 50 percent of the time I spend educating my patients on what the disease is, what it means for them and what they can do on their own."  She adds, "I take it upon myself to be a motivation in their life. We work on sleep, hygiene and exercise so that overall they feel better. It's why I do what I do and I find that very rewarding."
Marissa enjoys educating not only her patients but also neurology residents (doctors in training) at UAB. And in March 2019, she was among the 12 experts to participate in the Fourth Annual MDS-PAS Movement Disorders School for Neurology Residents in Dallas. The two-day program, supported by MJFF and the Edmond J. Safra Foundation, attracted 88 neurologists in training to learn about Parkinson's and other movement disorders and consider a career in movement disorders.
"It's a great opportunity for residents because there are real patients there," says Marissa. She commented on the residents' excitement and enthusiasm and noted, "A lot of the attendees I spoke with had little to no exposure to movement disorders. The course allows them to see what movement disorders are and how we can have a real impact on patients' quality of life."
Watch a video about The Edmond J. Safra Fellowship in Movement Disorders.
Read about the recently awarded centers that will train The Edmond J. Safra Fellowship Class of 2022.