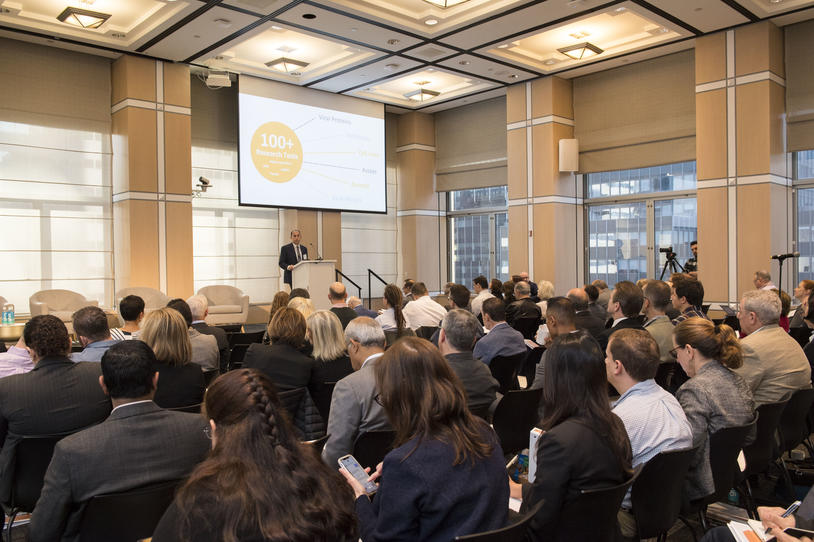 On October 15, our CEO Todd Sherer, PhD, welcomed more than 300 leaders to our 13th Parkinson's Disease Therapeutics Conference in New York. The conference, chaired this year by Richard Hargreaves, PhD, Corporate VP of Neuroscience at biotechnology company Celgene, illustrated the remarkable progress and growth in our field from studies funded by The Michael J. Fox Foundation.
More Support for Research
There was plenty of evidence of the momentum in Parkinson's research during the welcome remarks. Todd announced two new large funding programs. One, the Aligning Science Across Parkinson's (ASAP) Initiative, seeks to support international, multidisciplinary, multi-institutional research teams to address key knowledge gaps in the basic disease mechanisms that contribute to Parkinson's development and progression. The second, the Ken Griffin Alpha-synuclein Imaging Competition, is a $10-million program to fund development of a game-changing tool for Parkinson's research: an imaging tracer to visualize the key protein alpha-synuclein in the brain.
Dr. Hargreaves told the audience: "No other area of medicine is accelerating as fast as neuroscience." He went on to deliver the heartening news that Bristol-Myers Squibb, which acquired Celgene earlier this year, will be returning to the neuroscience field after halting work in that area in 2013. He will lead a new neuroscience division at the company.
New Targets & New Approaches
Dr. Hargreaves noted that a lot of the enthusiasm around Parkinson's research was due to "better targets anchored in human biology." When we understand how a disease works, we have a roadmap to treat it. Innovation is happening in targets and in approaches to reaching them, Dr. Hargreaves noted. Therapies to introduce genes into cells and to target the genes' messengers, RNA, are joining more traditional drugs in clinical trials for Parkinson's.
One new target generating interest at the conference was inflammation. Ashley S. Harms, PhD, from the University of Alabama at Birmingham, presented on the association between inflammation and Parkinson's and new targets related to T cells, which play a role in the immune response. Several posters also highlighted inflammation: Mathew C. Havrda, PhD, from the Geisel School of Medicine at Dartmouth, focused on the inflammation protein NLRP3; Inga Peter, PhD, of the Icahn School of Medicine at Mount Sinai, illuminated the role of inflammation in both Parkinson's and Crohn's diseases and how LRRK2 genetic mutations play a role in both.
Daniel Kacy Cullen, PhD, of the University of Pennsylvania, shared what he called "fundamentally different work" during his session. Dr. Cullen is pursuing a way to rebuild brain circuitry lost in Parkinson's using tissue-engineering techniques. This approach transplants biofabricated tissue into the brain, where it integrates and recreates lost circuitry. In models, dopamine levels returned to baseline (pre-disease) levels in three months. Dr. Cullen noted that this work is very early and much more development needs to be done before this approach could be tested in people.
Biomarkers and Therapeutics Developing Together
Today we are tracking more than 90 therapies in clinical testing for Parkinson's. Speakers at the conference discussed these trials and ways to increase their odds of success, through better design, patient selection, and biological disease markers.
Sergio Pablo Sardi, PharmD, PhD, from Sanofi Genzyme, remarked that there is a "co-evolution of biomarkers and therapeutics" in Parkinson's. The field is moving quickly, and, in many cases, new drugs and the biomarkers needed to understand how (and how well) they work are being developed in parallel. Dr. Sardi presented on the development of biomarkers for GBA, a genetic mutation associated with Parkinson's. Sanofi is already in human clinical trials with GZ/SAR402671, a drug targeting the GBA pathway. 
Miratul Muqit, MD, PhD, from the University of Dundee, gave a talk on the development of biomarkers for PINK1. Mutations in this gene cause the PINK1 protein to be underactive and are associated with early-onset Parkinson's. Several treatments targeting this pathway are in development, and a biomarker would aid in their development and in the discovery of new potential treatments. 
One marker, a PET tracer to visualize the key Parkinson's protein alpha-synuclein in the living brain, was the focus of a lot of attention at the conference. Jan Stoehr, PhD, of AC Immune, shared the advances his company has made in development and clinical testing of this tool and took numerous questions from attendees. An alpha-synuclein PET tracer would be a game-changer not only for the current 11 trials of therapies targeting alpha-synuclein but also for the many others testing approaches to slow or stop the disease process.
Tanya Simuni, MD, of Northwestern University, and Ken Marek, MD, at the Institute for Neurodegenerative Disorders, did a joint presentation on recruiting people with genetic mutations for trials. As more and more promising therapeutics make it to human clinical trials, researchers will need more volunteers willing to participate in them. The Michael J. Fox Foundation is committed to supporting recruitment efforts and sharing best practices with the entire field so we can all be successful.
The Future of the Field
Our CEO Dr. Sherer told the audience he hoped their main takeaway was how many opportunities exist in Parkinson's research and how many more are on the way. "It is a great time to be working – and investing – in this field."
Dr. Hargreaves ended the conference by reminding everyone about the urgency of their work. "Patients are waiting."
MJFF CEO Todd Sherer, PhD, (left) and conference chair Richard Hargreaves, PhD, Corporate VP of Neuroscience at Celgene (right).

Daniel Kacy Cullen, PhD, (left), Samantha Hutten, PhD, (center) and Ekemini Riley, PhD (right).

Inga Peter, PhD, of the Icahn School of Medicine at Mount Sinai (left) with a PDTC guest (right).

Miratul Muqit, MD, PhD, from the University of Dundee giving a presentation on the development of biomarkers for PINK1.