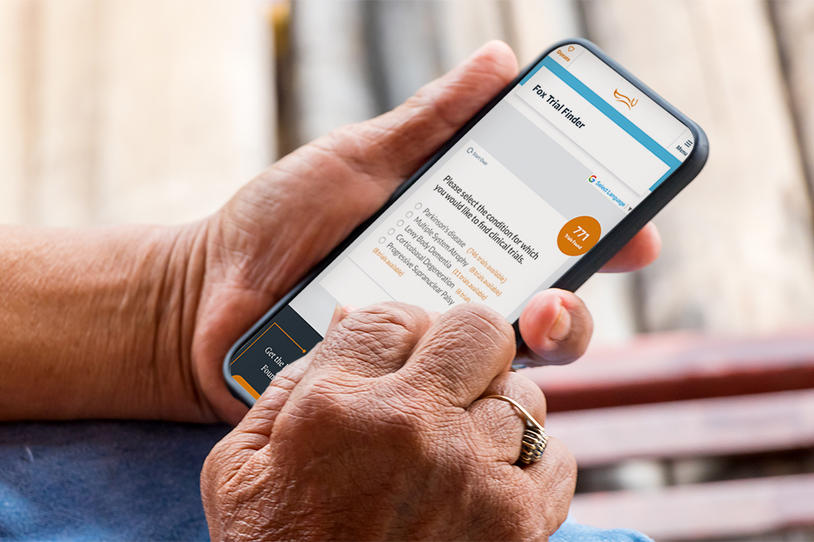 The Michael J. Fox Foundation for Parkinson's Research (MJFF) has launched a new Fox Trial Finder to make it even easier to find clinical studies that are right for you. Our improved online matching tool includes both trials of new treatments and observational studies designed to learn more about Parkinson's disease and related conditions.
Participating in clinical studies can play a crucial role in your journey with Parkinson's. People tell us that taking part in research is empowering: they take charge of their health and gain access to world-class Parkinson's experts. Every treatment on the market today went through the clinical trial process, which is only possible with the support of study participants. As Michael J. Fox has said, "We can be the solution we seek."
Finding the Right Study
In Fox Trial Finder, you can perform a customizable search to find studies you may be eligible to join in your area. What makes you eligible can differ from study to study. The criteria may include things like age, gender, medical history or time of diagnosis. In the guided search, the new, user-friendly Fox Trial Finder asks a few simple questions and then matches you with studies. You can also search on your own by geographic area or keyword. Once you find a study you're interested in, you can instantly get in touch with research teams directly from the tool via phone or email.
A Customizable Experience
No registration is required to use the new Fox Trial Finder—you don't need to log in or create a profile to search and find studies. However, you can sign up to receive emails about new studies that are recruiting in your area. (The emails will come from iConnect and say "The Michael J. Fox Foundation" in the subject line.) Signing up for email alerts can help you stay up-to-date about the latest studies looking for people like you.
Increasing Ease of Use
"Whether you're new to clinical trials or you've been participating in them for years, the new Fox Trial Finder is here to help better connect patients and families to research," said MJFF Deputy CEO Sohini Chowdhury. "We heard our community's feedback and redesigned the tool to better fit their needs. Using state-of-the-art technology, Fox Trial Finder will create onramps for people to connect with trials that urgently need them. In doing so, we can reduce the burden of recruitment and help bring new treatments to patients faster."
Powered by patient recruitment platform iConnect, Fox Trial Finder's redesign makes it even easier to find the right study for you and immediately get connected. The new tool is also available in multiple languages through Google Translate. Read more in the press release announcement.
Join a study today to help speed progress toward better treatments and a cure for Parkinson's disease.
Check out the new Fox Trial Finder at michaeljfox.org/trial-finder.