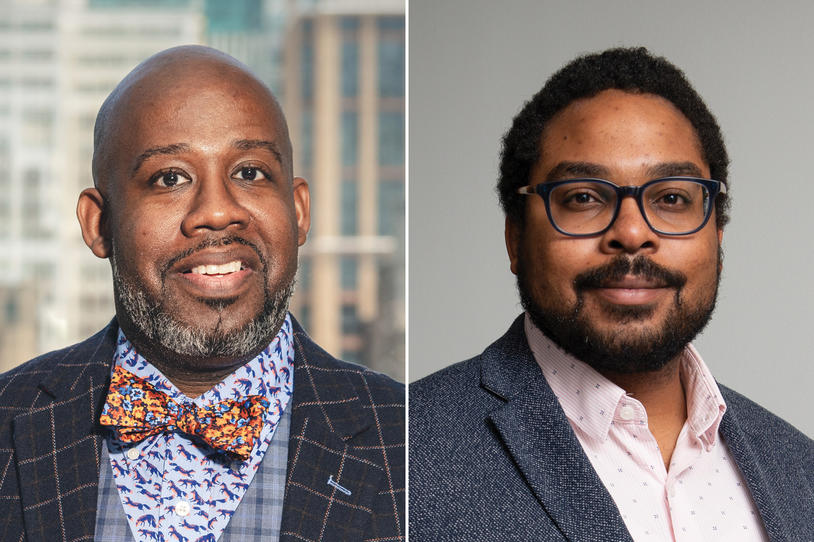 Finding volunteers is one of the biggest barriers to the success of clinical studies. As part of The Michael J. Fox Foundation's (MJFF) recognition of Black History Month, a researcher and participant discuss the unique challenge of engaging underserved populations in Parkinson's studies. 
Michael S. Fitts serves as assistant dean for user access and diversity at The University of Alabama at Birmingham (UAB Libraries). He was diagnosed with Parkinson's disease (PD) in 2011 at age 38. He led the discussion with Jonathan Jackson, PhD, who is the principal investigator of the Fostering Inclusivity in Research Engagement for Underrepresented Populations in Parkinson's Disease (FIRE-UP PD), a study funded by MJFF to engage people of diverse backgrounds in research. Michael is also a member of MJFF's Patient Council and the FIRE-UP PD Steering Committee.
Michael S. Fitts (MF): You're the executive director of the CARE Research Center at Massachusetts General Hospital. CARE stands for Community Access, Recruitment & Engagement (CARE). Can you tell me about the center and your work there? 
Jonathan Jackson (JJ): Our center is focused on improving representativeness in clinical trials. We recognize the only way to do that is to try to address the problem at its source. We do a lot of consulting, advocacy, and community entrenchment work as well. Our mission is to improve the way we think about and design clinical trials so they are more empowering and accessible to underserved populations.
MF: There are many misconceptions about Parkinson's disease. Because of this, why is it important for diverse communities to participate in research? And what are some of the barriers?
JJ: As researchers, we're aware of many barriers but I think we often focus on the wrong ones. We talk about transportation and trust as the two biggest issues, but there are a lot of other barriers that also need to be addressed. Given your work with MJFF and as someone living with PD, what do you think are some of the barriers to research?
MF: One of the challenges for me as a person living with Parkinson's is that there are certain criteria that make you eligible for studies. As an individual diagnosed with early-onset PD, and since I'm on medications, I sometimes don't fulfill the basic requirements. It's a challenge, but people are recognizing this barrier and trying to be more inclusive.
JJ: Like you said, inclusion and exclusion criteria for research studies often disproportionately exclude underserved groups, people of color and even women from participating in Parkinson's research. That is definitely a barrier, but first, we also have to address just simply getting people to understand what a Parkinson's diagnosis means, what research entails and what they can do as participants. It seems you have to address six or seven little barriers before you can really bring a very diverse and representative population into research.
MF: How did you get involved in Parkinson's research?
JJ: I was attending a meeting in Boston on diversity in clinical trials about two years ago. Representatives from MJFF were there and they were sharing early results from their online clinical study, Fox Insight. I got involved in that conversation about breaking research out of academic medical centers that only certain populations can access. We decided to jointly launch a formal study looking at why there were ongoing problems with diversity in Parkinson's research, and that's what became the starting point of FIRE-UP PD.
MF: What are you trying to accomplish with the FIRE-UP PD study?
JJ: We created a study to see if it was possible to understand the barriers that people of color and other diverse groups face when it comes to engaging in Parkinson's disease research. And more importantly, we wanted to see if we could start to overcome those barriers and measure whether we could improve the diversity of Fox Insight. So we engaged eight different research centers around the United States, and asked four of them to do something different. We asked them to identify a group they wanted to reach — whether it was a group of color, women, individuals living in rural areas or individuals of relatively modest or low income. We asked them to design their own culturally relevant intervention based on that specific community's needs and their research center. We're getting close to the end of that study now and it's been an eye-opening experience. We've found that it's certainly possible to reach a lot of these groups in ways that I think none of us really expected. Simply raising awareness and developing targeted programming has overcome what sometimes feels like an impossible barrier. And we look forward to sharing results from the study soon.
MF: Can you provide any examples?
JJ: Fox Insight is one of the first studies to systematically map participation barriers in real time. It turns out that, of all the people that were approached for FIRE-UP PD, somewhere in between 20 and 25 percent were simply not able to participate. They were willing but not able to because of barriers related to the digital divide and language equities.
MF:  In other words, we're learning there are more barriers than transportation and trust. People can be apprehensive trying to navigate the whole process. So I think the education and information FIRE-UP PD is providing will help break down some of those barriers.
How can people get involved?
JJ: Anyone can learn more about Fox Insight, MJFF's online clinical study, at foxinsight.org. Or, people can search for other clinical studies they may be eligible to join on Fox Trial Finder.
Michael S. Fitts (left) and Jonathan Jackson (right) during their virtual meeting.