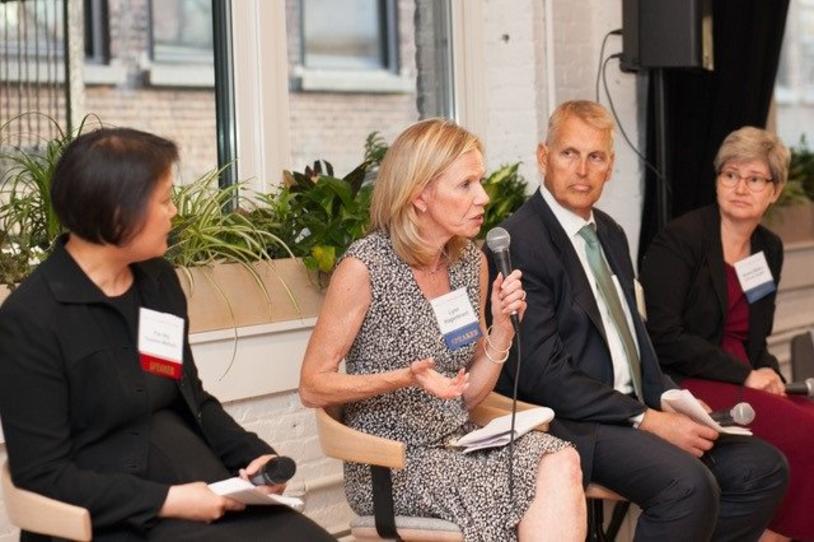 Lynn Hagerbrant was a registered nurse working in critical cardiac care when she was diagnosed with Parkinson's disease in 2010. No one in her family had the disease, so the diagnosis was a bit of a shock.
"I was stunned by it," Lynn says.
Since then, Lynn has joined The Michael J. Fox Foundation's (MJFF) Patient Council and helped start a local support group in her community of Greenwich, Connecticut, called "Shakers Anonymous." More than 50 people attend meetings each month. Recently, they have used video technology for virtual meetings as a result of COVID-19.
Lynn brings in speakers and talks to her support group about research and how they can get involved.
"I think there's a misunderstanding about clinical studies and clinical research," Lynn says. "There are many different types and ways to participate." (Learn more about types of clinical studies.)
"Being involved in research is part of the answer to finding better treatments and ultimately, hopefully, a cure," Lynn declares.
She is also an advocate for MJFF's online clinical study, Fox Insight. "It's very easy for people to participate, especially now," Lynn says.
Fox Insight gathers information from people with and without Parkinson's through online surveys and questionnaires. Every three months, participants fill out surveys on health and experiences. Occasionally, the study distributes special one-time surveys on topics relevant to Parkinson's disease, such as stress.
Last year, more than 4,000 participants responded to a Fox Insight survey around mindfulness, meditation and stress. Initial results showed that people with Parkinson's reported more stress than people without the disease. Investigators are analyzing the data, and MJFF will share the remaining results once available. Lynn practices mindfulness and was pleased to participate in the survey. The goal is to understand how people with Parkinson's may be using these techniques to manage symptoms. For Lynn, practicing mindfulness has helped her feel more in control and lessen the severity of her tremor. (Watch a webinar on mindfulness or listen to the podcast.)
Right now, Fox Insight has special surveys open around COVID-19, cannabis use and gait and balance.
"Close your eyes and imagine that you are part of the cure," Lynn says. "This is how I live my life. I choose to live an optimistic and happy life, even with the diagnosis of Parkinson's."
To share your experience and contribute to critical Parkinson's research, join Fox Insight at foxinsight.org.