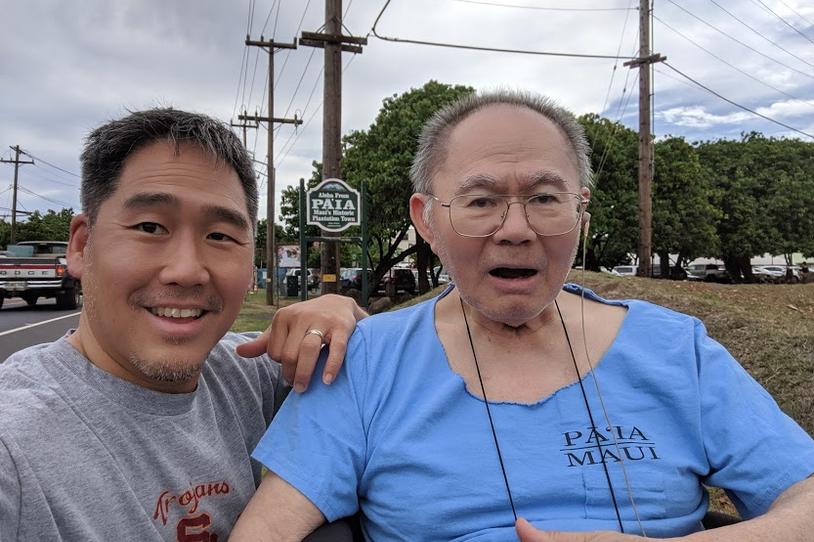 "He was the frontline in pest control. He was exposed to a lot of the commercial and high-grade chemicals and pesticides that were used in Hawaii," said Edwin Zane, 49, about his father Ronald who was diagnosed with Parkinson's disease (PD) in 2014.
Edwin grew up with his father in Paia, a small, rural town on the island of Maui, Hawaii. For 22 years, his father worked in the parks and recreation department and was exposed to the same herbicides and pesticides used by the sugarcane and pineapple industries.
In most cases, the cause of Parkinson's is unknown. This is one of the greatest challenges to better understand and treat the disease. And yet, in recent years, one emerging environmental target has been linked to an increased risk for Parkinson's disease — the herbicide paraquat.
"Pesticides and other chemicals get into the soil. They get into the water," said Edwin. "Because I lived surrounded by farms, I've had a front row seat to the dangers of pesticide use."
Leading research has shown that exposure to paraquat significantly increases the risk of a person developing PD. More than 30 countries around the world — including the European Union and China, the home of several companies who manufacture and export the chemical — have already banned paraquat. But the herbicide is still used widely in the United States — in fact, its use is increasing due to crops' resistance to other kinds of pesticides. Paraquat is dangerous to Americans who work in food and agriculture, but also to everyone who eats food treated with it, as there can be herbicide residue on fruits, vegetables and the soil.
"A lot of communities are in danger. This is not just a farmer or blue-collar working issue," said Edwin. "This is a quality of life issue for everybody."
The Michael J. Fox Foundation (MJFF) believes that all Americans should be protected from potential exposure to paraquat and that the Environmental Protection Agency (EPA) should ban this dangerous chemical. In 2017, the Environmental Protection Agency announced its review of paraquat's registration. In response to this, MJFF, along with the Unified Parkinson's Advocacy Council submitted comments and a petition with 107,000 community signatories, urging a ban. Last year, Representative Nydia Velázquez (D-NY) introduced the Protect Against Paraquat Act which also aims to eliminate paraquat from the U.S. agricultural system.
A couple weeks ago, the New York Times reported on the link between environmental factors, toxic chemicals and Parkinson's while highlighting paraquat. And today, Senator Tom Udall (D-NM) and Representative Joe Neguse (D-CO) incorporated Rep. Velázquez's act into a bigger reform bill which would reduce the number and types of toxic chemicals and ban paraquat for good. Senator Udall's uncle, Mo Udall, served in Congress from 1961 to 1991 and lived with Parkinson's disease, so this is an issue that the Senator understands personally.
We need your voice to keep this issue top-of-mind and gain more support in Congress. Email your Senators and Representative now and ask them to co-sponsor new legislation to eliminate paraquat on behalf of the Parkinson's community.