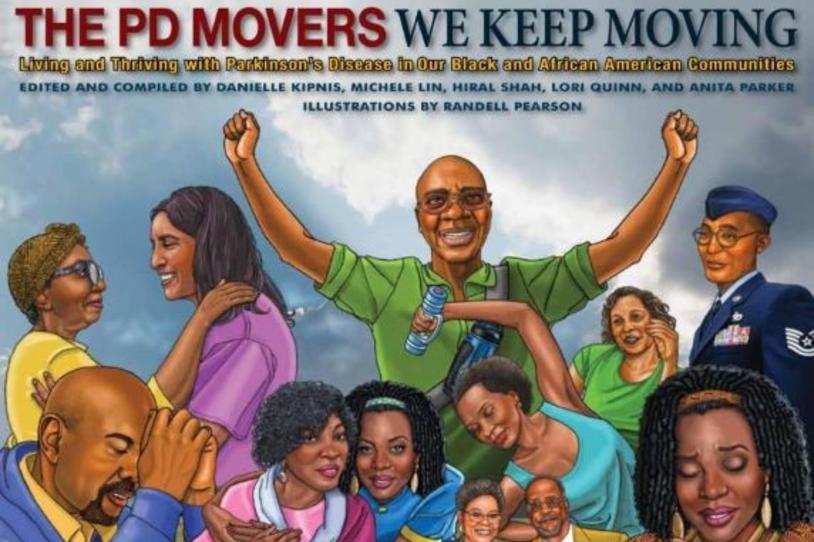 Black History Month is a time to celebrate the accomplishments, honor the history and center the experiences of Black Americans. The Michael J. Fox Foundation for Parkinson's Research (MJFF) is highlighting Black History Month by sharing The PD Movers: We Keep Moving, an illustrated storybook resource for Black patients and families navigating Parkinson's disease (PD), produced and supported by Columbia University Irving Institute for Translational Science. To date, most Parkinson's research and care has not served and been fully representative of all people who live with the disease. MJFF is committed to sharing meaningful educational resources that have candid and relatable insights and practical strategies about navigating life with PD. (Find The PD Movers: We Keep Moving storybook and more books, podcasts and tools recommended by the community in MJFF's Books & Resources section.)
Recently, we spoke with Lori Quinn, PT, EdD, Professor of Movement Science and Kinesiology at Teachers College of Columbia University, and Hiral Shah, MD, Assistant Professor of Neurology at Columbia University Irving Medical Center, who teamed up with people and families living with PD and community outreach professionals to create the PD Movers: We Keep Moving 62-page storybook. Designed specifically for the Black and African American Parkinson's community with an aim to inspire, educate and connect each other, the book highlights the stories of people and families living with PD, including Bernard Coley, Denise Coley, Sandra Coplin, Victoria Dillard, Lorraine Haye, Angela Huckabee, Richard Huckabee, Don Ransom and Kermit Smith.
"Storytelling is a powerful method to teach and inspire others to live and thrive with disease," says Dr. Shah. "And the book is a culmination of years of building trust and relationships with members of the community. We knew we wanted to describe the Parkinson's journey from the perspective of patients and care partners. The authentic voices and beautiful images allow readers to see each unique contributor's journey in recognizing early symptoms, the moment of diagnosis, engaging with treatment and care, and ultimately living and thriving with the disease."
The team of contributors worked together to capture and emphasize themes and messages that came across during multiple conversations with people and families, including the challenges and delays of receiving a diagnosis, the role of faith and family in the care journey and what quality of life looks like to different people.
"We know there are many different strategies people use to help them live and thrive with PD.  We hope that individuals from the Black and African American PD community can relate with one or more of the PD Movers stories, and will inspire people to share their own stories," explains Dr. Quinn.
Diagnosed with PD in 2018, Denise Coley, and her husband Bernard Coley, of Morgan Hill, California, who participated as book contributors, have actively worked together to educate under-engaged communities and empower people impacted by Parkinson's in the role they play toward better treatments and a cure. The compilation of first-person narrative and vibrant images underscores the importance of storytelling and being culturally sensitive in delivering information, says Bernard.
"The first time we met the over 12 PD Movers contributors over Zoom, it was a moment that made many of us tear up and say 'wow,'" says Denise. "For many of us, it was the first moment we could ever recall seeing so many patients and families that looked like us. To tell our stories and to see our faces illustrated in this book opens the door to seeing that there are all kinds of people who get Parkinson's."
(Hear more from Denise and Bernard Coley in our upcoming MJFF Podcast episode, "Food for Thought: Answering Your Questions on Diet, Brain Health and Parkinson's," launching later this month.)
For Drs. Quinn and Shah, the Coley's and all contributors, their hope is that the book can serve as not only a conversation starter for Black and African American Parkinson's community members but also an inspiration to take action and keep moving.
Download the free PD Movers: We Keep Moving storybook here and follow the team on Facebook, Twitter and Instagram.
---
Looking for more on this topic? Learn about inclusivity in Parkinson's research and care by listening to MJFF's podcast and read more stories from our Parkinson's community here. The Foundation is always seeking to grow its diverse community of people touched by Parkinson's disease. If interested, please email your story to shareyourstory@michaeljfox.org along with the best contact information to reach you. We may share your story in future communications.