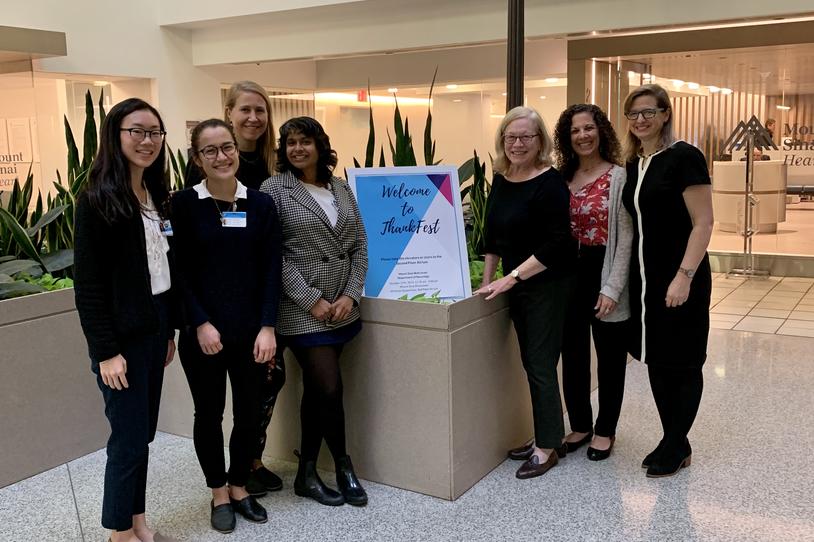 Study volunteers make advances in Parkinson's disease (PD) understanding and treatment possible. On a recent rainy afternoon in New York City, clinician-researchers at Mount Sinai Beth Israel hosted "Thankfest," a symposium to thank Parkinson's research participants for their valuable contributions.
Opening the day with research updates was The Michael J. Fox Foundation (MJFF)'s Vice President of Medical Communications and movement disorder specialist, Rachel Dolhun, MD. Rachel highlighted the 14 new treatments approved in the last five years; the many therapies in the pipeline to slow or stop disease progression; and the impact of MJFF's landmark Parkinson's Progression Markers Initiative (PPMI) study.
Mount Sinai Beth Israel is one of PPMI's 33 clinical sites around the world gathering clinical, imaging and lab data on 1,400 people: those with PD, people with Parkinson's risk factors, and control volunteers — people who don't have PD. The study is leading to new findings on disease, enabling faster discovery of new insights, and improving how other studies are designed. Read the latest on PPMI from the study's annual meeting.
Mount Sinai also is part of MJFF's LRRK2 Cohort Consortium, which brought research groups together to speed understanding and therapeutic development around LRRK2, a genetic mutation that increases the risk of developing PD. Work against this target has driven real results for people with Parkinson's. Two companies are testing drugs against the LRRK2 pathway in clinical trials.
The 50 attendees at the event — volunteers from PPMI, LRRK2 Cohort Consortium studies and other Parkinson's studies — also heard from Mount Sinai researchers Susan Bressman, MD, and Rachel Saunders-Pullman, MD, and from Jesse Cedarbaum, MD, who has worked throughout his career in the pharmaceutical industry on a number of Parkinson's therapies now in clinical testing.
This event was one acknowledgment of the vital role of study participants. Without research volunteers, new treatments would not be possible. Thank you.
Learn more about your role in research.