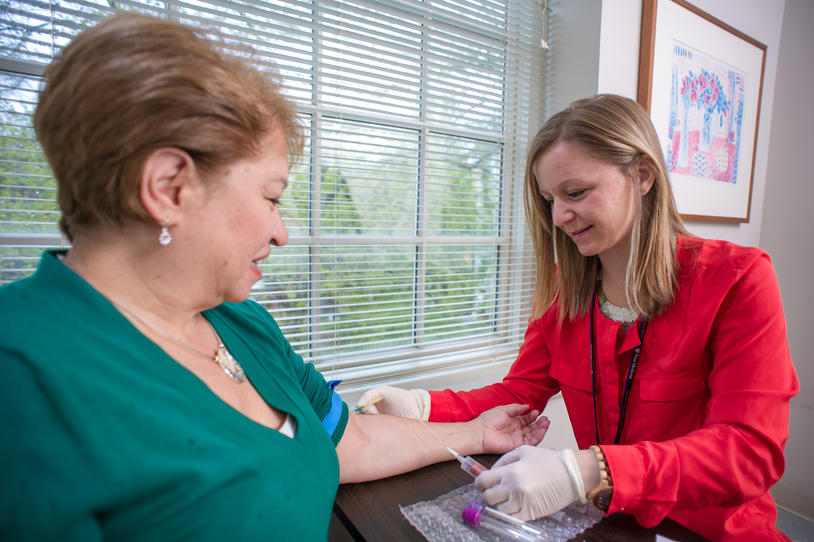 In this unprecedented year, The Michael J. Fox Foundation (MJFF) has worked tirelessly to ensure critical Parkinson's research keeps moving forward — and the scientific community has followed suit. Researchers are exploring innovative ways to treat Parkinson's disease (PD) symptoms and slow or stop its progression.
With the highest scientific standards, clinical trials test treatments or interventions to make sure they are safe and effective. But for trials to be successful, many study participants from different backgrounds are needed. Here, we share a roundup of a few clinical trials — some with MJFF funding — recruiting volunteers around the United States and Canada.
Trials to Slow or Stop Parkinson's

Stem Cells from Living Donors: With support from MJFF, Mya Schiess, MD, at the University of Texas Health Science Center at Houston, is recruiting 45 people with PD aged 50 to 79 for a Phase IIa trial. The study is testing intravenous (IV) infusions of mesenchymal stem cells from bone marrow of living donors to slow the progression of Parkinson's disease. Scientists believe these stem cells may treat inflammation, which may play a role in Parkinson's. Learn more about the study and find contact information here.

Replacement GCase Protein: Nir Lipsman, MD, is recruiting people diagnosed with Parkinson's within the past two years for a trial testing imiglucerase (Cerezyme) at Sunnybrook Health Sciences Centre in Toronto, Canada. This drug replaces the protein GCase, which is lower in some people with Parkinson's. Raising GCase levels may help cells stay healthy and slow Parkinson's progression. Cerezyme is approved to treat Gaucher's disease. Both Parkinson's and Gaucher's are linked to mutations in the GBA gene. This study is using focused ultrasound — a non-invasive surgical procedure that uses ultrasound waves to partially open the blood-brain barrier for drug delivery. Learn more and find contact information here.

Focused ultrasound is also approved to treat Parkinson's tremor. Read more here.

Trials to Treat Symptoms

Drug for Thinking and Falls: Falls are common in people with Parkinson's and can be dangerous. Mild cognitive impairment (memory and thinking problems beyond what is expected with normal aging) is also a troubling symptom of Parkinson's (that can contribute to falls). These symptoms may share an underlying biological cause, and pharmaceutical company Takeda is testing a therapy against both. With support from MJFF, Takeda is recruiting people with Parkinson's with mild cognitive impairment and two falls within the last six months. The study will evaluate the effect of TAK-071, an investigational drug that aims to treat these issues in people with PD. Sites in California, Florida and Michigan are recruiting now with more locations opening in the coming months. Learn more and find contact information here.

Watch a video on cognitive impairment.

At-Home Study of Drug for Fractures: A team of physicians including leaders at the University of California, San Francisco are testing a drug approved for bone damage (such as from osteoporosis) on its effect on fractures in people with Parkinson's disease. The Trial of Parkinson's And Zoledronic Acid (TOPAZ) study takes place remotely, with interested participants completing an online consent form and video screening visit. A nurse will visit an eligible volunteer's home to give the study drug. They aim to enroll 3,500 across the United States. Learn more about the study here.

Listen to a podcast on balance issues.

Better Movement Control: At 12 sites across the U.S., Cerevel Therapeutics is recruiting 296 participants diagnosed with PD within three years for a Phase III trial. The study will evaluate tavapadon, an investigational drug that aims to treat Parkinson's motor symptoms (tremor, slowness, stiffness) by mimicking dopamine, the chemical that decreases in PD, in the brain. Learn more and find contact information here.
To find these studies and search for others you may be eligible to join, visit our online tool Fox Trial Finder. You can go through a guided search or search on your own by location and keyword (e.g., stem cells, cognitive impairment). In addition, you can sign up to receive emails to be notified of new recruiting studies in your area.