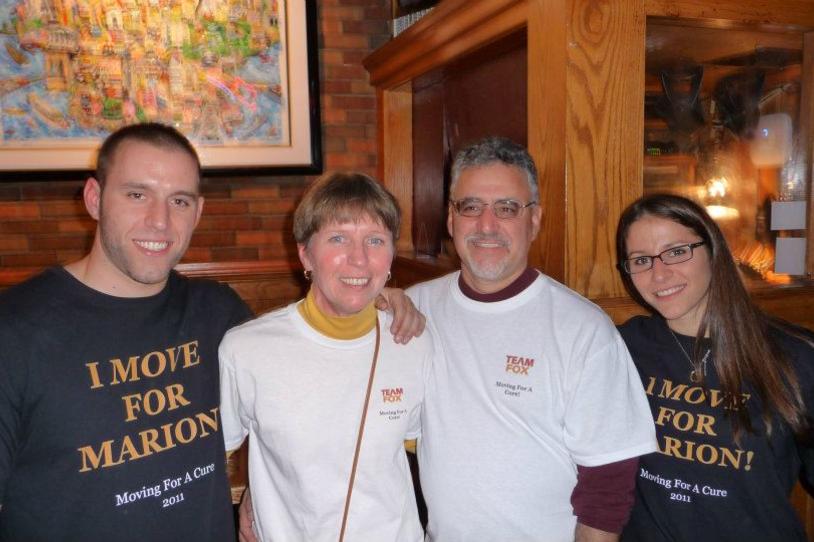 "We found a second family within Team Fox," says Marion Fioretti.
This year marked 10 years since Marion was diagnosed with Parkinson's disease and 10 years since she began fundraising to support The Michael J. Fox Foundation (MJFF).
"My mom has been so positive from the start," says Pam, Marion's daughter who discovered Team Fox back in 2010. "Team Fox was something that seemed really uplifting and the people were so active and entrepreneurial," says Pam. In October 2011, they hosted a bar event to raise funds for Parkinson's research and "it was sort of like my mom's coming out party," recalls Pam. Despite a bizarre Halloween blizzard, the event was a success!
Since then, the entire family, including Marion's son Gary and husband Jerry, has gotten involved, forming Team Moving for a Cure. In addition to hosting their own events, they've attended and supported countless Team Fox fundraisers and endurance events including Rock the Ridge, the Adirondack Fox Trot, MJFF's NYC Fox Trot, the Spartan Sprint and more.
"It's been so helpful to meet people — in person and through Team Fox Facebook groups," says Pam. "Seeing what others are doing has inspired us to put ourselves out there and to try doing a little more." Gary adds, "Everyone is so supportive of one another and you believe that together, we can find a cure."
To date, Marion and Team Moving for a Cure have raised over $110,000. And despite the challenges of 2020, Marion was determined to make an impact in her 10th year of fundraising. In addition to taking part in Team Fox's letter writing campaign, Marion found another way to creatively raise funds through exercise, something she's used to help manage her symptoms since she was diagnosed.
"My gym was closed so I was focused on Moving for a Cure by walking, hiking and running outdoors," says Marion. "I was tracking my miles via Charity Miles and realized I was up to over 600 miles!" It was then that Marion decided to commemorate her 10 years of fundraising by setting a goal to complete 1,000 miles and raise $10,000. As of this writing, Marion is less than 40 miles from her distance goal.
"Parkinson's can have a negative effect on a family. But this family and the Team Fox family have been nothing but positive," says Jerry. In addition to the support system they've gained through Team Fox, "My mom has a group of people that can truly understand what she's going through," says Pam. "I really think that's one of the reasons she's been so successful."
After a decade devoted to raising funds for Parkinson's research, Marion says, "I'm still optimistic for a cure within my lifetime. Maybe more so than even 10 years ago." She's also looking forward to one day keeping a promise made on Mount Mansfield in 2015 during the inaugural Tour de Fox, "I plan to get a fox tattoo when a cure is found!"