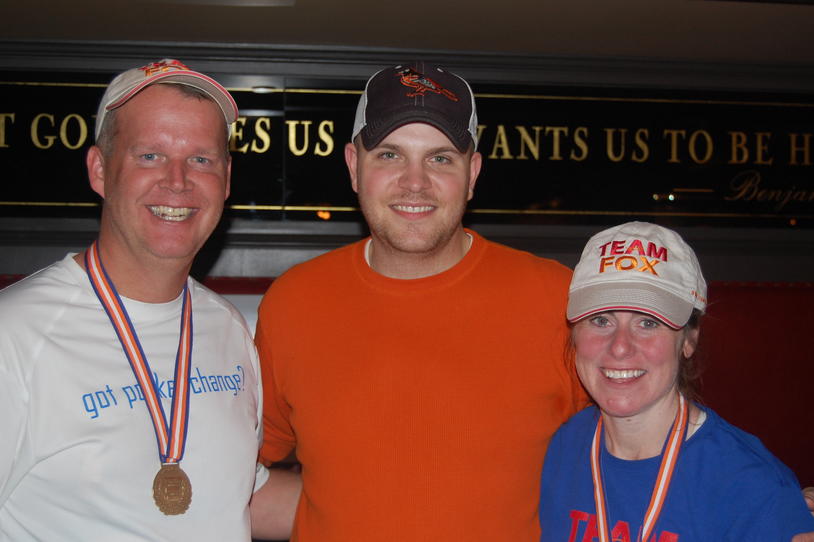 The following story appeared in our Spring/Summer 2020 edition of The Fox Focus on Parkinson's newsletter. For this story and more, download the full edition.
By definition, Team Fox is the grassroots fundraising program of The Michael J. Foundation (MJFF). In practice, it's the familiar ring of an orange cowbell, the "give 100 percent" trademark, and family. Built by those affected by Parkinson's who fundraise to actively alter the trajectory of the disease, Team Fox is characterized by people like Maureen Ashdown of Cleveland, Ohio — who's been there since the beginning.
When Maureen's father was diagnosed with Parkinson's disease in 2006, she turned to MJFF. As an avid runner living in Ohio, she decided the Chicago Marathon was a great way to fundraise for Parkinson's research. "I sent out an email to tell people I was running to raise money for MJFF, on behalf of my father. The response was incredible," she recalls.
Back then, there wasn't an official Team Fox Chicago Marathon team. It wasn't until Maureen saw an email about another Team Fox member, Dan Dreiling, running Chicago that Maureen learned she wasn't the only one. "I immediately looked up Dan's page — he was running on behalf of his brother-in-law — and saw that he lived 20 minutes away," says Maureen. She found a way to get in touch with him and the two ended up training and fundraising together for years. "Dan's been an important part of this journey with me," she says. 
Eleven marathons and countless new friendships later, Maureen remains committed to Team Fox. "Seeing my dad's disease progress over the years, the more he was struggling, the more it's meant to me and my five siblings." 
"My dad got me into running. He ran the New York City Marathon in 1987," she says. After he passed away in September 2018, Maureen's mother gave her his medal. In the months that followed, Maureen's mother was diagnosed with pancreatic cancer, which ultimately claimed her life. "My sister Bridget and I were sitting in the hospice room and I whispered to her, 'How about the 2020 New York City Marathon? I will run for Team Fox and you can run for Project Purple (for pancreatic cancer research).'"
"It's been quite a year-and-a-half of loss," says Maureen. "Running has always been a part of my dealing with my dad's disease and giving us hope that MJFF is working really hard to cure this," she says. "I haven't run a marathon in a while so I'm looking forward to the challenge and to diving deep into fundraising again and being closer to the cause. It helps me feel closer to my dad."
Today, Maureen, Bridget and thousands of marathon runners are hopeful that the event would be able to go on in spite of current pandemic-related restrictions. (Maureen was part of the 2012 Team Fox New York City Marathon team when the race was canceled at the last minute because of Superstorm Sandy's devastation in the Northeast, when Team Fox runners completed a makeshift marathon in Central Park). The 2020 New York City Marathon is set to be a memorable one. It's the 50th anniversary of the race, it's Team Fox's 15th year as a charity partner and it's just five days before Maureen turns 50. "I'd live to be part of the weekend. My dad and mom watched me run in New York City so it's a bit nostalgic. This year, I'm excited to do it with my sister and to have my husband and kids there," she says. Training for the race in November means long, hot training runs in the summer heat, but Maureen is confident, "My dad will get me through the miles." She says, "Running those miles for people who can't is such a privilege. Regardless of if my dad is here or not, I feel vindicated knowing that progress is being made."