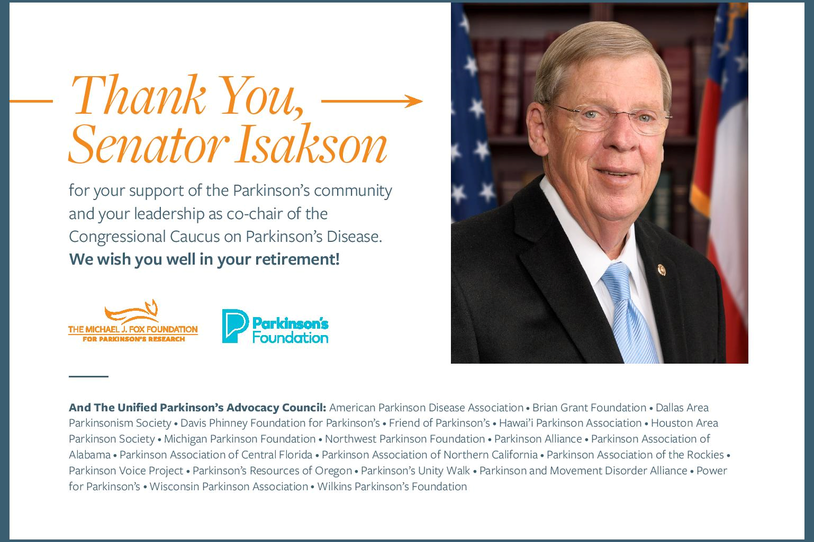 Senator Johnny Isakson (R-GA), co-chair of the Congressional Caucus on Parkinson's Disease, is retiring at the end of 2019. 
Senator Isakson has been a longtime supporter of the Parkinson's disease community and became even more personally engaged when he announced in 2015 that he had been diagnosed with the disease.
Senator Isakson has served as a senator from Georgia since 2005. Prior to that, he served in the U.S. House of Representatives from 1999 – 2004.  The Michael J. Fox Foundation awarded him with the 2017 Udall Award for Public Service.
He was a staunch supporter of increasing research funding at the National Institutes of Health and supported our community's efforts to fund research toward a cure at the Department of Defense. He supported the National Neurological Conditions Surveillance System at the Centers for Disease Control and Prevention, as well as efforts to find a cure through different funding vehicles in the 21st Century Cures Act.
He worked across political party lines to educate his colleagues about Parkinson's and what it is like to live with the disease.
To commemorate his retirement, the Parkinson's community placed a tribute ad in the popular Capitol Hill publication, Roll Call. The Michael J. Fox Foundation (MJFF) and Parkinson's Foundation co-sponsored the ad, and included members from the Unified Parkinson's Advocacy Council (UPAC) in their thanks to the senator for his support of the community. 
Members of the MJFF public policy team will be on Capitol Hill today, delivering the Senator letters of thanks from UPAC members and other leaders in our community.
We wish Senator Isakson the very best in his retirement, and we thank him for the support of people living with Parkinson's, as well as our pursuit of better treatments and a cure.