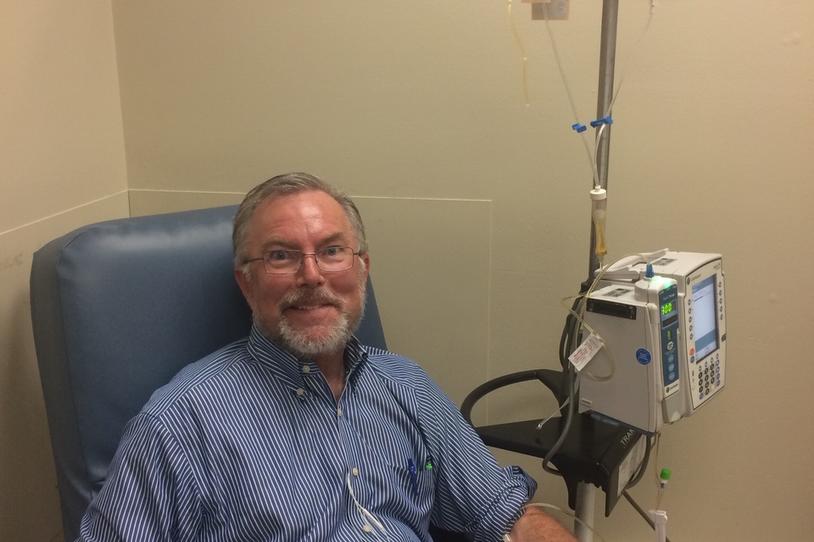 Nine years ago, Matt Ackerman was a finance and accounting consultant living in Palo Alto, California. His life took a twist when a neurologist told him he had Parkinson's disease. "That's an old man's disease," Matt said, "I'm only 51."
Like many others, Matt was in disbelief hearing the diagnosis.
Since then, Matt has retired as a Chief Financial Officer for venture-backed start-up companies to become a full-time Parkinson's advocate. He joined The Michael J. Fox Foundation's (MJFF) Patient Council in 2018. "My mission is to be of service to those in need and help people understand what's going on from my perspective," Matt says.
He wanted to make a difference for not only himself, but the millions of others living with Parkinson's disease (PD). That's why he became a clinical research participant. "We need to find a solution or a cure to the challenges we face," Matt says. "The only way that'll happen is if people participate in research."
Since becoming diagnosed, Matt has participated in five clinical studies. Matt volunteered for an MJFF-supported Phase I trial testing Alkahest's blood plasma therapy to treat PD with associated cognitive impairment or dementia. That trial was successful and a Phase II trial is now underway. He was also a participant in a study that tested the usability of Inbrija —  an inhaled levodopa for the treatment of Parkinson's "off" time — which was approved by the U.S. Food and Drug Administration in 2018. Inbrija received early funding from MJFF. Inbrija required use of an inhaler, while the Alkahest trial involved an intravenous infusion. "There are many options out there for people who want to make a difference," Matt declares.
Another option is MJFF's online clinical study, Fox Insight. The study aims to transform the search for better treatments by distributing online surveys about health, lifestyle factors and symptoms. The collected data is then de-identified and made available — with participant consent — to qualified researchers worldwide.
"Fox Insight is easy. It's something anyone can do — with or without Parkinson's," Matt says, "The data collected from both populations will help contribute to finding a cure faster."
Right now, Fox Insight has a one-time survey open for people with Parkinson's to share their experiences with medical cannabis. Specifically, the survey is focused on frequency and type of cannabis use, its effect on symptoms and side effects. The goal of the survey is to help guide further scientific studies and facilitate more meaningful patient-physician conversations around medical cannabis and Parkinson's.
Matt was a panelist on our Medical Marijuana and Other Alternative Therapies webinar in October. Marijuana, or cannabis, contains approximately 100 different compounds called cannabinoids. A common one is cannabidiol (CBD), which doesn't cause mind-altering effects and could potentially have beneficial effects for treating disease. (Learn more in our Ask the MD about medical marijuana.)
Once marijuana became legal in Matt's home state of California, his nephew bought him CBD to try. He felt it helped his symptoms, but noted it was difficult to say if it was directly from that. As time went on, Matt has explored other options, including different cannabinoids, for sleep and tremor. But he doesn't know if the relief is from the CBD or his medication. Additional research could help answer those questions and more about medical cannabis.
The one-time Fox Insight survey on cannabis is open to participants with PD for the next several weeks. If you're already a Fox Insight participant and have PD, you can take the survey now by logging in. If you aren't a Fox Insight participant, visit foxinsight.org to learn more and register. You'll then be able to access this and other surveys.