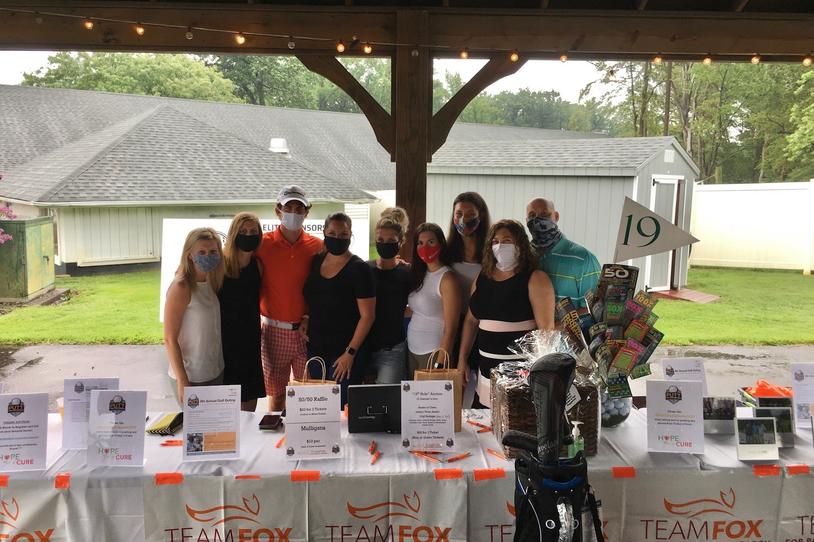 Despite a complete shift to socially distanced fundraising amidst the ongoing pandemic, last year our community raised over $8.4 million to benefit The Michael J. Fox Foundation (MJFF). Through innovative online campaigns and virtual events, new and returning fundraisers maintained the energy, optimism and innovation that define Team Fox — even from afar. 
So, how did they generate over $8.4 million in 2020? Let's look at some 2020 highlights.  
$2,037,332 raised by participants in the 2020 Tour de Fox Series and Virtual 5K/10K. Over 6,500 people from all 50 states and 18 countries came together to make an incredible impact, all while completing their very own routes.

$130,000 raised by Team Rowland. With the help of 74 riders, Team Rowland recorded their biggest fundraising year since joining the Tour de Fox in 2017.

13,967 holes played by golfers across 11 Team Fox golf outings: Birdies for Parkinson's, Mrs. Mo's Memorial Golf Tournament, Putt for Parkinson's, Drive Away Parkinson's, Putts Fore PD, The Foley Cup, Fore Parkinson's, Georgia Nut Charity Foundation Outing, SigChi Golf Weekend, Breaking Parkinson's Golf Classic, and Team Kopacz Charity Golf Tournament.

11,232 likes, comments and shares on Team Fox's Instagram (@TeamFoxMJFF); as our community members exchanged virtual cheers and encouragement throughout the year.

9,787 members joined Team Fox as event participants or to create their own fundraisers. Together our community hosted 111 virtual events! Check out some past virtual events on the Virtual Events Hub.

3,702 reverse lunges completed by Team PAPA D at The PAPA D Burpees for a Breakthrough Virtual Workout Challenge. This sweaty virtual fitness challenge raised over $242,000 for Parkinson's research.

632 miles logged during the month of July by Team Fox members Bret Parker and Marion Fioretti. Bret completed the July Calendar Club challenge by biking and walking 496 miles and raising over $52,000. And Marion completed 136 miles toward her year-long goal of running 1,000 miles and raising $9,000.

490 endurance athletes crossed finish lines all over the world. If you're interested in becoming a Team Fox Athlete in 2021, check out the Team Fox Athletes page to see the events where we'll be an official charity partner.

16 days of virtual planking by the MJFF staff. What started as a tradition of 5 p.m. planks in the New York offices went virtual when our team started working from home in March.

13 game-changing years of fundraising by the New England Parkinson's Ride. Moving to an in-sync format allowed riders to participate from anywhere, and resulted in an astonishing $1,151,996 raised. Since its start, the Ride has raised over $7 million for Team Fox.

5 world record attempts. Phil Comar traveled 680 miles to break the world record of riding on a motorcycle with no hands, Jimmy Choi broke two world records for chest-to-ground burpees in one minute and lateral plyometric pushups in one minute, Uncorked Adventures attempted the largest virtual wine tasting, and a crew of Team Fox athletes attempted the most people on a virtual workout session.

2 laps walked around the circumference of the earth by participants of the Zurich Fitness Challenge. Zurich employees took a grand total of over 50,000,000 steps in the month of August and raised over $48,000.

1 Team Fox event crossed the cumulative $1 million fundraising mark. Since 2016, Team Fox Detroit has contributed over $1 million to Team Fox through their fabulous galas and fundraisers. We are so thankful for the unwavering commitment of the Rajkovic family, the Team Fox Detroit committee, and the broader Detroit community.
As always, the Team Fox community brought way more than these impressive numbers show. Scroll through the gallery below to see how our members showed their Team Fox spirit in 2020.
Fueled by the unparalleled dedication and creativity of our Team Fox community, we're looking to make an even greater impact in 2021. We can't wait to dig in alongside each of you to explore new opportunities, grow your events, and expand our reach even further in support of critical Parkinson's research. There's no better time to join hundreds of members who have already committed to Team Fox in 2021. Learn more and get involved today.