Your Impact on Parkinson's Research
The Parkinson's Progression Markers Initiative (PPMI) wouldn't be where it is today without dedicated study volunteers like you. Whether you're new to the study or you've been with us for years, your participation is valued.
Here we share resources for PPMI participants. Check out the latest news coming out of the study and read a scientific update for outcomes made possible through your contributions. Watch a video from Michael J. Fox sharing his thanks for your participation. Then download a toolkit to help spread the word about the study.
Questions about PPMI and your role? If you are enrolled at a site, speak to your study coordinator. If you are enrolled online, email info@ppmionline.org.
A Message from Michael J. Fox
In this short video, Michael J. Fox expresses his gratitude for your participation in the study that could change everything.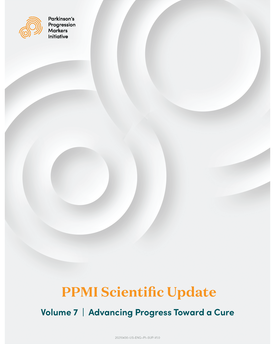 PPMI Scientific Update
The seventh volume of this scientific update packet holds just a few of the many insights that have come from the valuable information you share as a participant. Read about recent findings toward better understanding, measures and treatment of Parkinson's disease.
Spread the Word about PPMI
Study participants are our best ambassadors. Access materials below to encourage your community to get involved in this important initiative.
Smell Test Partner Toolkit
Print and Digital Materials

Use these materials to help promote the study.

Email/Letter Template

A customizable email/letter to engage an individual who is considering participation

Flyer

A flyer to encourage individuals to learn more about smell loss and request a scratch-and-sniff test

Newsletter Article

Two versions of a customizable article (one long and one short) to submit to your local newspaper, senior center newsletter or church bulletin

Postcard

A postcard to encourage individuals to learn more about smell loss and request a scratch-and-sniff test

Find sample posts and images to share on your personal social media account.

Social Media Posts

Sample social media posts that can be shared on your personal account or organization account

Image for Facebook and Twitter

Image for Instagram Story

Use these resources to educate about smell loss and research participation.

Description of Smell Test

A description of what the University of Pennsylvania Smell Identification Test (UPSIT) entails

Talking Points

Talking points to help guide conversations around smell loss and research participation
General Recruitment Flyer
This flyer speaks to multiple audiences PPMI is trying to reach — people recently diagnosed, people age 60 and up without Parkinson's, people who act out dreams (REM sleep behavior disorder) and anyone over age 18 in the U.S.
Newsletters
Fall 2022 Newsletter

In this edition, read about recent scientific findings, a national smell test initiative and educational offerings from The Michael J. Fox Foundation.

Winter 2022 Newsletter

In this edition, read about recent scientific findings, PPMI online FAQs and meet other participants speeding a cure.

Summer 2019 Newsletter

In this edition, read about initiatives coming out of PPMI's annual meeting and hear from a participant on her experience participating at the Cleveland Clinic site.
Interested in sharing your story?

We are always looking to feature PPMI participants in our communications. If you're interested, please fill out a form today. We may reach out to you for more information.
"I consider myself fortunate that I can participate and maybe be part of something that has a productive and positive outcome. As long as I can, I'm going to keep going."
Jerry Pollack
PPMI Participant